Whether you consider cemeteries sacred or macabre, these bone yards are interesting, historically cool, sometimes significant, and often, architecturally amazing.  Portugal Confidential is checking out cemeteries across the country.
--------------------------------------------------
--------------------------------------------------
Lapa Cemetery, Porto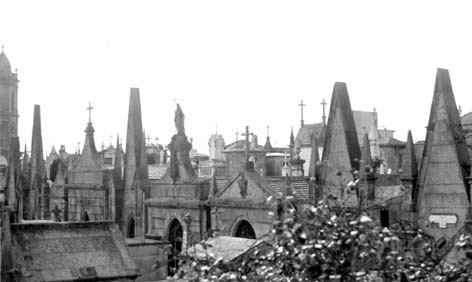 Officially established in 1833, the Lapa Cemetery is considered Portugal's oldest modern cemetery.  However, it wasn't until 1838, when the cemetery was actually consecrated by the Church, that it came into wide use.  At this time, there was a great need to properly dispose of the dead.  A dramatic civil war (known as the Cerco do Porto) was taking place, followed by a devastating cholera epidemic.  This private and elitist cemetery stood as the most important in northern Portugal for decades.  Many important figures from the 19th century are entombed  here.  The monuments are quite remarkable.   Location:  Largo da Lapa, Porto
Prado do Repouso Cemetery, Porto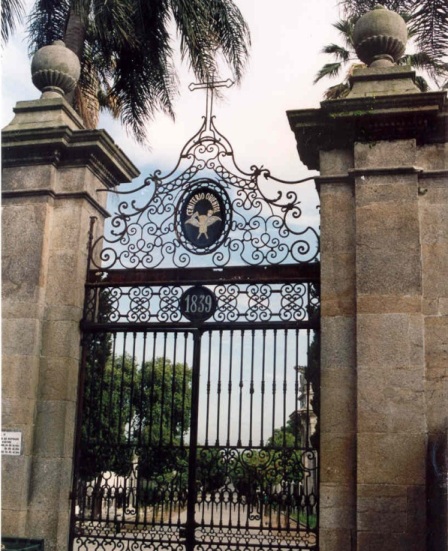 Prado do Repouso ("Meadow of Rest") is Porto's first public cemetery.  Built on farmland in 1839, this cemetery was not very chic at the time, as most of Porto's wealthier residents preferred the private Lapa cemetery.  Only in the 1850's, when the building of monuments and tombs came into vogue in Portugal, did this cemetery become acceptable for its spaciousness.  Now, the Prado do Repouso is one of Portugal's most important cemeteries in terms of history and architecture.  Location:  Largo do Padre Baltazar Guedes (south and main entrance), Largo Soares dos Reis (north entrance) Porto
Catacombs of São Francisco, Porto
The exterior of São Francisco is rather ordinary…for a 13th century gothic church.  Inside is an elaborately ornate, golden-gilded shrine, declared a World Heritage site by UNESCO. Yet, below the all of the fabulous opulence are catacombs, tombs and a pit of thousands of human bones.   The tombs in the walls hold members of the former Franciscan order.  In a discreet corner, on the floor is a grated window, allowing a view into a pit with a pile of human bones.  The church and catacombs are open to visitors for €3.50.  Location: Rua do Infante D. Henrique, Porto
The Agramonte Cemetery, Porto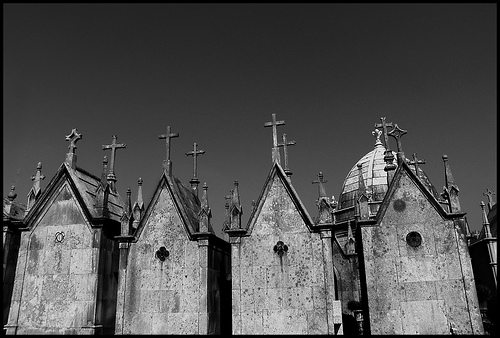 Established in 1855, this cemetery was built to accommodate the numerous victims of a cholera epidemic.  For many years this cemetery stood as a mere burial ground, nothing fancy.  However, in the 1870's Agramonte Cemetery began allowing monuments, and in turn, the cemetery grew…not only in size, but in importance.  By the end of the 19th century, Agramonte was the favorite Porto cemetery, and equal in importance to the Prado do Repouso.  Location:  Rua de Agramonte, Porto
Medieval Cemetery of Barreiras, Fão (Esposende)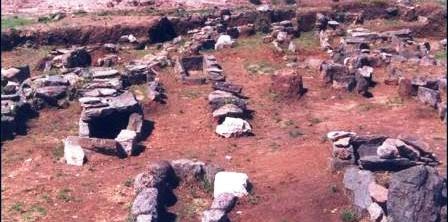 Dating back to the 11th century, this cemetery is one of the finest examples of Middle Ages cemeteries in Europe.  Since 1989, excavations  reveal a series of tombs built with loose stones covered with a lid.  Over 200 bones have been exhumed. The graves are oriented to burial specifications of the time:  head to the west and feet to the east.  Sometimes the graves were reused, which explains why some graves have up to four remains inside.  Burials were made without the coffin, but with the wrapped in a shroud.  Some graves had head stones to indicate location of the graves.  Location:  Fão (Coordinates:  Lat. 41°30'40″N, Long. 8°46'35″W)
Conchada Cemetery, Coimbra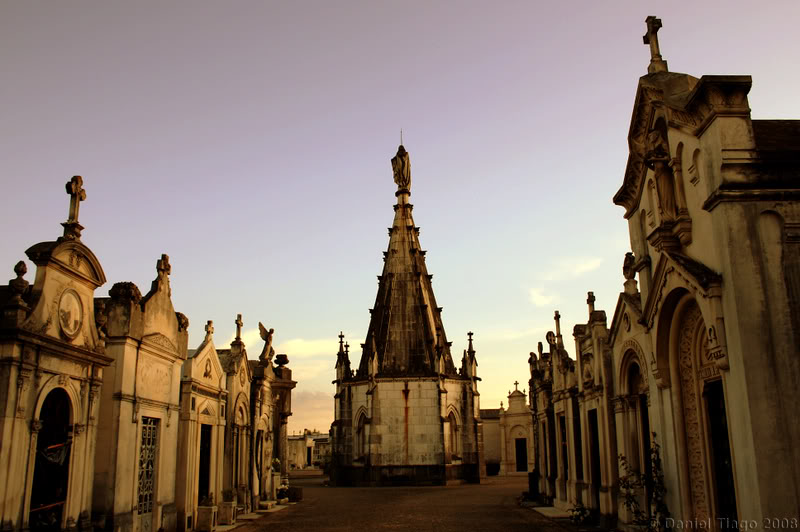 The first municipal cemetery in Coimbra was built in 1860, the Conchada Cemetery.  Is was named after the farm it was built on, Quinta da Conchada.  This public cemetery took a while to catch on with Coimbra's wealthy families.  However, by the end of the 19th century, monumental funerary architecture became important status symbols.  And, the craftsman of Coimbra became known for their own distinctive style of design.  The most distinctive may be the monument for the Count of Ameal, due to its large size and unique shape.  Location:  Largo Conchada, Coimbra


Pet Cemetery, Lisbon Zoo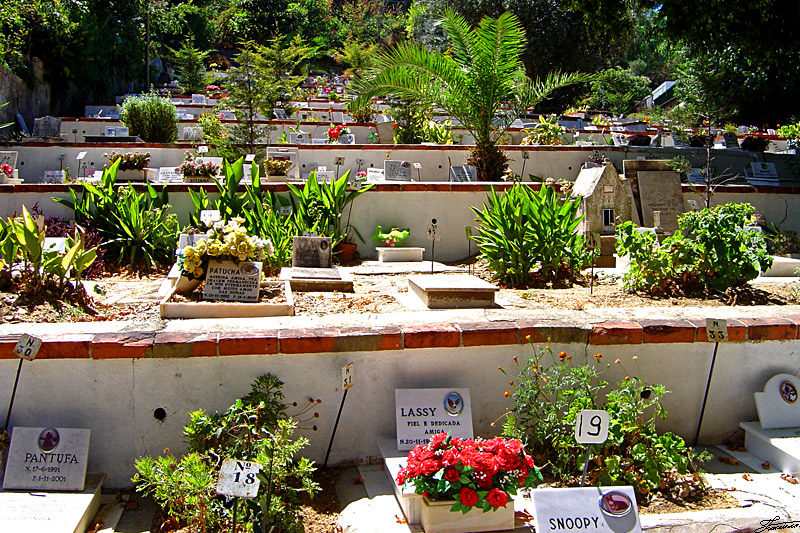 Inside the Lisbon Zoo, on a terraced hillside, is a cemetery for pets now long gone. There are many tombstones here, mainly white marble. Some date back to the 1940's. There are also graves covered in traditional Portuguese tile. Many plots are decorated with flowers or photos.  At one time, pet owners could buy a plot for life.  Now days, an annual fee is charged for Fido's final resting place.  Location:  Lisbon Zoo
Prazeres Cemetery, Lisbon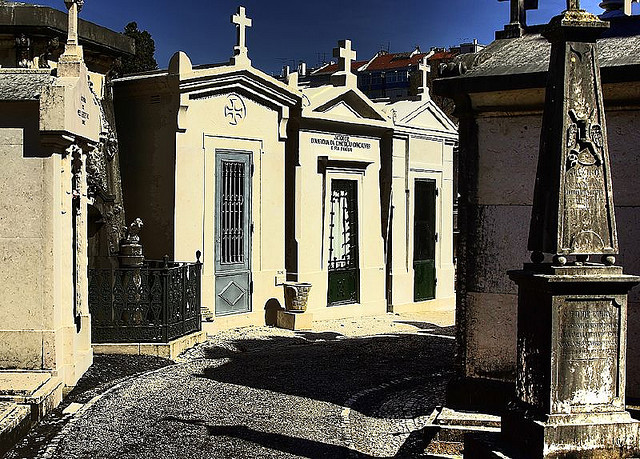 The Cemetery of Prazeres ("Pleasures", odd name for a cemetery, but comes from the nearby neighborhood of Prazeres), started out like the noted cemeteries of Porto.  It was originally created to handle the thousands of victims of the cholera epidemic in 1833-34.  By 1839, wealthier families began to build monuments.  Several hundred tombs were build between 1839 and1850 alone.  Many important names figures of Portuguese arts and politics are buried here.  The Prazeres Cemetery became the model for most cemeteries in the center and south of Portugal, and is the most cosmopolitan cemetery still existing in the nation.  Location:  Praça S. João Bosco
Alto do São João Cemetery, Lisbon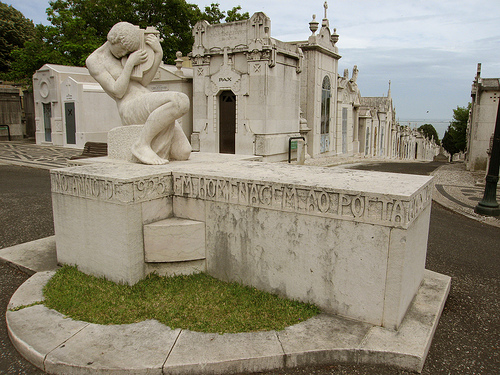 Constructed at about the same time as Prazeres, in 1833, Alto do São João overlooks the Madredeus, and was intended to serve residents in the eastern part of the city.  It is huge, with nearly a hundred streets, main streets and side streets filled with marble mausoleums, shrines and temples.  The first Republic chose Alto do São Joâo to honor their heroes.  In 1925, was inaugurated the country's first crematorium.  Just recently, beloved Portuguese writer José Saramago was laid to rest here.  Location:  Rua Morais Soares, Lisbon
Anchor Cemetery, Tavira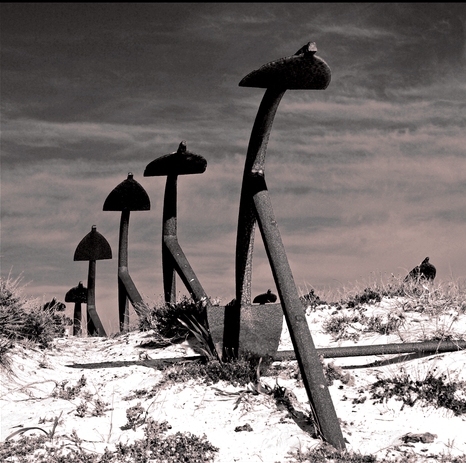 And, just a bit of whimsy…On the Ilha da Tavira, on the southeastern coast of Portugal, is an homage to Portugal's tuna fishing past.  Back in the late 19th and early 20th centuries, tuna fisherman would secure net traps to the ocean floor using anchors. Eventually, the tuna population dwindled in this area, and many fishermen lost their jobs.  This "monument" is dedicated to the hard working fisherman of Tavira.  Location:  Praia do Barril. Algarve
Portugal Confidential sourced some of the information for this post from QueirozPortela.com.