Nine new Michelin Stars in Portugal for 2017! Let's add those to the existing 14, and we have some excellent fine dining across the country.  One star chefs earning a second star this year is Ricardo Costa at The Yeatman in Porto, and Benoit Sinthon at Il Gallo d'Oro in Funchal. They join the "two star club" with existing members José Avillez of Belcanto in Lisbon, and Hans Neuner of Ocean and Dieter Koschina of Vila Joya in the Algarve.
New single stars have been awarded to Rui Paula at Casa de Chá da Boa Nova and Vitor Matos at Antiquum in Porto, Henrique Sá Pessoa at Alma and Alexandre Silva at Loco in Lisbon, Sergi Arola at LAB in Sintra and Luís Pestana (under the signature of Joachim Koerper) at William in Funchal.  Miguel Laffan earns back a star for L'And in Alentejo.  Retaining their one star for another year are: Pedro Lemos at Pedro Lemos in Porto; André Silva at Casa da Calçada in Amarante, Joachim Koerper at Eleven and João Rodrigues at Feitoria in Lisbon; Miguel Rocha Vieira at Forteleza do Guincho in Cascais, and Rui Silvestre at Bon Bon, Willie Wurger at Willies, Henrique Leis at Henrique Leis, and Leonel Pereira at São Gabriel, all in the Algarve.
See below for more details and contact information for the 20 Michelin Star restaurants of Portugal 2017.
--------------------------------------------------
--------------------------------------------------
DOURO VALLEY & PORTO
Largo do Paço
Hotel Casa da Calçada – Amarante
Chef: André Silva
ONE STAR Just minutes away from Porto in northern Portugal is this cozy restaurant tucked away inside the elegant Casa da Calçada hotel. In the past year, Chef André Silva has taken the reigns of the kitchen from Vitor Matos. Chef André won the Nobre Young Chef Trophy in 2007. He was invited to by Matos to join the Largo do Paço kitchen in 2009. And, he was named Portugal Chef of the Year in 2013. Silva's cuisine is traditional Portuguese with contemporary creativity. Regional ingredients change with the season, meaning you need to return again and again. Book in advance and ask for the eight-course Largo do Paço menu, or the 11-course Prestige menu.
Largo do Paço, 6, Amarante, Douro Valley
Reservations: +351 255 410 830
Learn more: Largo do Paço website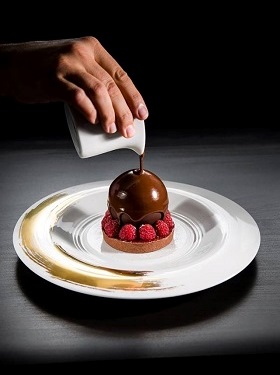 Antiqvvm
Chef: Vitor Matos
ONE STAR  Chef Matos has a passion for the use of the freshest seasonal products harvested from the region. His cuisine leans towards Mediterranean influences, embracing both traditional and contemporary techniques. Matos started out studying confections and pastries in Neuchâtel., Switzerland, and later worked his way through the kitchens of some of Portugal's top hotels, such as Vidago Palace and Tiara Park. He earned his first Michelin star while head chef at Largo do Paço in Amarante. His high-quality cuisine is enhanced by stunning views over Porto from the refurbished 19th century Quinta da Macieirinha.
Rua de Entre-Quintas 220, Porto
Reservations: +351 22 600 0445
Learn More: Antiqvvm Website
Casa de Chá da Boa Nova
Chef: Rui Paula
ONE STAR Rui Paul is one of Portugal's most beloved and respected chefs. Known for restaurants DOP in Porto and DOC in Douro, Paula also hosts Portugal's Master Chef. And finally, Paula receives recognition for his masterful work at Casa de Chá da Boa Nova. Paula takes inspiration from the restaurants location overlooking the ocean to create amazing Portuguese dishes with fish and seafood. Popular dishes are coastline fish and lobster stewed rice, cataplana of fish and shellfish and salted bass. Three themed tasting menus are also available.
Avenida da Liberdade Leça da Palmeira, Matosinhos Porto
Reservations: +351 932 499 444
See Our Story Casa de Chá da Boa Nova – Álvaro Siza & Rui Paula Create an Instant Classic
Learn more: Casa de Chá da Boa Nova website
Pedro Lemos
Chef: Pedro Lemos
ONE STAR Pedro Lemos may be new to the list of Michelin star chefs, but he is not new to foodies in Porto. His popular restaurant in the Foz do Douro or Porto has been pleasing guests and generating praise since its opening in 2010. Lemos' cuisine is inspired by memories of his grandmothers: one working the fields in Bragança; the other selling fish at the markets in Matosinhos. These simple and genuine cuisines of land and sea, blended with his own innovative techniques and creativity, make for a unique gastronomic experience. Menu items, therefore, range from devil fish and octopus, to rabbit loin and roasted lamb. Tasting menus are available.
Rua do Padre Luís Cabral, 974, Foz do Douro, Porto
Reservations: +351 220 115 986
See Our Story: Pedro Lemos – Traditional Flavors Meet Modern Cuisine in Porto
Learn More: Pedro Lemos website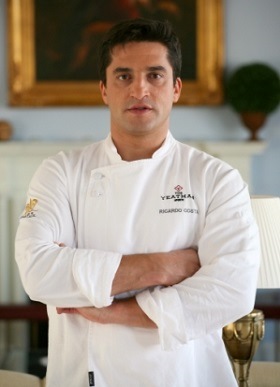 The Yeatman
Chef: Ricardo Costa
TWO STARS Within the first year of opening, the restaurant at the Yeatman Hotel earned its first star; and just a few years later, its second.  All credit must be given to Chef Ricardo Costa, formerly of Largo do Paço (see above). At the Yeatman, Costa puts his own contemporary spin on traditional Portuguese dishes. Yet, the Michelin judging panel may have also been swayed by the extraordinary views from the dining room that stretch across the Douro River to the cityscape of Porto. Or, perhaps they were impressed with the selection of 25,000 bottles of old and new world wines in the Yeatman wine cellar. Most likely, all are reasons to rank this exquisite restaurant among the world's finest.
Rua do Choupelo (Sta. Marinha), 4400-088 Vila Nova de Gaia, Porto
Reservations: +351 22 013 3100
Learn More: Yeatman Website




LISBON  |  CASCAIS  | SINTRA



Alma – Lisbon
Chef: Henrique Sá Pessoa
ONE STAR  Alma (Portuguese for "soul") is a restaurant created from the passion of Portuguese celebrity chef Henrique Sá Pessoa. The mantra of Alma is "to serve much more than a meal: we serve emotions, identity, knowledge." With this in mind, the team, headed up by Sá Pessoa prepares Portuguese cuisine straight from the heart fused with Asian-inspired techniques. Having trained in acclaimed kitchens as Evo Santi Santimara in Barcelona, El Cellar de Can Roca in Girona and Tippling Club in Singapore, Sá Pessoa considers his travels as the greatest influence over his cooking.
Rua Anchieta 15, Lisbon
Reservations: +351 213 470 650
Learn More: Alma Website
Belcanto – Lisbon
Chef: Jose Avillez
TWO STARS José Avillez received his first Michelin star while head chef at the historic Tavares restaurant in Lisbon. His career has since skyrocketed with books, TV appearances and a flurry of restaurant openings across the country. Yet, his own personal pride and joy is Belcanto. Avillez refurbished this historic building and designed a menu that has won him much acclaim and two Michelin stars. Avillez likes to say, "each dish tells a story and stirs the emotions of those willing to try it." And with names of dishes like "the Garden of the Goose that Laid the Golden Egg," "Dip in the Sea," and "Suckling Pig Revisited," we can't wait to experience his book.
Largo de São Carlos, 10, Lisbon
Reservations: +351 213 420 607
See Our Story: Portuguese Haute Cuisine of José Avillez
Learn More: Belcanto Website
Eleven
Chef: Joachim Koerper
ONE STAR Set high on a hill in Parque Eduardo VII, this sophisticated and contemporary restaurant features beautiful views of Lisbon. In the kitchen, Chef Joachim Koerper prepares Mediterranean cuisine that can be described as "luminous and elegant, modern and innovative." Koerper, who has worked in such noteworthy restaurants as Moulin de Mougins, Guy Savoy, L'Ambroisie and his own Girasol, prides himself on his philosophy of keeping it simple. Locally grown, fresh and natural ingredients are the basis for his harmonious dishes.
Rua Marquês Fronteira (within Parque Eduardo VII), 1070-051 Lisbon
Reservations: +351 21 386 22 11
Learn More: Eleven Website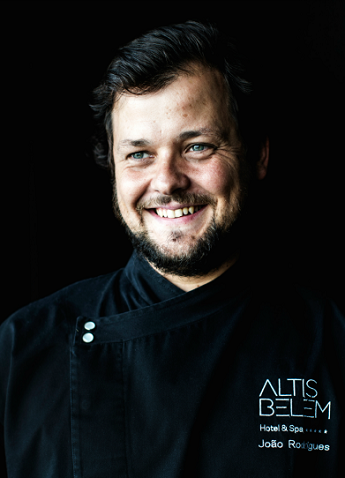 Feitoria at Hotel Altis Belêm
Chef: João Rodrigues
ONE STAR The theme of modern Hotel Altis Belém is the heritage of Portugal's global discoveries. This concept carries over into the kitchen of Chef João Rodrigues. His unique take on Portuguese cuisine involves embellishments of exotic flavors and textures found in former Portuguese colonies in South American, Asia and Africa, such as hamachi salad marinated with prunes, radish and fresh aromatic herbs, and roasted Royal pigeon with mushroom, summer truffle and rich salsify sauce. Tasting menus of three and five courses allow diners a choice of gastronomic discoveries. Yet, for something very special, make reservations 48 hours in advance and ask for the chef's "Creative Menu."
Doca do Bom Sucesso,1400-038 Lisbon
Reservations: +351 210 400 208
Learn More: Feitoria Website

Fortaleza do Guincho – Cascais
Chef: Miguel Rocha Vieira
ONE STAR The stunning views over the Atlantic Ocean from this former 17th century fortress transformed into boutique Hotel Forteleza do Guincho are reason enough to visit this restaurant. However, it's the extraordinary cuisine of Cascais-native Miguel Vieira that receives a star. At 19, went to London to train in gastronomy at the prestigious cooking school "Le Cordon Bleu". Afterward, Chef Miguel worked in numerous venues across England, France and Spain before opening Costes restaurant in Budapest, earning the first Michelin Star for Hungary. The cuisine at Forteleza do Guincho is traditional French, with local Portuguese flavor, and now, with the added creativity of Chef Miguel.
Estrada do Guincho, Cascais
Reservations: +351 214 879 076
Learn More: Forteleza do Guincho Website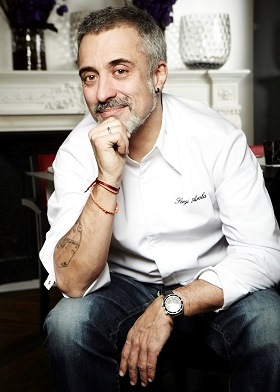 LAB – Sintra
Chef: Sergi Arola
The small 22-seat restaurant is intimate, yet an ideal showcase for the fine art and flavor of Chef Sergi Arola's cuisine. Mentored by renowned chef Adriá Ferran, Arola has made a name for himself by leading the kitchens at Hotel Miguel Ángel in Madrid and Hotel Arts in Barcelona, as well as his self-named restaurant Arola already at Penha Longa. He adds this star to the two Michelin stars he has collected for Gastro restaurant in Madrid. At LAB, three tasting menus and à la carte selections offer innovative and emotional gastronomy. For oenophiles, LAB has more than 550 labels from around the world.
Penha Longa Resort, Estrada da Lagoa Azul, Sintra
Reservations: +35 1 219 249 011
Learn More: LAB Website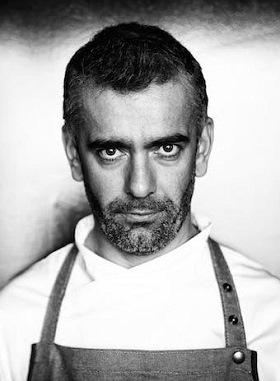 Loco – Lisbon
Chef: Alexandre Silva
ONE STAR In the last decade, Chef Silva has wound his way around Portugal hitting numerous culinary milestones. His studies ranged from kitchen and pastries, to F&B Management and molecular gastronomy. He was at Lisbon's Bocca restaurant before winning TV's Top Chef for 2012. He opened the restaurant at the exclusive Alentejo Marmóis Hotel and later became Executive Chef at the trendy Bica do Sapato. At Loco, Silva embraces "micro seasons" by selecting local organic products at the peak of freshness, to prepare Portuguese cuisine using experimental and innovative techniques.
Rua dos Navegantes 53-B, 1200-730 Lisboa
+351 21 395 1861
Learn More: Loco Website



--------------------------------------------------
--------------------------------------------------
ALENTEJO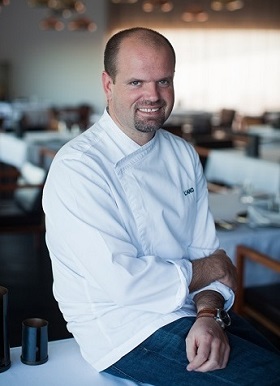 L'And Vineyards
Chef: Miguel Laffan
ONE STAR  It is no surprise to followers of Miguel Laffan that he has achieved a star for his superb cuisine at the L'And Vineyards and Resort. Laffan's inspirations are Luso-Asian and Mediterranean cuisine prepared using fresh local produce with a nod to traditional Portuguese flavors. Dishes such as red mullet and squid "açorda," and roasted tenderloin pork from Alentejo, accompanied by cauliflower gratin with asparagus, peas and black sausage pudding, express his love for the region. Having trained at Forteleza do Guincho (above), Les Jardin des Ramparts and Le Clous de la Violette in France, Laffan no doubt is on track to lead L'And to international acclaim.
L'And Vineyards Resort. Herdade das Valadas, Montemor-o-novo
Reservations: +351 266 242400
See Our Story: L'And Vineyards Restaurant
Learn More: L'And Vineyards Website
ALGARVE
Bon Bon – Carvoeiro
Chef: Rui Silvestre
ONE STAR Not a surprise to fine dining aficionados in the western Algarve, Bon Bon has had their attention for the last couple of years. Now, Michelin agrees. The guide awards the recognition to the cuisine of young Chef Rui Silvestre, stating in the press release "interesting" kitchen "surprised by the technical level," and, "based on selected raw materials and cutting-edge dishes, with distinctive flavors and careful presentation. ".
Urb. Cabeco de Pias, Carvoeiro
Reservations: +351 282 341 496
Learn More: Bon Bon Website
Henrique Leis – Almancil
Chef: Henrique Leis
ONE STAR This Swiss-chalet inspired restaurant provides an ambiance of sophisticated elegance and rustic charm. It is the perfect setting for the mastery of Brazilian Chef Henrique Leis who embraces French cuisine enhanced by flavors of his South American homeland. Having set his roots in the Algarve in 1993, Leis is now a gastronomic leader in the region. Seasonal menus can include creations such as noisettes of venison with poivrade sauce and chestnut bonbon, and duo of red mullet and sea scallops with celeriac mousseline. The extensive wine list is equally impressive.
Vale Formoso, Almancil
Reservations: +351 289 393 438
See Our Story: Henrique Leis – Michelin Star in the heart of the Algarve
Learn More: Henrique Leis Website
Ocean Restaurant at Vila Vita Parc – Porches
Chef: Hans Neuner
TWO STARS Having trained with Michelin star chefs in Berlin, Hamburg and Mallorca, Austrian Chef Hans Neuner was hungry for a star of his own. In 2006, he arrived at Ocean Restaurant in the beautiful VILA VITA Parc resort and immediately set out on his mission. He began utilizing innovative haute cuisine techniques on fresh, locally-produced food products. Within three years, Neuner earned his star, and two years later is was awarded with a second star. Season dishes such as Miral Pigeon with blackberry, chicory and black walnuts, and John Dory served with "burned" artichoke, zucchini flower and rock octopus, have the gastronomy community singing his praises. Neuner's "culinary moments" come in four-, six- and seven-course menus.
VILA VITA Parc, Alporchinos, Porches
Reservations: + 351 282 310 100
See Our Story: Culinary Moments of Hans Neuner
Learn More: Ocean Website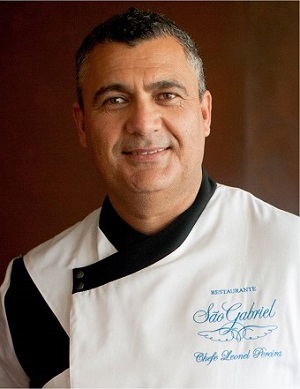 Sao Gabriel – Almancil
Chef: Leonel Pereira
ONE STAR For years, the classic cuisine of São Gabriel impressed the palates of guests and critics, and always placed the restaurant on the list of Portugal Michelin stars. In 2013, São Gabriel changed owners and Algarvian-native chef Leonel Pereira took over the kitchen. His training at the Alain Ducasse Academy, Le Nôtre and the Institute of Culinary Arts, lead him to positions at the Hotel Quinta do Lago, Niko in Paris, Cipriani in Venice, Alexandra Palace in Switzerland and Panorama at the Sheraton Lisbon.  Helming the kitchen at São Gabriel, Pereira's "creative and contemporary cuisine" has brought a fresh new attitude to the tried-and-true establishment, as well as earning Michelin recognition.
Estrada Vale do Lobo, Quinta do Lago, Almancil
Reservations: +351 289 394 521
See Our Story: Creative Cuisine of Leonel Pereira
Learn More: São Gabriel website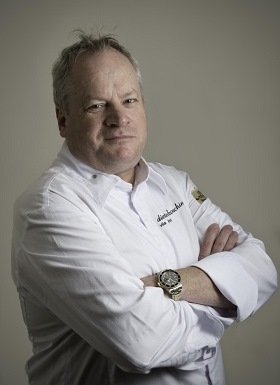 Vila Joya at Hotel Vila Joya – Galé
Chef: Dieter Koschina
TWO STARS In addition to being honored with this Michelin distinction, Austrian Chef Dieter Koschina's Vila Joya has been selected as one of San Pellegrino's "World's 50 Best Restaurants." He credits this recognition to his staff's dedication to a high level of excellence in technique and service, as well as use of the freshest ingredients from regional farms and sea. Although, ultimately, it is Koschina's innovative European cooking techniques that win over the hearts of guests and pallets of critics. His guinea fowl is stuffed with black truffles and artichokes, roasted goose liver is served on a broccoli purée with smoked eel, and Portugal's emblematic bacalhau is confited and paired with beetroot coulis and yogurt. Vila Joya is located in the multi award-winning Vila Joya boutique hotel.
Praia da Galé, Galé, Albufeira
Reservations: +351 289 591 839
Learn More: Vila Joya Website
Willie's – Vilamoura
Chef: Willie Wurger
ONE STAR German-born Willie Wurger has left a trail of Michelin stars across the Algarve. Since he arrived in the early 1980's, Wurger cooked at La Reserve, the first restaurant in the Algarve to be designated with a star. He followed with seven years at São Gabriel, contributing to the star designation it has today. And, since 2000, Wurger has helmed his own restaurant in Vilamoura, which has been awarded a star every year since 2006. His specialty is cuisine from central Europe, and he prides himself on his hand-made seafood ravioli in a Vermouth cream sauce, pan-fried saddle of monkfish on mustard crème-sauce with potato-mousse, and lemon crème in sugar basket with berries. The restaurant is quietly tucked away behind the Hilton Resort in the residential area of Vilamoura.
Rua do Brazil, 2, Vilamoura
Reservations: +351 289 380 849
Learn More: Willie's Website

MADEIRA
Il Gallo d'Oro at the Cliff Bay Hotel
Chef: Benoît Sinthon
TWO STARS  French born Benoît Sinthon credits his Italian grandmother for awakening his passion for cooking. From his days in Marseille, he mastered the art of Mediterranean cuisine. After stints at several European restaurants, Sinthon settled at the Cliff Bay and quickly reorganized the kitchen of Il Gallo d'Oro. Four years later, his efforts paid off with a Michelin star. Distinguished dishes include: Foie Gras Triolgy with bicolor pear compote and 10 year Blandy's Madeira Wine verdelho jelly; Langoustine XL, with couscous of cauliflower and mango, granny smith apple and wasabi; and Premium Wagyu Filet, accompanied by veal cheek confit, black truffle juice. Il Gallo d'Oro is a formal dining room (gentlemen wear jackets) with superb ocean views.
The Cliff Bay Hotel, Funchal, Madeira, Portugal
Reservations: +351 291 707 700
Learn More: Il Gallo dÓro Website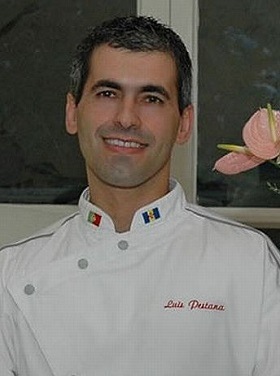 William
Belmond Reid's Palace
Chef: Luís Pestana
Executive chef Luís Pestana is at the helm and Michelin Star chef Joachim Koerper is responsible for the direction at this fine dining restaurant at the iconic and exclusive Reid's Belmond Palace. Modern European cuisine prepared with innovative flavors and contemporary techniques is provides a "wow factor". Cannelloni of foie gras with Madeira wine, chocolate and coffee financier, and pear chutney, rivals the lobster with cauliflower textures, beetroot and caviar. Tasting menus from €77-168, or order a la carte.
Estrada Monumental 139, 9000-098 Funchal, Madeira, Portugal
Reservations: +351 291 717 171
Learn more: William website