What do you get when you blend Portuguese inspiration with a traditional Peruvian dish, a dash of contemporary fish market décor and a large dose of an enthusiastic and engaging chef?  Easy answer.  It's A Cevicheria by Chef Kiko Martins in Príncipe Real neighborhood of Lisbon, a hot spot for fresh fish with a modern fish market ambiance.
--------------------------------------------------
--------------------------------------------------
Born in Brazil to Portuguese parents, Chef Kiko studied at famous Cordon Bleu Cooking School in Paris, and honed his skills in such admired kitchens as Ledoven, AM Le Bistro, The Fat Duck and Eleven. Now, with Lisbon as his home base, Chef Kiko is building a following for his unique approach to traditional and international cuisines.
A Cevicheria is Chef Kiko's tribute to the fresh and succulent South American cuisine known as ceviche. Top-quality raw fish is marinated in citrus juices along with complimentary seasonings to create a light and delicious dish.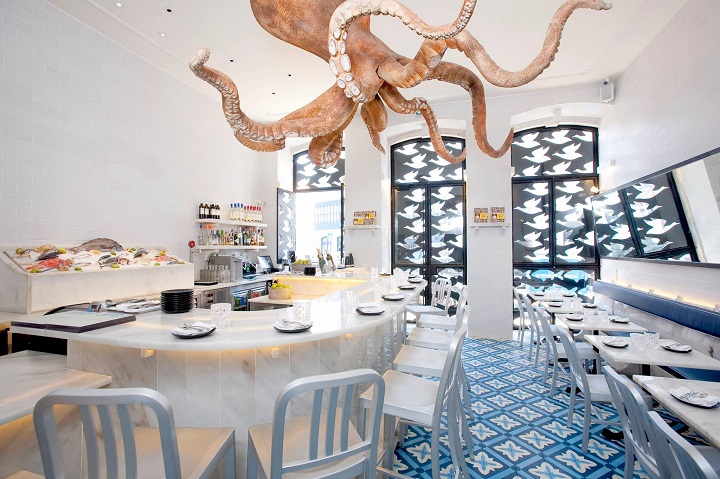 Of course, the stars of the menu are the innovative approaches to marinated fish. Some stand-outs include: Ceviche Puro, of white fish, sweet potato puree, onion, algae and tiger's milk (ceviche broth); Salmon Ceviche, with salmon, tiger's milk, mango, spearmint, orange and corn; and, Ceviche Português, made from codfish, rosemary vinegar, chickpea puree, dried olives and corn bread with sausage.
Other delightful dishes at A Cevicheria are shrimp gazpacho, beef tartare taco, duck croquettes and mini surf and turf sandwiches.
Try a tasting menu of six entrees for €35.00.
For more information, visit the A Cevicheria Facebook page.
A Cevicheria
Rua D. Pedro V, 129
Príncipe Real
Lisbon
Phone: +351 218 038 815
Email: acevicheria@acevicheria.pt
Hours: Daily – 12:30 to 24:00