A new exhibition at the Paula Rego Casa das Históriasis is directly inspired by 19th century Portuguese author Alexandre Herculano's tale A Dama Pé-de-Cabra (The Goat-Footed Lady). This is the first international exhibition of new works by Paula Rego and Adriana Molder at the museum/gallery located in Cascais. This unique show runs through 28 October 2012.
————————————————–
[ad name="Google Adsense Image Banner for Posts "]
————————————————–
The two artists worked at the same time on two independent sets of large-scale work specifically for this exhibition.
According to curator Helena Freitas, "Paula Rego (b. 1935) reveals brilliant imagery and narratives inspired by the story, using totally free composition and lines."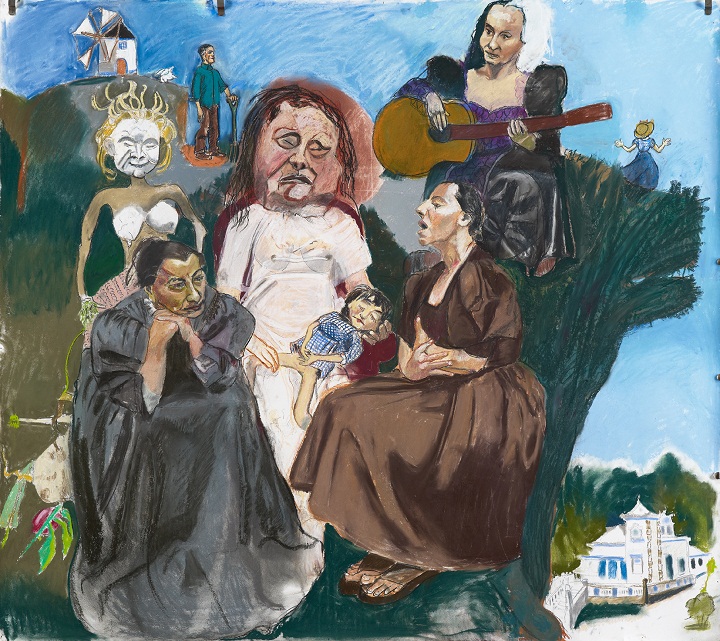 Work by Paula Rego
Adriana Molder (b. 1975) is a Portuguese artist who lives in Berlin. Molder has achieved international success by developing a figurative structure in her work. She defined the underlying concept of this project and the challenge given to Paula Rego. In the drawings displayed here, Molder builds powerful images showing psychological and narrative aspects of the characters chosen.
Works by Adriana Molder
For more information on this exhibition, visit the Paula Rego website.
Casa das Historias Paula Rego
Avenida da República, nº300
(just 200 meters from the Cidadela)
2750-475 Cascais
Phone: +351 214 826 970
Email: info@casadashistorias.com
Open Daily
Summer Hours: 1 April to 31 October – 10:00 to 19:00
Winter Hours: 1 November to 31 March – 10:00 to 18:00