Embark on a gastronomic tour of Portugal from the comfort of one elegant restaurant in the Algarve. Adega, at VILA VITA Parc resort in Porches, features a menu of some of the best traditional Portuguese dishes from across the republic. Pork from Alentejo, chicken from Loulé, passion fruit pudding from Madeira are just a sampling from the culinary journey in store at Adega.
--------------------------------------------------
--------------------------------------------------
Adega (Portuguese for "wine cellar") is a beautifully appointed restaurant located in a charming Piazetta of the resort. The interior is pure Portuguese rustic, with a refined ambiance. Wine barrels are table bases and chairs have woven straw seats. Ornate Porches pottery and antique household items adorn the walls. Exposed rock features and a reed ceiling create a sense of old-world quintas.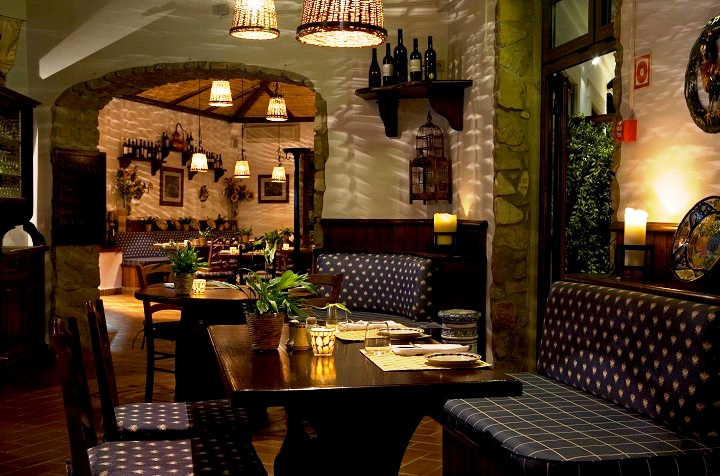 Petiscos (Portuguese tapas) are a great way to begin the dining experience. Linguiça sausage (pork mixed with garlic and paprika), octopus salad or assadura (marinated pork neck cubes) are excellent choices. Yet, the alheira (garlic sausage, served on cornbread with clams) and the trio of sardines are tough to deny. Can't decide? Perhaps the mixed tapas platter of smoked sausage, codfish dumpling, tuna salad, octopus salad and assudura, will satisfy your curiosity and palate.
Main courses of beef, chicken, fish and seafood are prepared using traditional methods from across Portugal's diverse regions. Delightful dishes include:
■  Cataplanas of your choice of monkfish, codfish or black pork
■  Pan fried octopus, Azores-style
■  Razor clam rice, Faro-style
■  Swordfish filet, Madeira-style
■  Pan-fried, free range chicken, Loulé-style
■  Mixed meat skewer of beef, black pork and turkey
■  Lamb chops with mint sauce
■  Veal slice (300g), with small sautéed potatoes and braised cabbage
Even more delectable, Adega has a few specialty dishes requiring 24-hour notice. The lamb leg Boulangére-style, is a hearty meal of slow-cooked, rosemary- and garlic-seasoned lamb on top of a layer of roasted potatoes. Succulent sea bass is baked in a salt crust. And, red bream is prepared in the oven Transmontana-style, with tomatoes, onions, bacon and bell peppers. These special-request meals are prepared for two or more people.
The Portuguese experience continues with dessert. Adega prepare their own versions of traditional rice pudding, chocolate mousse, pao-de-ló, and marzipan cookies. Regional specialties such as fig and almond cake from the Algarve and sericaia (a type of egg pudding) from Alentejo, compete for your attention with island delicacies such as passion fruit pudding from Madeira and Ribeira Brava pudding from the Azores.
Complementing the flavors of the meal is live entertainment of traditional fado and Portuguese guitar.
Price for two, without wine, is approximately €100.
For more information, visit the Adega webpage.
Adega Restaurant
Vila Vita Parc
Rua Anneliese Pohl
Alporchinhos
8400 – 450 Porches
Reservations: +351 282 310 100
Email:  reservas@vilavitaparc.com
Hours:
Every Day (Summer Season) – Lunch from 12:30 to 15:00, Tapas from 16:00 to 18:00, Dinner from 18:00 to 22:00
Every Day (Winter Season) – Lunch from 12:30 to 15:00, Tapas from 15:00 to 18:00, Dinner from 18:00 to 22:00
Also at VILA VITA Parc:
■ VILA VITA Vital Spa
■ Cave de Vinhos Wine Cellar
■ Vila Accommodations
■ Workout, Wellness & Weight Reduction
■ 2 Michelin Star Ocean Restaurant
■ Arte Nautica Beach Restaurant
■ Biergarten German Cuisine