Swedish artist Alexander Gutke's (1971) body of work can be said to belong to a minimalist and conceptual tradition. Using cameras, slide projectors or film, Gutke explores notions such as space, light, shadow, darkness, and emptiness. These technological devices are usually explored as objects, technology and medium. The Vera Cortês Art Agency in Lisbon celebrates Gutke's works with a solo exhibition 8 May through 27 June.
--------------------------------------------------
--------------------------------------------------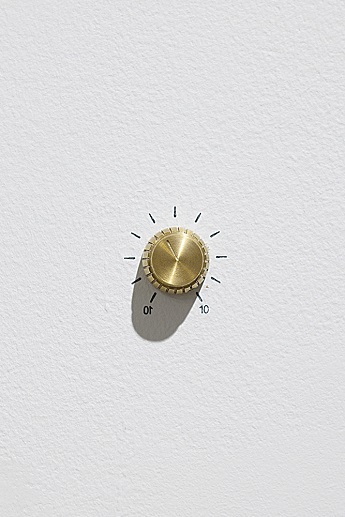 In this exhibition, Gutke presents a selection of pieces that represent the last ten years of his creativity. Earlier artworks and newer pieces, created especially for this show, are presented side by side, allowing the guests to better understand the range of issues the artist has been exploring.
For example, one work form the show includes Loud Loud (2014, at right), a slightly enlarged replica of a volume button of a 1970s Marshall guitar amplifier is installed on a wall, slightly above eye level. The values -10 and 10 are stamped onto the wall, suggesting the possibility of a negative space or even of a soundtrack somewhere between absolute silence and total noise.
For more information, visit the Vera Cortes Gallery website.
Vera Cortes Gallery
Av. 24 de Julho, 54
First Floor
Lisbon
Phone: +351 213 950 177
Email: vc@veracortes.com
Hours: Tuesday to Saturday – 14:00 to 19:00 or by appointment
Closed on Sundays, holidays and month of August