Here's a quiz: Which of these two things go together: 1) wine and prehistoric rhinos; 2) brandy and crystals; 3) sparkling wine and ancient African masks? Hmmm. Well, the folks at Aliança Underground Museum & Wines will tell you the answer is: 4) they all do!
Just an hour south of Porto, in the city of Aveiro, is this unique space. It blends two key passions of majority owner Jose Berardo: wine and art.
--------------------------------------------------
--------------------------------------------------
The winery is the "headquarters" of a wine producing empire that has a presence in many regions across Portugal. The wine produced here has traditionally been brandies and sparkling wines. Strategies in recent years have produced popular varieties of red, white and vinho verde. 50% of production is enjoyed in Brazil, Africa and across Europe.
To store the wine during aging, the facility built cool climate tunnels. This is not only optimal environments for wine, but also works well for the preservation and exhibition of art. So, with that in mind, the Aliança Underground Museum was conceived and built to allow guests the opportunity to enjoy the combined pleasures of the palate and pleasures of the soul.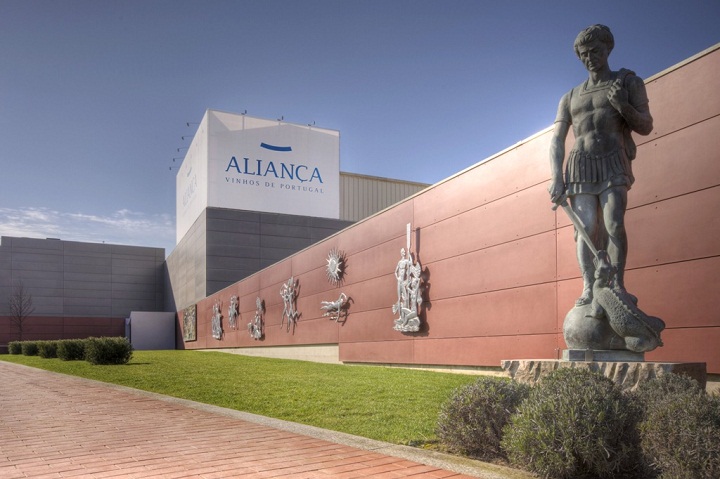 On display is a unique and fascinating collection of art and geological pieces. Featured in the archaeology collection are 1500 year old terra cotta figurines from ancient culture Bura-Asinda-Sika, Niger, in Africa. Also from the African continent is a large collection of ethnographic objects used in rituals and everyday life. On display are masks, statues and weapons, as well as jewelry, cooking utensils and items of prestige.
Representing contemporary art in Africa is a collection of stone sculptures from Zimbabwe. Since the early 1960's, a community of artists from Tengenenge have been creating works of art and sold in an open air gallery. These works help support the infrastructure of the community and the well-being of the artist. (See photo at top.)
The mineral collection showcases fine examples of calcite, amethyst, many varieties of quartz and tourmaline, Most pieces here were brought from the mineral-rich states of Rio Grande do Sul and Minas Gerais in Brazil.
Go way-back in time, some 20 million years, by viewing amazing specimens of fossils. Rhino bones, birds, fish and shells are all perfectly preserved in stone. Also in this collection are fine pieces of petrified wood from Argentina.
Two styles of ceramics are also on display. First, a collection of traditional Portuguese pottery figures from Caldas da Rainha, including works by renowned potters Rafael Bordalo Pinheiro and Manuel Cipriano Gomes. As well, there's an impressive collection of Portuguese tile (much of it traditional blue and white "azuelos")
You may also want to sign up for a winery tour and wine tasting. The tour passes through tunnels with walls covered in sparkling wine bottles, a grand warehouse of 1200 massive barrels of wine and traditional brandy cellars.
For more details on Aliança and to reserve space in the tours and tastings, see contact details below or visit the Aliança website.

Guided Tours of the Aliança Underground Museum
Every Day (excluding January 1, Easter Sunday, December 25)
Tour Times: 10:30, 11:30, 14:30, 15:30 & 16:30
Entrance: Free
Tour Duration: 1 hour
Aliança Underground Museum
Aliança – Vinhos de Portugal SA
Rua do Comércio, 444
3781-908 Sangalhos – Aveiro
Phone: +351 234 732 000
Email: alianca@alianca.pt
GPS: N40 29,376, W8 28, 307
Other cultural interests of José Berardo include:
Berardo Collection Museum
Sintra Museum of Modern Art
Buddha Eden
Contemporary Art Center in Madeira
Ten Monumental British Sculptures (in Vilamoura until Sept. 2011)