Portugal Confidential stopped by to visit our friends at Jardim Vista Landscaping in Almancil. We were delighted to see contemporary objet d'art strategically placed around their majestic garden. Marble globes sit on the lawn. Slick black sculptures hang from the trees. As it turns out, these funky forms have high-fidelity function. This "art" is actually a mega-cool, technically-sophisticated sound system, from Italian designers Architeturra Sonora.
————————————————–
[ad name="Google Adsense Image Banner for Posts "]
————————————————–
Architettura Sonora designs immersive audio systems. They combine applied acoustics, architectural sound space design and industrial design in creating this innovative sound experience.
Individual "sonic modules" with names like shark, dolphin, yo-yo and helmet, make up the system. Each unit is specifically-designed to achieve high level performances both indoor and outdoor. Some units emit in multi-directions. Others focus on specific direction or tones. Working together, these modules create what Architeturra Sonora calls "multisensory immersiveness."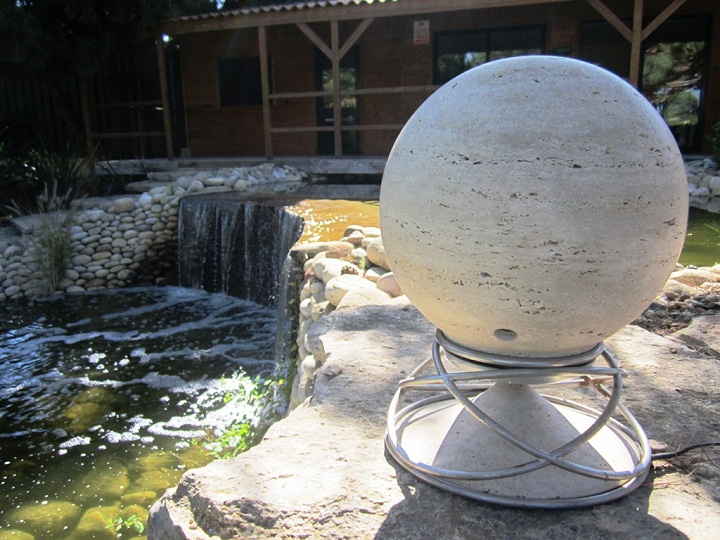 On the Ground
SPHERE 360 & 470 (top and left) are two-way full-range floorstanding sound modules. They have high SPL capabilities, with full and warm balance. Available in the "Impruneta" Tuscan terracotta, classic travertine, white "Bianco Carrara", black "Marquinia", Bardiglio, and other marbles.
TALL CYLINDER (right) is an omnidirectional emitter. Its shape is ideal to complement modern architectural designs, indoor spaces and also outdoor walls and gardens. Available in classic travertine, granite, Bardiglio marble, steel, iron or aluminum
In the Air
SHARK (left) is a one-way suspended subwoofer. It has medium SPL capabilities, with omnidirectional sound emission. The stretched shape fits nicely in a wide variety of settings. The Shark is intended to perfectly complement the sound emission of the directional sound module family. Composite material of black or white.
HELMET (top of page and right) is also a two-way satellite suspended sound module. It has high SPL capabilities and a warm tonal balance. It's sound emission is directional. It is a more predictable sound source in respect to his bigger brother "the Dolphin" (not pictured). The focusing shape makes it perfect to cover smaller areas.
Contact Jardim Vista for a free site survey. They'll evaluate your space, and offer a quote as well as provide technical and design layouts for installation. Prices vary.
For more information, contact:
Jardim Vista
Rua Cristovão Pires Norte
8316-912 Almancil
Algarve
Phone: +351 916 141 942
Email: info@jardim-vista.com