Magnificent works by Latin American artists are the focus of the inaugural exhibition at the Centro de Cultura Contemporânea in the Central Portugal city of Castelo Branco.  91 paintings, sculpture and video art, are on loan from the Colecção Berardo and represent works from leading 20th and 21st century artists from all countries in Latin America.  This unique must-see exhibition continues at the cultural center through 13 October 2014.
————————————————–
[ad name="Centro Portugal"]
————————————————–
This is the debut exhibition for the Contemporary Art Center, opened in October 2013 to promote contemporary culture and artistic creation.  Designed by Catalan architect Josep Lluis Mateo, the facility has three floors of exhibition space, meeting rooms, auditorium, café, gift shop and an ice skating rink!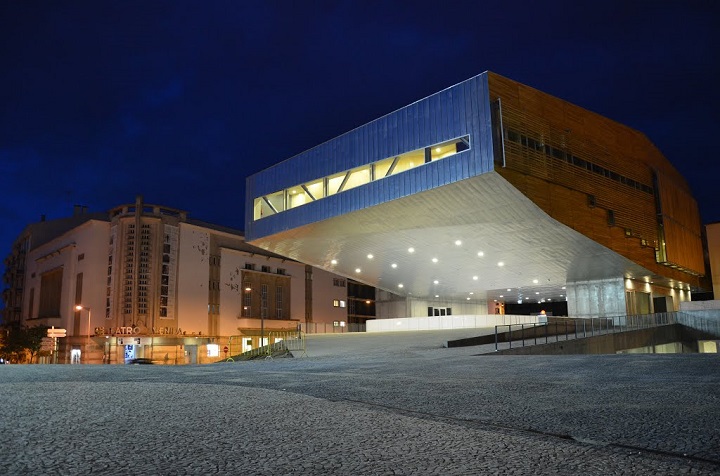 Rather than being a comprehensive or chronological look at Latin American art, the exhibition showcases this unique genre by segmenting the works by the 22 counties in the region.  Key artists represented include: Diego Rivera, Frida Kahlo, David Alfaro Siqueiros and Rufino Tamayo of Mexico; Nicolas Leiva, Argentina; Jose Bedia, Cuba; Armando Morales, Nicaragua; Tilsa Tsuchiya, Peru; Mario Murua, Chile; and Emilio Di Cavalcanti, Brazil.
Perhaps one of the most significant works in the exhibition is Chilean artist Robert Matta's "Watchman. What of the Night?" (In photo at top of page.)  This exhibition marks the first time this 10m x 3m surrealist paining is shown in Portugal. Art Daily calls the work, "an epic mural that marries Matta's vocabulary of abstract forms and fluid shapes in explosive yellows, greens and reds."
Watchman. What of the Night?, Roberto Matta, 1961, Chile
Greeting visitors to the museum is a monumental sculpture by renowned Colombian artist Fernando Botero. His signature style of depicting his subjects in rotund shapes is quite evident in the amazing "Male Torso."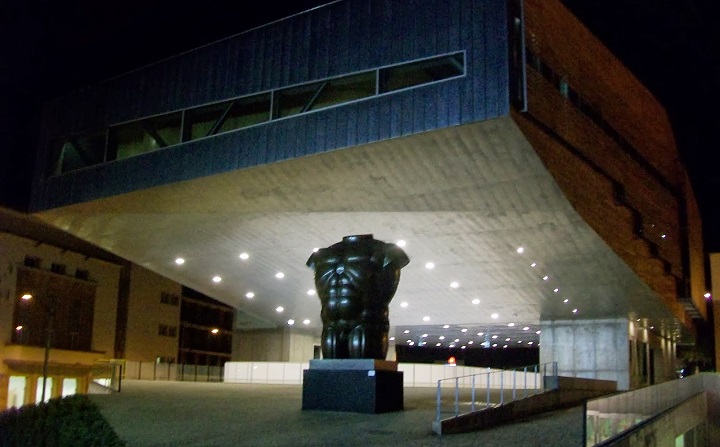 Male Torso, Fernando Botero in front of the Centre de Cultura Contemporânea
Arte Latino-Americana is on view Tuesdays through Sundays until 13 October 2014.
Centro de Cultura Contemporânea
Campo Mártires da Pátria
Largo da Devesa
6000 Castelo Branco
Central Portugal
Click here to see Centro de Cultura Contemporânea on Google Maps
Phone: +351 272 330 330
Hours: Tuesday to Sunday – 10:00 to 13:00 and 14:00 to 18:00
Click here to see more of our coverage of Central Portugal