No trip to the Algarve is complete without a delicious meal at a fabulous beach restaurant. It's the ideal combination of exquisite cuisine mixed with water's edge location that makes for an incredible dining experience.
Arte Náutica, in Armação de Pêra, is, no doubt, the top choice of many for best beach restaurant. Sitting directly in the sand with unobstructed views to the sea, Arte Náutica serves expertly-prepared fresh fish and meat, and regional Portuguese dishes. The restaurant is managed by the team at VILA VITA PARC Resort & Spa, therefore attention to service and quality is guaranteed.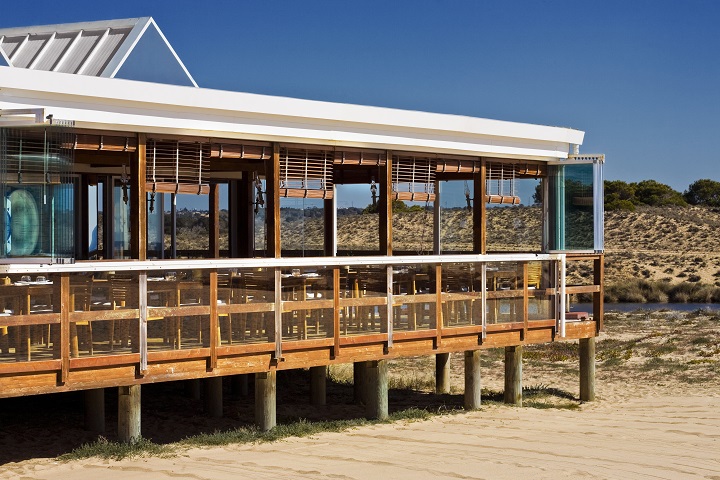 The ambiance at Arte Náutica is sophisticated, yet "seaside" comfortable. Inside, nautical- and ocean-themed images and objects are displayed throughout. Wood slat dining tables and chairs are set against cushioned banquettes. All tables benefit from gorgeous views to the terrace, beach and ocean.
On sunny days and warm evenings, terrace seating is recommended. The roar of the waves and the fresh scent of the ocean breeze provide an exhilarating natural ambiance.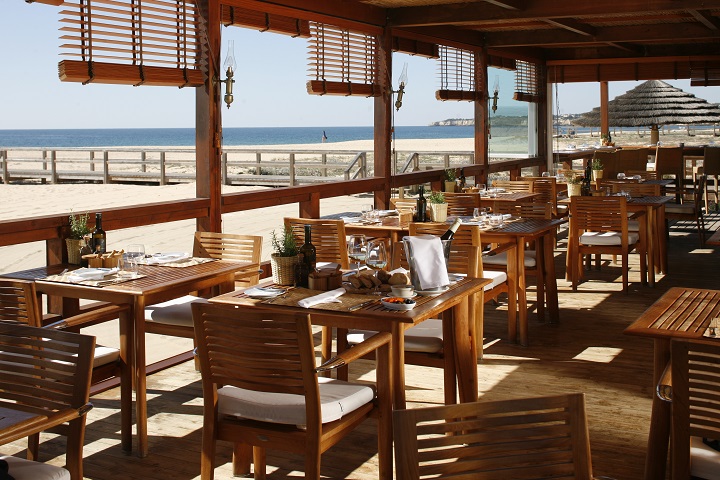 In addition to a variety of grilled fish and meat, the Arte Náutica menu offers many Portuguese specialties. Clams "Bulhão Pato" is a popular dish from the Estremadura region and named for Portuguese poet Raimundo António de Bulhão Pato (after the meal was mentioned in his writings). Clams are simmered in olive oil, garlic, coriander, lemon and white wine. Or, enjoy a succulent Fish in a Salt Crust. This unique Portuguese baking method involves placing a whole fish inside a mound of flor de sal and roasting in the oven. The salt keeps the fish moist and flavorful. Pork Alentejo is a Portuguese favorite (and a specialty at Herdade dos Grous restaurant). Locally-raised pork is marinated in wine, paprika, garlic and bay leaves, and served roasted with potatoes, clams and coriander.
More highlights from the menu include:
■ Razor Clams Provence-Style
■ Pataniscas de Bacalhau (codfish dumplings)
■ Grilled Caribineer
■ Grilled Tiger Prawns from Mozambique
■ Tuna Steak with Algarve Sauce
■ Rack of Lamb with Potatoes Murro-style (punched, roasted small potatoes with olive oil)
■ Herdade dos Grous Beef Steak with Pepper Sauce
■ Picanha with Black Beans, Garlic Rice and Salad
Two or more can indulge in Açorda with Prawns, a thick stew made with bread, and loaded with fresh prawns, or Fish Cataplana, a fish and rice mixture cooked and served in a special copper cookware known as "cataplana."
For dessert, Portuguese classics, such as arroz doce (sweet milk rice), pudim d'ovos (custard) and chocolate mousse, complete this traditional meal.
Soups, salads, pastas and special plates for kids are also available.
Dinner for two without wine is around €75.
For more information, visit the Arte Náutica webpage.
Arte Náutica
Praia do Armação de Pêra
Avenida do Rio
Armacão de Pêra
Algarve
Phone: +351 282 314 875
Email: reservas@artenauticabeachrestaurant.com
Hours: Everyday – 10:00 to 22:00