Who needs jewels when you have azulejos?!? Fashionable Luso-philes must agree! This cleverly-designed product line of contemporary jewelry is inspired by Portuguese heritage. Átrio produces handmade bracelets, rings, necklaces, cufflinks and key chains, with iconic imagery from Portuguese culture.
--------------------------------------------------
--------------------------------------------------
Believe it or not, all of Átrio products are handmade by an American. Some 30 years ago, Elizabeth Anjos married a Portuguese, relocated to Portugal, and quickly became enamored with the colorful and cultural heritage of her new surroundings.
She was inspired by the beauty around her. It was her desire to share this beautiful country with everyone and give them the possibility to, "wear a piece of history." It is a perfect momento for those who have visited Portugal.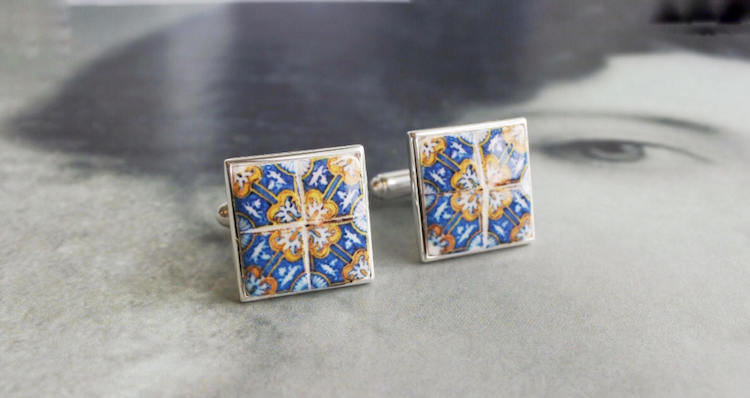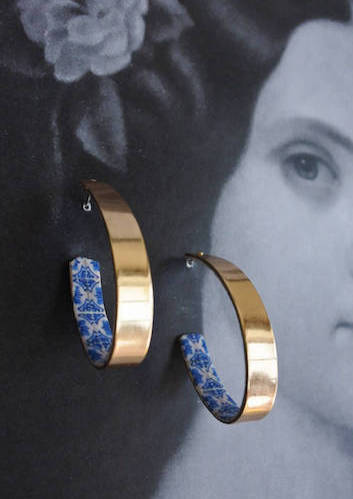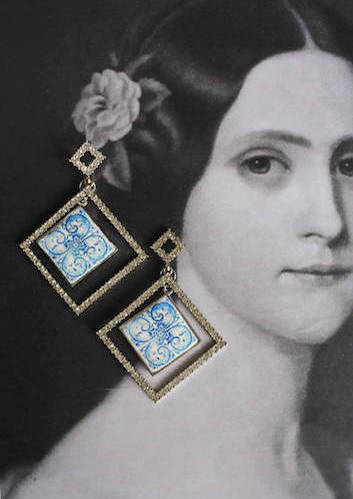 Earrings (left) inspired by azulejos from Igreja de São Nicolau, and (right) by University of Évora
Much of the beautiful images on the pieces are replications of traditional azulejo tiles. Azulejos are hand painted ceramic tiles, produced for the last five centuries in Portugal and throughout Portuguese territories. They are used to decorate interior and exterior walls of buildings as diverse as churches and palaces, to railway stations and park benches.
Most of the azulejo design in Átrio jewelry are replications of tiles from historic buildings in Portugal, such as a chapel in Sintra, the Church of St. Nicolas in Porto or a street in Evora.
Elizabeth uses a polymer clay to create these tiny azulejos. During the baking process, the image actually becomes part of the clay. No glue is needed in the process. The pieces are waterproof and scratch-resistant. And because each piece is handmade, minor imperfections become part of the intriguing design, making each item one of a kind.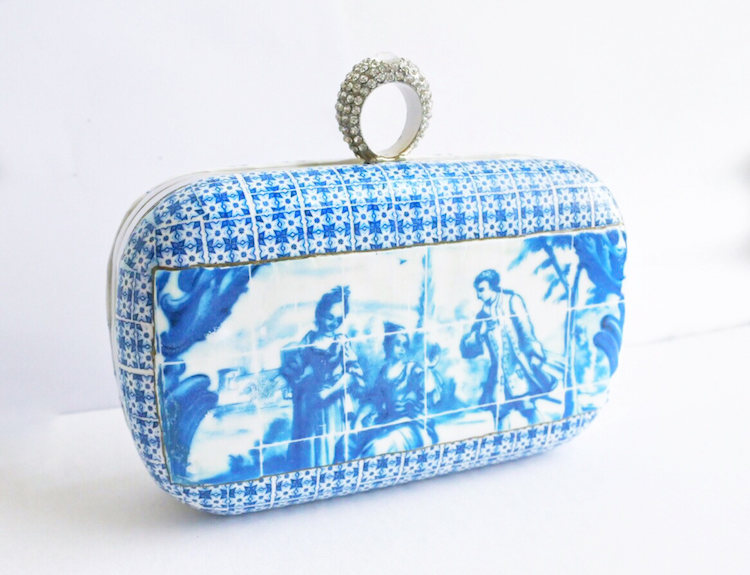 Clutch purse inspired by azulejos at Pasteis de Belém.
Wear a little bit of Portugal!  We have our eye on the pretty purse clutches.  Átrio makes personalized Christmas tree ornaments too.
View and purchase products at the Atrio website.
Or, contact Átrio at: atrioazulejos@gmail.com.