If you've visited Lisbon, you've likely encountered the urban art of Bordalo II. This unique and highly-respected Portuguese artist upcycles the city's rubbish into jaw-dropping, creative, three-dimensional pieces of art. A large-scale raccoon adorns a wall in Belém Cultural Center. A giant bee clings to the side of a building at LX Factory. And, a two-story dragonfly is featured in the lobby of the Lisboa 1908 hotel. And now, smaller works by Bordalo II are on display in an exhibition entitled ATTERO, running from 4 to 26 November.
--------------------------------------------------
--------------------------------------------------
Born in Lisbon in 1987, Artur Bordalo prefers to use his artistic name Bordalo ll. This is a tribute to the artistic legacy of his grandfather Real Bordalo, who exposed young Artur to Lisbon's underworld of illegal graffiti.
ATTERO is Bordalo ll's first exhibition in a space that has been the artist's home for the last 24 months. In a departure from his Big Trash Animals on walls around the city, this exhibition showcases pieces of varying sizes and imaginative styles, such as:
■ World Gone Crazy
■ Mixed Trash Animals
■ Half Half Animals
■ Plastic Animals
■ Floating Plastics
■ Big Trash Animals
The fusion of a creative mind, the use of trash, combined with paint, plastic and wood is the basis of this exhibition. We are introduced to smaller works; his signature splashes of color, a self-portrait, organized chaos. Within his animal pieces you will find a teddy bear sporting a Santa hat, broken chains and colorful tubes. The underlying political statement recognizes our exaggerated consumerism and the effect it has on our planet and wildlife.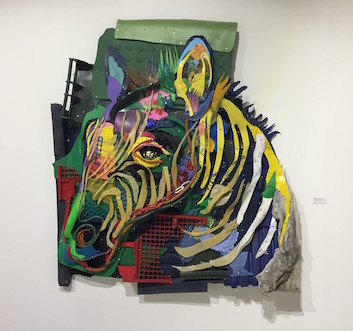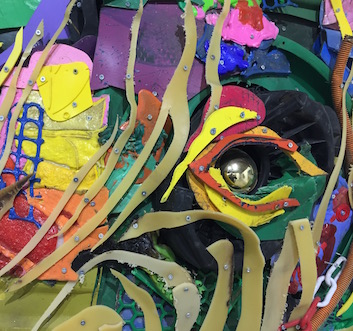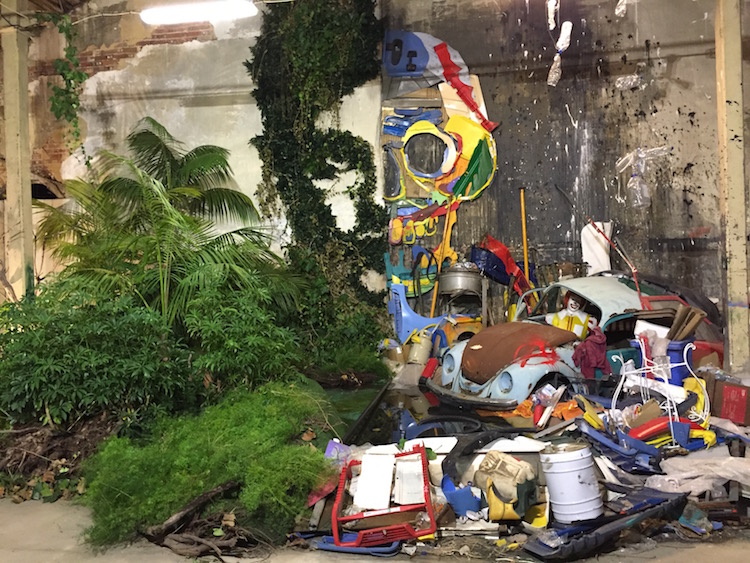 (top left) "Zebra" by Bordalo II, (top right) Close up view of "Zebra", (above) "Aterro" installation.
In the four years Bordalo ll has worked with trash, he has constructed 88 Big Trash Animals in 18 countries, and upcycled an estimated 28 tons of waste.
For more information, visit the Bordalo II website.
ATTERO Exhibition
Rua de Xabregas 49
Beato Neighborhood
Lisbon
Exhibition runs from 04 to 26 November
Hours: Wednesday to Sunday – 14:00 to 20:00
Free entrance