b.muu concept burgers is one of those ideas that makes us CRAZY! First, it's such a simple idea that you just know it will be a huge success. Secondly, why didn't we think of it first?!?!
—————————————————
[ad name="Google Adsense Image Banner for Posts "]
—————————————————
b.muu is a butcher shop like no other in Lisbon. Forget the traditional meat shop with sides of beef and sausages hanging in the windows. B.muu is a boutique for urban hipsters seeking a quick and easy alternative for dinner. This shop only sells raw hamburger meat. Customers come in, select from 15 flavors, and take them home to cook themselves.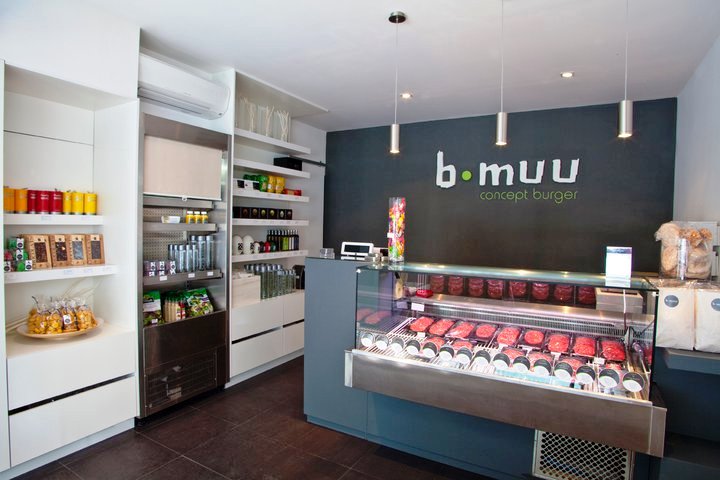 B.muu uses only top-quality Portuguese beef, mixed with a variety of ingredients and spices. On the more traditional side, are classic burgers such as bacon, barbeque or parmesan. For something more exotic, there is an Indian burger with ginger, cardamom and cloves, and a Mexican burger with chili, red peppers and red beans. And, don't forget the Portugal burger with black pork sausage and island cheese. The full selection includes.
Classic
Simply.Muu
Bacon
BBQ
Parmiggiani
Garlic & Herbs de Provence
Explore
Portugal
Italy
Greece
Mexico
India
Concept
Sun Dried Tomatoes & Parmiggiani
Spicy Organic Mustard
Roquefort
Truffle
Making a decision on flavor will be the most difficult decision, because preparing the burgers at home is simple. No oil is necessary. Just throw the burgers in a skillet and cook for three minutes on both sides.
To complement the meal, b.muu offers a small selection of homemade and gourmet products. Fresh potato chips are available, as are fruit juices and smoothies. Finish off the meal with specially-prepared desserts, like chocolate and caramel biscuits.
Each burger ranges in price from €1.80 to €3.00. For more information, visit b.muu Facebook page.


b.muu Concept Burger
Rua Quatro de Infantaria, 7D
Campo de Ourique
Lisboa, Portugal
Phone: +351 211 952 302
Mobile: +351 912 688 488
Email:  geral@b-muu.com
Hours: Tuesday through Saturday – 11:00 to 20:00