Tired of trendsters, dance music and laser lights? In Lisbon, step back in time to when the joint was jumpin' with jazz. Dudes were "dapper", and babes were all "dolled up". Experience a vintage bar seemingly stuck in the Roaring 20's of last century. It's Foxtrot on Travessa de Santa Teresa.
————————————————–



————————————————–
A diverse crowd is drawn to this iconic bar. Perhaps it's the sensual soft lighting, or the alluring art deco décor. Maybe it's the bartenders shaking cocktails, or the Wednesday night jazz. Either way, Foxtrot is a unique way to spend an evening with loved ones or a lover.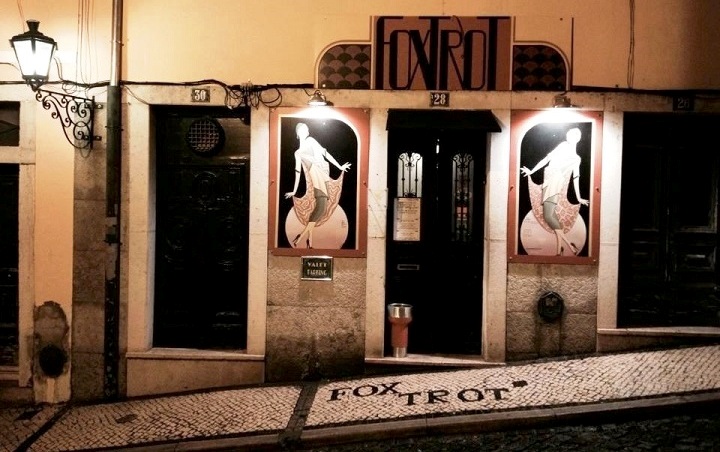 Enjoy a classic cocktail like a daiquiri, Long Island iced tea, blue lagoon or tequila sunrise. Or, ask the bartender for suggestions on whiskies stored in the cellar, or something inspired by one of the many international spirits and liquors at the bar.
When hunger strikes, Foxtrot's kitchen serves a variety of steaks, burgers, hot dogs and toasted sandwiches. For noshing with cocktails, order meat or tuna croquettes, veggie patties or patties with shrimp.
Half price beers at Happy Hour, everyday from 18:00 to 21:00. A special cocktail is offered at half price every day. Free wifi for posting selfies.
For more information, visit the Foxtrot website.
Bar Foxtrot
Travessa de Santa Teresa, 28
Lisbon
Phone: +351 213 952 697
Mobile: +351 967 481 049
Email:   barfoxtrot@gmail.com
Hours:
Monday to Saturday – 18:00 to 03:00
Sunday – 20:00 to 02:00