Bica do Sapato (Portuguese for High Heel) is a unique restaurant that was fashionable when it first opened over 10 years ago, and remains chic and trendy today.  It is a must go for those that loves great food, cool ambiance and interesting people-watching (many Lisbon celebrities, politicians and trendsetters can be found dining here).
--------------------------------------------------
--------------------------------------------------
Bica do Sapato is unconventional in that you can choose between three different dining rooms, each with their own ambiance and menu:
The Cafeteria is open, airy and casual, with massive windows overlooking the river.  You can choose to sit out on the terrace as well. The menu includes favourites like tuna tartare, clams, asparagus risotto, grilled octopus, duck pie and  pork cheeks. To finish things off there is a variety of cheese and fruit, but don't miss sweets such as lemon grass crème brulée or two chocolate brownie.  Divine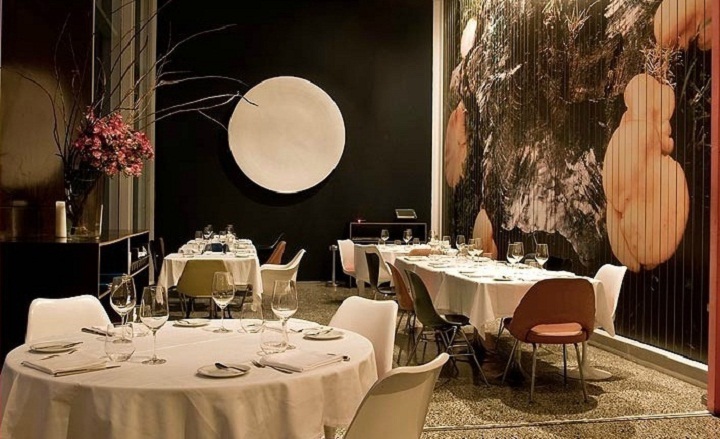 The Restaurant has more intimate table sittings, and a slightly more formal ambiance.  Similar to the cafeteria, floor-to-ceiling windows provide river views, or you can reserve a table to dine al fresco on the terrace.  Here, the menu features braised scallops, stuffed quail, tuna filet, lamb shoulder, stuffed rabbit fillet.  Finish the meal with a selection of port wines, teas, liquors or special treats such as chestnut mousse or plum iced parfait.
The Sushi Bar is upstairs serving a fine assortment of sashimi and sushi.  Accompany the meal with soft shell crab tempura and Thai udon noodles.  Finish up with fruit soup or bitter chocolate coulant.
Bica do Sapato is located close to Santa Apolónia train station, in the riverside warehouse district.  It is an excellent choice for a lovely dining experience.  And, if after your meal you are still in the mood for drinks and dancing, try the Lux-Frágil Bar & Disco next door.  It is also managed by the same team.
Reservations recommended.  For more information, visit the Bica do Sapato Website. Vegetarian-friendly too.
Bica do Sapato
Avenida Infante Dom Henrique
Warehouse (Armazém) B, Cais da Pedra
Santa Apólonia
Lisboa
Phone:  +351 218 810 320
Fax:  +351 218810 329
Email:  info@bicadosapato.com
Hours: 12:30 to 14:30 and 20:00 to 23:30