Sentimental for schnitzel? Passionate for potato pancakes? Sweet tooth for strudel? If you a happen to be in the Algarve, you're in luck! The Biergarten in Porches is a charming restaurant serving delicious international cuisine with a strong German accent.
--------------------------------------------------
--------------------------------------------------
The Biergarten is just to the north of the Porches roundabout on the EN 125. A winding lane leads past a large green grass lawn, delivering guests to this "Little Bavaria." The façade of the restaurant is painted with traditional German motifs. A maypole stands in front. And, an actual "beer garden" sits to the side, complete with rows of long wooden bench-style tables, and strings of lights hanging overhead. (Drinking a stein of Paulaner beer with a big fat salted pretzel here is a nice diversion on a warm evening.)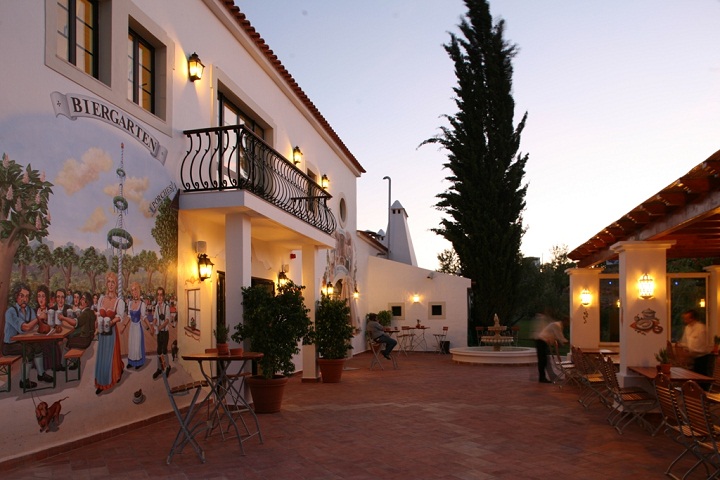 Inside, servers wearing dirndls greet you with "guten tag." The ambiance is casual with wooden tables, bench seating and decorative objects from Deutschland. It's a comfortable setting for the delicious and abundant meal about to be served.
The Biergarten menu of German delicacies leans heavy toward meats. All of the fresh, organic meat products are brought directly from the Herdade dos Grous in Alentejo. German butchers Thomas Weber and Martin Baumann prepare the meats using traditional techniques in an artisanal butchery adjacent to the restaurant.
Home-made sausages are a specialty. Try the Weisswurst white sausage with sweet mustard and bretz'n. The Biergarten also offers up sausages of Thüringen (minced meat blended with caraway, marjoram, and garlic), Merguez (red and spicy, with cumin and chili) and Nürnberg (smaller links made marjoram and served on bread). Slather these with mustard and eat with potato salad.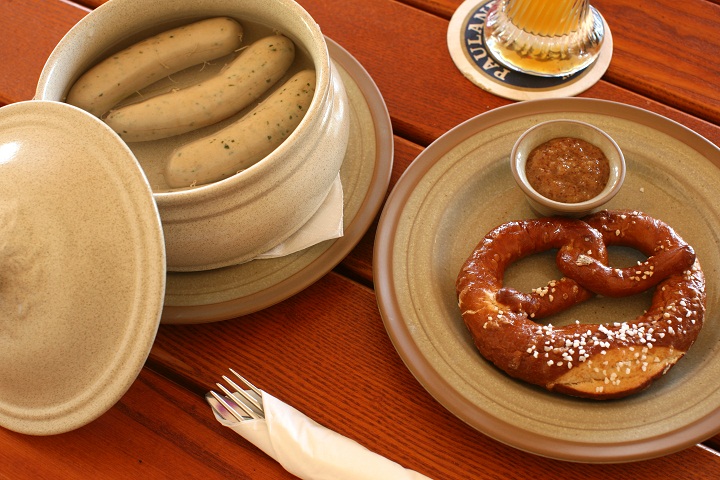 Not in the mood for knockwurst? Biergarten has other options, such as:
Start with…
■ Cold Meats & Sausages Platter
■ Goulash Soup with Vienna Rolls
■ Breaded Camembert with Potato Cookies and Cranberries
■ Potato Pancakes with Apple Compote
Savor…
■ German Meat Loaf with Potato Salad and Fried Egg
■ Herb-Roasted Ham with Roast Potatoes and Remoulade Sauce
■ Viennese Schnitzel of Pork with Potato Salad and Myrtle
■ Sour Roast of Farm Beef with Red Cabbage and Mashed Potatoes
■ Salmon Fillet on Vegetables and Young Potatoes with Basil Sauce
Don't forget to finish with a genuine apple strudel, with your choice of whipped cream, vanilla sauce or vanilla ice cream on top!
Dinner for two without wine is about €50.00.
On your way out, stop by the butcher and take some bratwurst home for later.
For more information, visit the Biergarten page of Vila Vita Parc website.
Biergarten
EN 125 (north of roundabout in Porches)
8400-450 Porches
Phone: +351 282 381 177
Email. reservas@vilavitaparc.com
Hours:
Wednesday to Friday – 13:00 to 22:00
Saturday, Sunday – 12:30 to 22:00