Celebrated Brazilian street artist Raphael Sagarra (aka Finok) debuts in Lisbon with a solo exhibition featuring his unique style of urban art. The show, entitled O Enterro do Galo (The Burial of the Rooster), is presented by the Underdog Gallery, a space dedicated to urban-inspired graphics and visual culture. Finok's works remain on display through 28 February.
--------------------------------------------------
--------------------------------------------------
Born in 1985, Finok has established himself as one of the most prolific young names in the epicenter of South African graffiti culture, São Paulo. Typically adhering to themes popular in São Paulo urban art scene, Finok paints his murals with folkloric characters, images of everyday life such as kite flying, and presents them on densely patterned backgrounds.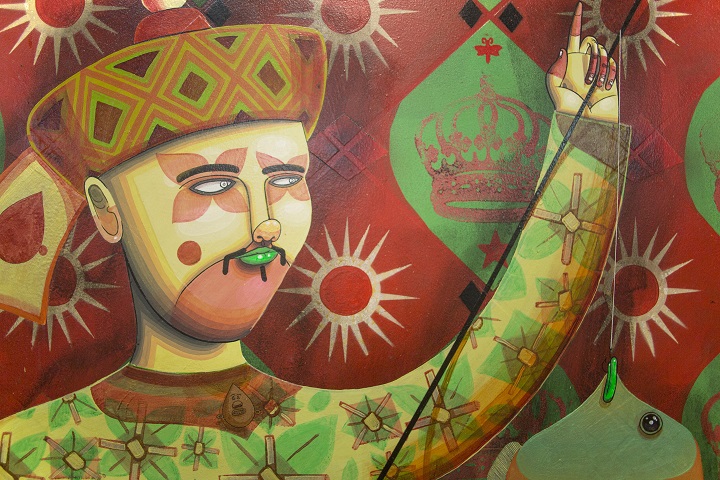 In The Burial of the Rooster, Finok reflects on the human need for understanding and belonging expressed through belief systems, whether spiritual, religious or natural. His works depict a universe of popular and traditional devotional celebration practices shared by Brazil and Portugal.
The Finok exhibition compliments the ongoing efforts of the Underdogs project. With a gallery, public art program and production of original and affordable art editions, Underdogs fostering partnerships and collaborations between creators, cultural agents, exhibition venues and the city, to develop relationships between local urban artists and the public.
For more information on the artist, visit Finok.co.br. For more information on the exhibition visit the Underdogs website.
UnderDogs Gallery
Rua Fernando Palha
Armazém 56
Lisbon
Email:  info@under-dogs.net
Hours:  Tuesday to Saturday – 14:00 to 20:00
Admission:  Free