Sadly, Bubbly has closed.  However, owners hope to reopen in a new location.  Stay tuned….
Champagne, champagne and champagne!  Champagne, and the bubbles associated with the golden ambrosia, is how you should prepare for this effervescent dining experience.  Fairly new to the fashionable Bairro Alto scene, Bubbly is a buoyant, high-spirited restaurant sure to tickle your taste buds.
--------------------------------------------------
--------------------------------------------------
Your first decision of the evening will be selecting a sparkling wine from the list of 50 labels representing Portugal, France, Spain and Italy.   Hmmm, or maybe it's a sparkling sangria.  But, also consider a champagne cocktail, such as a Bellini, Kir Royal or Espumantirinha!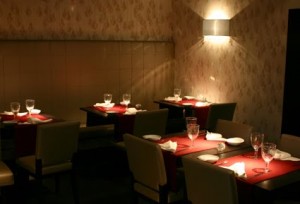 The menu features modern Portuguese cuisine.  Don't be surprised if champagne or wine becomes a component in some of the dishes.  A specialty of Bubbly, and a perfect complement to sparkling wine, is fresh truffles.  Year round, Bubbly features a fresh truffle item as an option for starters.  Highlights of the current menu includes:


Sautéed scallops on a lemongrass skewer
Lobster and cream cheese scones in citrus syrup
Seared quail breasts on foie gras drops
Spinach risotto with goat cheese
Game-filled sausage risotto with savoy cabbage
Champagne risotto with sautéed prawns and green asparagus
Octopus tempura with red wine rice
Tuna steak with green pepper sauce
Salted cod loin poached in extra virgin olive oil
White veal sirloin with port wine sauce
Roasted lamb leg with rosemary sauce
Duck leg confit with moscatel wine reduction
Orange tiles with chocolate mousse
Poached pear in sparkling wine with ice cream
Vanilla cheesecake with red berries jam


With an intimate décor and light ambient music, Bubbly is a great spot for romance, or a festive night with friends.  Bubbly is open for lunch too.
Note:  Tuesdays nights is Bubbly by Mumm.  All diners on Tuesdays may have a 750ml bottle of Mumm champagne for €25.
For more information, check out the blog for Bubbly.


Bubbly
Rua da Barroca, 106-110
Bairro Alto
Lisbon
 
Phone:  +351 211 556 042 or +351 934 634 010
Email:  bubbly.info@gmail.com
Hours:
Lunch – Tuesday through Friday:  12:00 to 15:00
Dinner – Tuesday through Saturday:  20:00 to 02:00 (Kitchen closes at 00:30)


Some fun famous champagne quotes:
Come quickly, I am tasting the stars!
Dom Perignon
There comes a time in every woman's life when the only thing that helps is a glass of Champagne.
Bette Davis
In victory, you deserve Champagne; in defeat, you need it.
Napoleon Bonaparte
I only drink Champagne when I'm happy, and when I'm sad.  Sometimes I drink it when I'm alone. When I have company, I consider it obligatory.  I trifle with it if I am not hungry and drink it when I am.  Otherwise I never touch it – unless I'm thirsty.
Lily Bollinger
Three be the things I shall never attain: envy, content, and sufficient Champagne.
Dorothy Parker
Meeting Franklin Roosevelt was like opening your first bottle of Champagne; knowing him was like drinking it.
Winston Churchill
Remember gentlemen, it's not just France we are fighting for, it's Champagne!
Winston Churchill
Champagne is the one thing that gives me zest when I feel tired.
Brigitte Bardot
Why do I drink Champagne for breakfast? Doesn't everyone?
Noel Coward
Too much of anything is bad, but too much Champagne is just right.
Mark Twain