Our friends at Burel Manteigas believe in "re-creating the past, making it present, so that it might be forever." Using this mantra, they take the ages-old process of producing Burel, a traditional wool fabric used by mountain shepherds, and transforming it into functional and funky products for new generations. The latest phase of their strategy is the opening of the new cool and convenient Burel Shop on Rua Serpa Pinto in the fashionable Chiado district of Lisbon.
--------------------------------------------------
--------------------------------------------------
Burel is a typical textile from the Serra da Estrela mountains in central Portugal. There was a time when many factories in the area spun wool and wove this thick fabric in abundance. Now, most of the massive looms are silent. Yet, thanks to the innovative minds of Isabel Dias da Costa and João Tomás, developers of Casa das Penhas Douradas, the Burel factory of Manteigas is active, producing this traditional fabric in fashionable designs and colors for the 21st century.
The Burel Shop is the "flagship store" for the output of the factory. Designed by architect Pedro Brígida, the retail space expands across two floors. At the entrance, original weaving machine bobbins jut out from the walls to become rods for hanging bags and scarves. A film of the factory in action is projected onto a blank area of the wall. The sound of automatic looms clacking and humming is another sensory element in creating the manufactoring ambiance.
Stairs lead down to another, more expansive floor. Here, shelves filled with blankets, pillows and throws line the walls. Luxurious and dreamy beanbag chairs are strewn around the room. On another wall, display boxes illustrate the ingenious use of Burel as wall coverings.
A clever design element of the shop is an exhibit of an actual loom from the Burel Manteigas factory. The hundreds of strands of colored yarn perfectly feeding through the loom is an amazing example of machine-age technology as well as being a gorgeous museum-like centerpiece to the shop.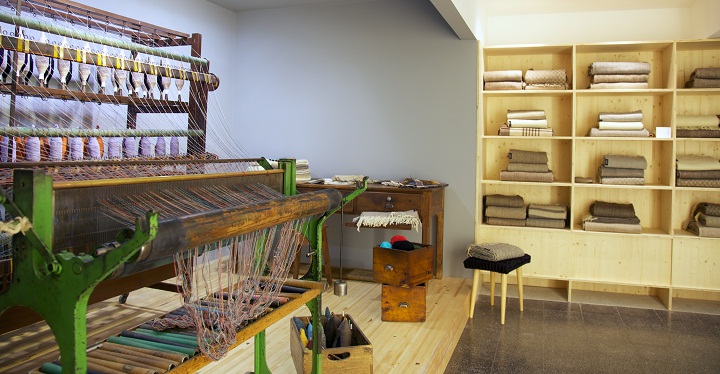 Also sold at the shop are gourmet products from sister company Penhas Douradas Food. Herbs, fruits and other flavors of the Serra da Estrela mountains are prepared in unique products such as pumpkin chutney, lavender honey, juniper jelly and parsnip ketchup.
The Burel Shop is an excellent place to find a special gift as well as an intriguing journey through the past, present and future of this traditional Portuguese product.
Learn more about Burel Shop at the Burel Factory website.
Loja da Burel
Rua Serpa Pinto 15B
Chiado
Lisbon
Phone: +351 21 245 6910
Mobile: +351 93 340 50 55
Email: geral@saberesefazeresdavila.pt