A very special Christmas traditional has begun in a small village in the Serra da Estrela mountains in central Portugal. Residents of the schist village of Cabeça have come together to create a Christmas festival…with one unique twist. This Aldeia Natal (Christmas Village) is completely sustainable. All decorations in the village are made of natural products sourced from the mountains, materials that are recyclable from local industry or technology that is energy conscious. Indeed, Pai Natal will be pleased!
--------------------------------------------------
--------------------------------------------------
It is a very special Christmas celebration where the beauty and biodiversity of the region are on display, while paying close attention to environmental and cultural values. So, forest materials such as tree limbs and mountain moss are used in the eco-décor. Unused wool products from the region's textile factories are utilized. And, street and building lights are all energy efficient LEDs.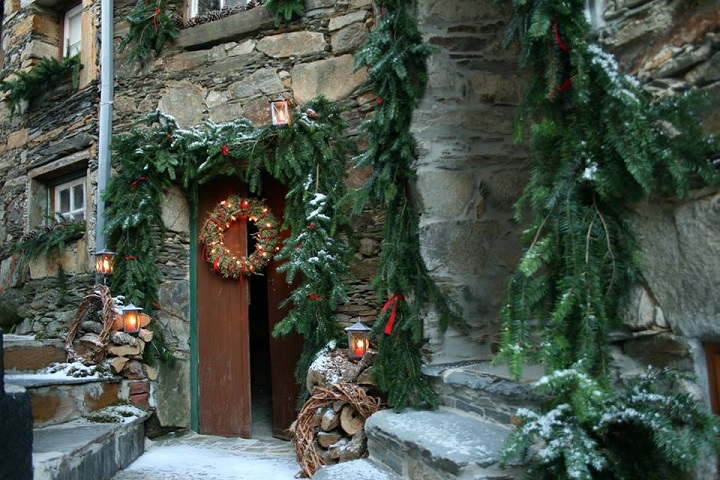 Visitors stroll the streets and enjoy the lovely decorated mountain homes. Nativity scenes at the churches pay tribute to the Christmas story. A market and crafts boutique offers handmade gifts, ornaments, and souvenirs. Street performers and scheduled concerts provide entertainment. And, the House of Enchanted Toys features a display of traditional Christmas toys from around the world.
Of course it wouldn't be Christmas…and certainly not central Portugal…without extraordinary flavorful experiences. Cookies, chocolates and other sweets are available in the cafes. And, throughout the village, and nearby towns, restaurants have created special menus for the occasion. Those participating include:
Camelo (Seia) ■ Museu do Pão (Seia) ■ O Império (Loriga) ■ O Regional da Serra (Seia) ■ O Tachinho do Francisco (Seia) ■ Churrasqueira Serrana (Loriga) ■ O Vincente (Loriga) ■ O Forno – Margarida (São Romão) ■ Guarda Rios (Vide) ■ São Martinho (Seia) ■ Borges (Seia) ■ Mirante da Estrela (Sabugueiro) ■ Cabeça das Fragas (Aldeia da Serra) ■ Melmequer (Valezim) ■ Miralva (Sabugueiro)
Aldeia Natal runs through 1 January 2018.
For more information, visit the Cabeça Aldeia Natal website.
Aldeia Natal
Cabeça
Seia Concelho
Serra da Estrela
Central Portugal
Phone: +351 238 317 762
Email: postoturismo@cm-seia.pt