He's done it again. Portuguese chef Jose Avillez, who has that rare talent to be both a respected culinary artist and a popular restaurateur, has opened yet another dining spot in his home town of Lisbon. Café Lisboa is Avillez's version of a traditional old world café, but with his own contemporary touch. This new, "must-do" restaurant is located at Largo de São Carlos nº 23 in Chiado.
--------------------------------------------------
--------------------------------------------------
In recent years, Avillez has been busy single-handedly changing the profile of the Lisbon restaurant scene. His haute cuisine at Belcanto earned a Michelin star. He created the intimate Cantinho do Avillez, featuring Portuguese home-style cooking. And, his Pizzaria Lisboa introduced a new twist on traditional pizzas. With this Café Lisboa, Avillez serves light meals throughout the day and night, in a distinguished European café setting.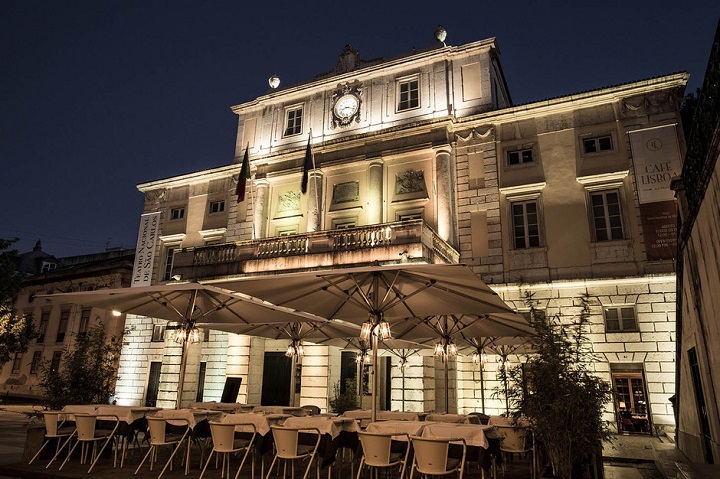 Café Lisboa sits within the National Theater of São Carlos. The ambiance is classic café design with modern styling. The off-white marble floors and painted walls are a sophisticated backdrop for the red velvet-upholstered chairs and gold-gilded frame moulding.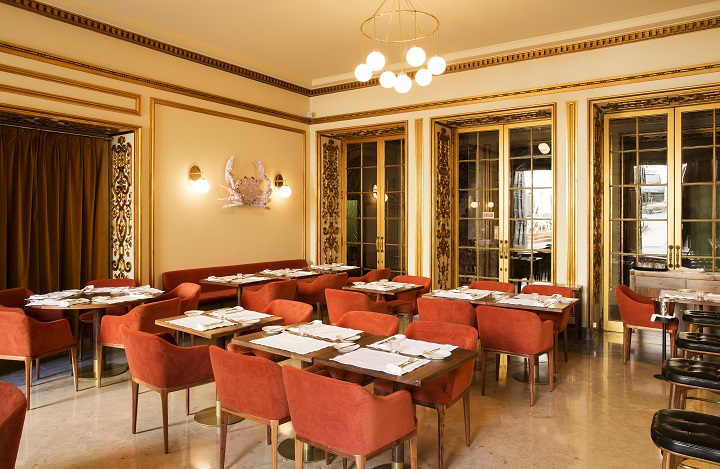 A large sculpture of a crab by Joana Vasconcelos adorns one wall. It is a painted Rafael Bordalo Pinheiro ceramic piece with a crocheted cover.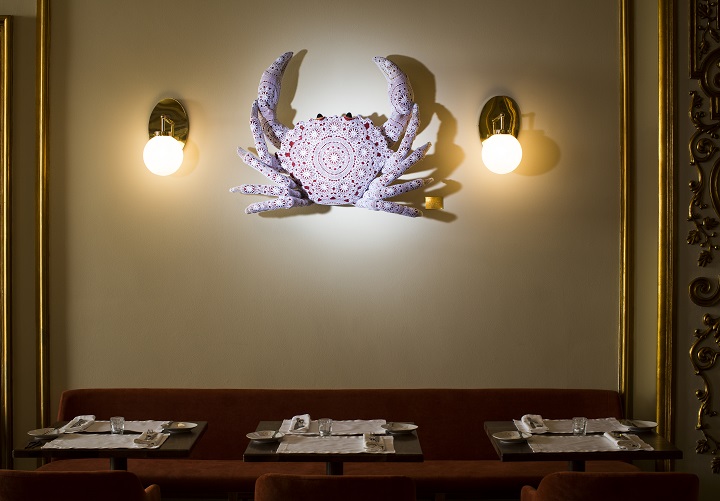 In front of the building, the café comes to life as it spreads out across the plaza of the theatre. It's romantic location to enjoy afternoon meals surrounded by historic architecture, or evening dinners under the stars.
In the kitchen, Avillez prepares Portuguese cuisine, with an emphasis on steaks and national specialties. Beef steaks can be ordered with Portobello mushrooms, Marrare cream sauce, or foie gras and truffle sauce, as well as with Alentejo-style black pork, onion and Serra cheese.  Specialties on the menu include:
■ Cherry gazpacho with cottage cheese, basil and dry cured ham
■ Pastel de Lisboa (beef pir) with turnip greens rice
■ Brás-style cod with "exploding" olives
■ Roasted duck rice with Savoy cabbage
■ Roast beef with french fries, tomato, lettuce and mustard and pickled vegetable emulsion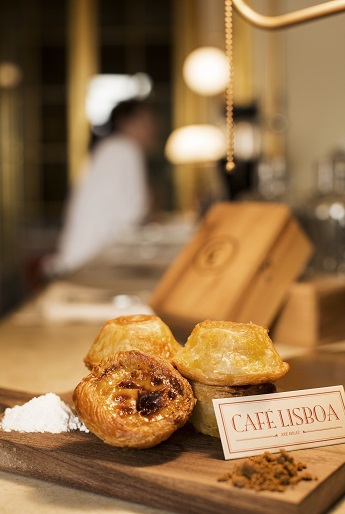 (left) Barrosã DOP hamburger with tomato, lettuce, mustard emulsion and pickle, (right) pastel de nata
On the "After Hours" menu, items include veal and partridge empadas (small pies), toasted sandwiches with combinations such as Serra cheese, tomato and oregano, and orange cake roll with orange sorbet.
True to the city's culinary tradition, Café Lisboa features the classic pastel de nata (cream custard pastry).
Prices for main courses are between €12.50 and 23.50.
For more information on the chef, visit the José Avillez website.
Cafe Lisboa
Largo de São Carlos nº 23
Chiado District
Lisbon
Phone: +351 211 914 498
Hours: Everyday – 12:00 to 01:00
Images Copyright – Paulo Barata Guerrilla Food Photography