At No. 32 on Rua das Flores, one of Porto's more historic and colorful streets, is a delightful and delicious restaurant serving lunch, afternoon tapas and dinner. Cantina 32 is both eclectic and innovative with its unique use of space and objects. Yet, perhaps the greatest enjoyment comes from the very special preparation and presentation of popular Portuguese dishes.
--------------------------------------------------
--------------------------------------------------
Cantina 32 is in a former perfume factory. Although modernized, the industrial essence of the original space is celebrated. Gray walls provide a backdrop for found objects such as a rusty bike, old bottles and a typewriter. Rattan dining chairs at square bistro table make for a comfortable dining experience. Vintage furniture and live plants fill in the spaces.
Cantina 32 exterior (photo @©Sara Lieberman, newsgirlabouttowns.com) and interior.
Like the space, the menu can be as mix-and-match or as traditional as you would like. One page is dedicated to "Picar, Petiscar e Partilhar" ("pick, snack and share"). Here, you'll find some favorites such as bacalhau à brás, alheira croquettes with mustard sauce, black sausage with apple, as well as cured salmon in mustard, orange shallot sauce and grated egg. For more hearty appetites, main dishes can be found on the "Hungry" and "Hungrier" pages. Some tasty selections include: sliced beef with punched potatoes and tuna steak with pineapple, sesame, coriander.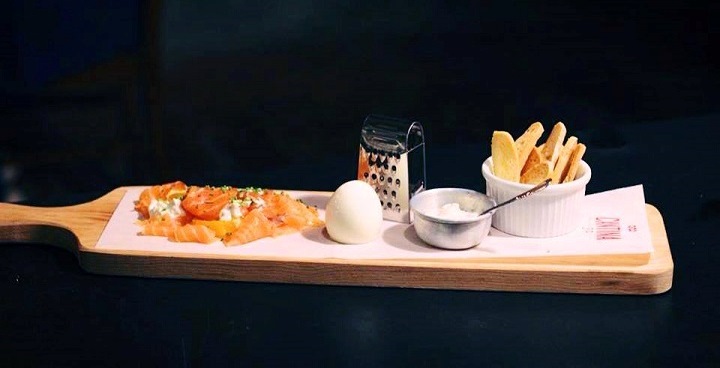 Perhaps the greatest fun and surprises are saved for the end of the meal. On the desserts list is a long wafer cake that you can order by the centimeter. However, we recommend you try the cheesecake, served in a clay flower pot topped with oreo cookie crumble soil!
For more information, visit the Cantina 32 Facebook page.
Cantina 32
Rua das Flores 32
Porto
Phone: +351 222 039 069
Hours:
Tuesday to Thursday – 12:30 to 22:30
Friday & Saturday – 12:30 to 23:00
Sunday – 13:00 to 15:00