José Avillez's "bairro" ("neighborhood") is growing! Already, this respected chef has created one of Lisbon's most popular dining destinations. His Bairro do Avillez includes a Taberna for traditional Portuguese food, Páteo for fresh fish, and BECO for dinner with a cabaret show. And, now, on the mezzanine level, Avillez welcomes his Peruvian amigo Diego Muñoz in bringing a bit of Lima to Lisbon. Introducing…Cantina Peruana.
--------------------------------------------------
--------------------------------------------------
Avillez met Muñoz while both were training at the world renowned El Bulli restaurant, in Spain. A short time later, each became admired chefs in their respective countries. In 2016, Muñoz visited Avillez in Portugal and fell in love with Lisbon. A collaboration was born! "I'm very happy to welcome Diego in my 'home'," says Avillez. "He's a good friend and a great chef. It will be interesting to watch both gastronomies coexist in Bairro do Avillez."
Since those days at El Bulli, Muñoz's talent and recognition has soared. In 2011, he relocated to Sydney to revitalize Bilson's in Sydney and earned the honor "Chef of the Year". Returning to Lima, he has been at the helm of noteworthy Astrid & Gastón, which has been selected as #1 of "Latin America's 50 Best Restaurants List" and #14 in "The World's 50 Best Restaurants List".
So what is Cantina Peruana?  Let Muñoz and Avillez tell you themselves!
At Cantina Peruana, Muñoz has devised a South American-inspired menu. Avillez advises on selection of the freshest Portuguese produce. Yuri Herrera, sous chef at Astrid & Gastón, has been chosen by Muñoz as his representative in Lisbon. The concept of the gastronomic experience falls into six "worlds":
■ Raw Cold World | Peruvians' bond with the sea, especially in the preparation of ceviche
■ Red Hot Coal World | Embracing the rich flavors of Lima's trendy street cuisine
■ Fried World | Traditional fried foods of the regions with a focus on unique sauces
■ Andean World | Foods derived from the heritage of Andean Peruvians
■ Wok World | Celebrating the influence of Asian immigrants in the community
■ Sweet World | Reflecting favorite desserts from the Incan and Spanish cultures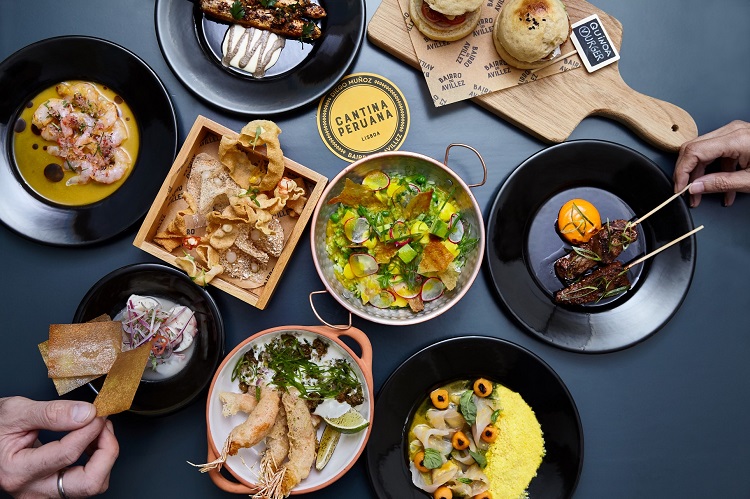 For interior design, Ana Anahory and Felipa Almeida realize the joyful colors and cultural ambiance of Peru in Avillez's neighborhood. An installation of artistic pieces inspired by the sea was created by Cátia Pessoa of Estúdio Caulino.
For more information, visit the Cantina Peruana website.  Also, visit the Jose Avillez website.
Cantina Peruana
at Bairro do Avillez
Rua Nova da Trindade, nº18
Chiado
Lisbon
Phone: +351 215 842 002
Hours:
Monday to Friday (dinner only) – 19:00 to 24:00
Saturday & Sunday (lunch and dinner) – 12:30 to 15:00 and 19:00 to 24:00
Click to read more José Avillez restaurants: Cantinho do Avillez Lisbon, Cantinho do Avillez Porto, Belcanto (two Michelin stars), Mini Bar, Café do Avillez, Pizzaria Avillez.