Fans of José Avillez in northern Portugal have very good reason to celebrate! The superstar chef, with no less than five restaurants in the trendy Chiado neighborhood of Lisbon, has opened his first location in Porto. Cantinho do Avillez-Porto, at Rua Mouzinho da Silveira, 166, brings Avillez's modern interpretation of Portuguese cuisine to the foodies of the port city.
--------------------------------------------------
--------------------------------------------------
Avillez has become renowned across Portugal for the Michelin stars he earned while at the historic Lisbon restaurant Tavares, and again within a year of the opening of his critically-acclaimed restaurant Belcanto. Avillez also shares his secrets to cooking on national TV in "JA ao Lume".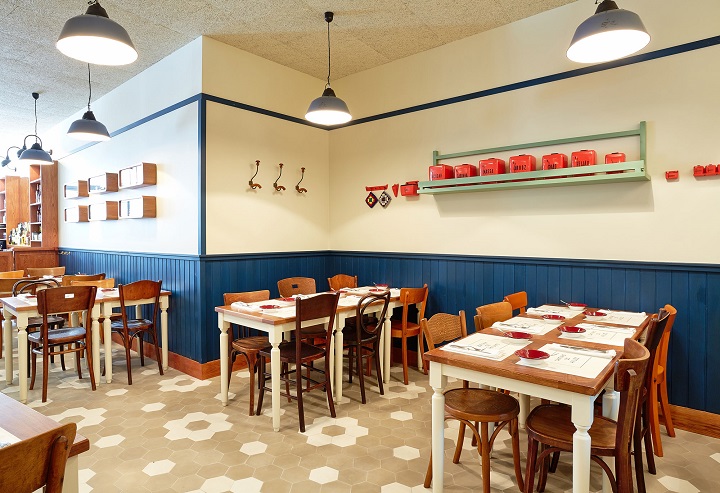 For his Porto location, Avillez wanted to create a space that was casual, comfortable and cheerful. So, once again, he turned to the design team of Ana Anahory and Felipa Almeida. They developed a home-style ambiance, with celadon blue paneling wrapping around the room on the lower walls with antique kitchen containers and utensils hanging above. Mismatched café chairs sit at white painted wooden tables. A crimson red banquette in the back highlights the room.
Like Cantinho do Avillez in Chiado, the kitchen remains Portuguese with touches of inspirations from Avillez's world travels. Therefore look for hints of Thai, Italian and Moroccan among the innovative dishes on the menu.
■ Small partridge, bacon and chives pies
■ Farinheira "sausage" with corn bread and coriander crust
■ Baked "Nisa" cheese with ham and rosemary honey
■ Sautéed poultry liver with onion and Port marmalade
■ Homemade conserved tuna with ginger and lime mayonnaise
■ Foie gras terrine with figs "pingo de mel", balsamic and toasts
■ Flaked cod with bread crumbs, BT egg and "exploding" olives
■ Sautéed scallops with trout eggs; asparagus, saffron and lemon risotto
■ Lamb tagine, vegetable couscous and yogurt sauce
■ Portobello mushroom risotto, bacon and parmesan cheese
■ "Barrosã DOP" hamburger with caramelized onion and foie gras
■ Crispy game sausage with BT egg, smoked tomato and rapini rice
■ DOP meatballs with green curry, zucchini and Thai rice
■ Alentejo black pork, French fries, coriander and garlic "farofa" (Manioc flour" with black beans
■ Cantinho chocolate with strawberry ice cream
■ Orange and vanilla crème brûlée
■ Raspberry cheesecake with basil
■ Hazelnut3
"It is with great pleasure that Cantinho do Avillez is coming to Porto, a beautiful city, full of history and with so much to discover," says Avillez. He admits customers have been requesting his signature cuisine in the north for quite a while.
For more information, visit the José Avillez website.
Cantinho do Avillez | Porto
Rua Mouzinho da Silveira, 166
Porto
Phone: + 351 223 227 879
Hours: Monday to Saturday – 13:30 to 15:00 and 19:30 to 24:00
Photo Copyright: Paulo Barata
Read about more restaurants by José Avillez on Portugal Confidential:
■ Belcanto
■ Mini Bar
■ Cantinho do Avillez – Lisbon
■ Pizzaria Lisboa
■ Cafe Lisboa