Carnaval de Loulé is the oldest continuous pre-Lenten party in Portugal, with over 100 years of celebrations. Thousands of revelers jam the streets. Those in costume strut their stuff. Others are there to watch and enjoy. The parades, on each afternoon of 11, 12 & 13 February, are full of floats, samba groups, Brazilian dancers and giant costumed characters, providing a rhythmic beat, lots of laughs and pure enjoyment.
--------------------------------------------------
--------------------------------------------------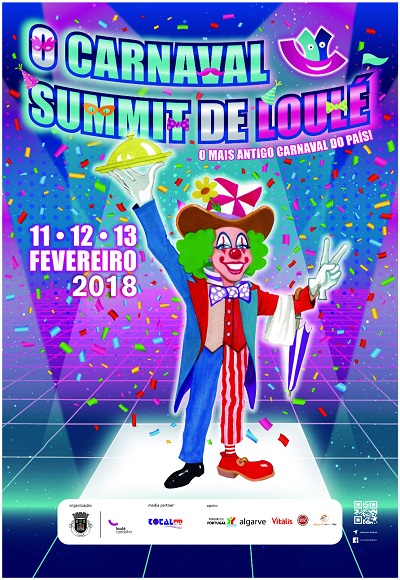 The theme for 2018 is "Carnaval Summit de Loulé"! It is a playful poke on "Web Summit, the huge Internet technology conference taking place in Lisbon the last two years.
In the parade, in addition to the beautifully-costumed samba groups, expect to see 14 floats all making fun of the craziness around the Web Summit, as well as humerous interpretations of national and international political figures, celebrities and sports stars.
The parade and festivities take place each day:
Sunday, Monday & Tuesday – 11-13 February
15:00 to 17:30
The fun begins on Friday, the 9th, with a day dedicated to kids! The children's carnival kicks off at 10:00.  Kids come to the streets with their faces painted and in costumes.
A Loulé Summit Grand Ball is scheduled for Monday, 12 February at the Palácio do Nero in the Industrial Zone. It begins at 22:00.
Carnival Loulé
Avenida José da Costa Mealha
Loulé
Algarve
Entrance: €2.00