Distinguished French jeweler Cartier glamorous Lisbon shop is at No. 240 on the fashionable boulevard of Avenida da Liberdade. The beautifully renovated building features a 240sqm showroom filled with jewelry, wristwatches, wallets, handbags and many more luxury accessories.
--------------------------------------------------
--------------------------------------------------
Cartie was founded by Louis-Francois Cartier in Paris in 1847. The master craftsman created exceptional pieces using the finest metals and precious gems. Soon, royalty from across Europe were commissioning jewelry and other fine pieces from Cartier in Paris. It was King Edward VII of England (reigning from 1901-1910) who dubbed Cartier the "jeweler of kings, king of jewelers."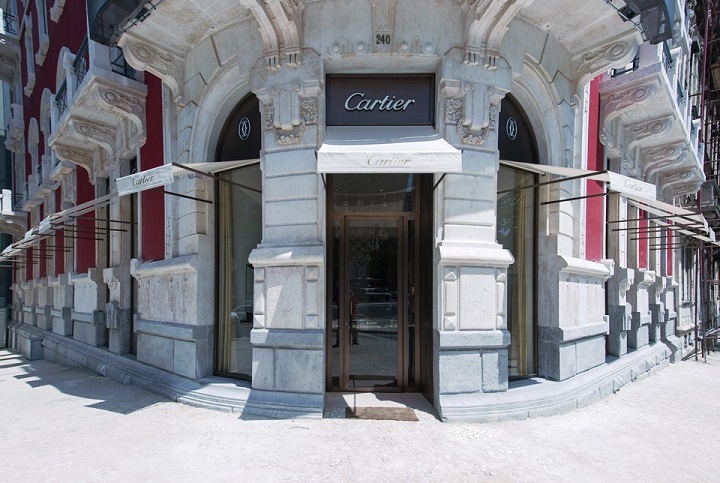 The monarchs of Portugal were patrons of the Parisian jeweler. In 1905, King Carlos I conferred Cartier with the title "Official Supplier of the Court." A copy of the document is framed and hangs in the shop in Lisbon. Queen Amelia commissioned Cartier to create necklace of diamonds and rubies totaling 14.55 carats. Other items created for the Queen include a turtle tiara and a Bishop's ring, featuring a 26.88 carat sapphire.
For its Lisbon location, Cartier retained once again called on Parisian architect Bruno Mainard (designer of Cartier shops worldwide). The building at the corner of Alexandre Herculano was fully restored, keeping the original 19th century façade. Inside, the shop is modern and sophisticated with light oak walls and stitched brown leather. It's an intimate atmosphere for a discerning clientele.
To learn more about the jeweler, visit the Cartier website.
Cartier Lisboa
Avenida da Liberdade, 240
Lisbon
Phone: (351) 213 302 420
See more luxury shops on our page Avenida da Liberdade – Designer Shopping in Lisbon