Castelo Rodrigo is a hilltop medieval village in central eastern Portugal. Throughout its history, the castle has been conquered and occupied by many, including Romans, Moors, Spanish and, of course, Portuguese. The walled village is one of many along the Portuguese-Spanish border intended to keep watch and defend the country from invaders. Today, the castle is in ruins, but the surrounding village remains intact, and life in Castelo Rodrigo goes on at a quiet pace. And it is here, that we discoverd a little gem of a hotel, Casa da Cisterna.
--------------------------------------------------
--------------------------------------------------
The story of Casa da Cisterna is one that we all have fantasized. Married couple, Ana and Antonio, quit their hectic urban life to move to the country and open a small hotel. They bought several small buildings in the village of Castelo Rodrigo to build a home for themselves, as well as rooms for travelers in need of a peaceful retreat.
Casa da Cisterna is named for the medieval village cistern just a few steps from the entrance of the hotel. The quaint hotel retains the stone wall exterior seen in the streets and walls of the village. Yet, inside, the main building and two bungalows are renovated to modern standards of convenience and comfort.
The hotel is made up of seven accommodations. Some are standard rooms. A couple others are suites. Our own favorite is the loft suite, Noitibó, with a fireplace, interior stone wall and mezzanine level for sleeping.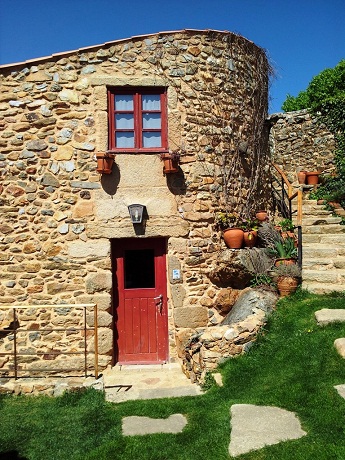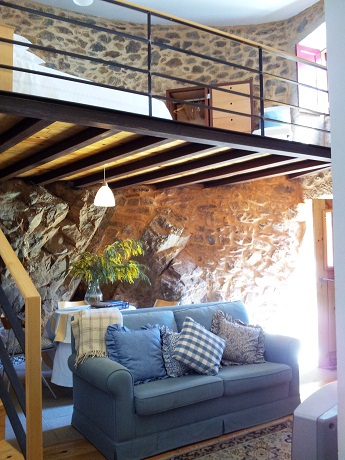 Outside and inside of the Noitibó Suite
The main house of Casa da Cisterna has a community lounge for watching movies, playing games or sipping a cocktail. The dining room is also here, where guests gather for breakfast or dinner at a large family-style table. Every experience at Casa da Cisterna is intended to be casual, warm and friendly.
Stroll around the village and get to know the residents and shop keepers. There are a couple cafes serving regional cuisine and selling local arts and crafts. (Stop in to see André at Sabores do Castelo.) Beyond the village walls, guests can examine the rock engravings of the Côa Valley, explore the countryside in a jeep or on the back of the donkey, and cross over into Spain for some tapas and sangria. If that sounds like too much activity, relax by the pool at Casa da Cisterna and enjoy the views of the countryside from the comfort of your lounge chair.
Room rates are very reasonable. Between October and May, prices range between €65 and €115, depending on room/suite. Rates increase slightly June through September and on holidays to €68 to €120.
For more information, visit the Casa da Cisterna website.
Casa da Cisterna
Rua da Cadeia
Castelo Rodrigo
Central Portugal
Phone: +351 271 313 515
Email: info@casadacisterna.com