The historical quarter of Viseu, in central Portugal, is a charming setting of narrow calçada stone streets, centuries old shop buildings and important landmarks of Igreja da Misericórdia and the Cathedral of Viseu. In the center of this district with views to the churches is yet another delightful structure, recently renovated and inviting to all who pass by. It is the unique boutique hotel, Casa da Sé.
--------------------------------------------------
--------------------------------------------------
Casa da Sé ("house of the cathedral" in Portuguese) is an 18th century building, retaining all of the charm from past eras but refurbished for contemporary comfort. The interior is elaborately decorated with elegant antique furniture and works of art. The grand center staircase and hallways feature beautiful faux marble and trompe l'oeil wall paintings. There is a visual artistic surprise around every corner and in every nook.
Interestingly, the 12-room hotel sits on top of Secopiorum, an antique shop filled with museum-quality items. The owners of the shop also own the hotel. So, it is no surprise that the love of fine antique furnishing spills over into the hotel. Casa da Sé itself has become one of the city's most interesting attractions for history, art and culture.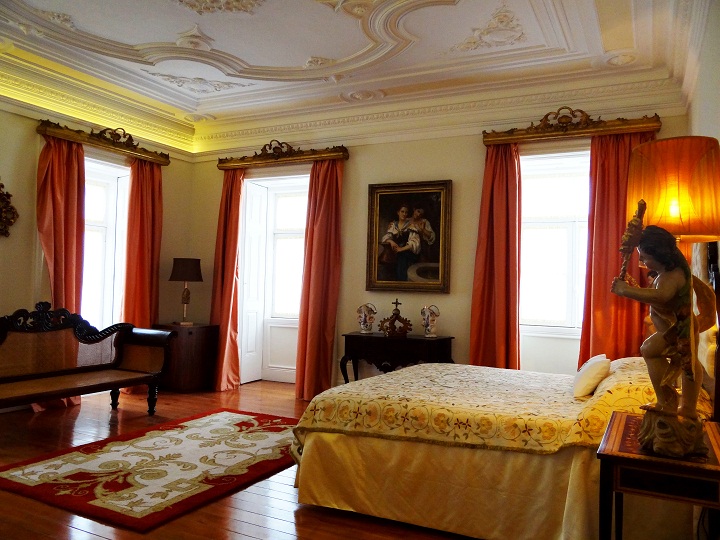 There are eight elegantly-appointed and completely unique rooms at Casa da Sé. Additionally, the hotel has two rooms designated as "superior," and two "suites." Each one has its own distinctive charm, filled with antique objects from Secopiorum.
A special note…. all of the one-of-a-kind items in the rooms are for sale. A special "menu" of items accompanies each room. So, if you fall in love with that Rubenesque angel bedside lamp, or gold thread hand-embroidered bed cover, you can just add it to your bill at checkout!
Casa da Sé also features a lovely breakfast room, serving regional specialties along with some international favorites. A lounge, just off the main reception is filled with antique tables and chairs, ideal for an afternoon tea or evening aperitif. Placed around the lounge are handicrafts form local artisans and gourmet food products.
The central location of Casa da Sé means it's quite simple to walk to a variety of restaurants. Or, if you find yourself enjoying the comfort of your room too much, the staff at Casa da Sé can arrange to have your dinner brought to you.
For more information, visit the Casa da Sé website.
Casa da Sé
Rua Augusta Cruz, nº12
Viseu
Central Portugal
Phone: +351 232 468 032
Email:  booking@casadase.net