Sitting on top of one of Portugal's highest peaks is a resort hotel unlike any other in the country. It is a mountain retreat as well as a design hotel. It is traditional in its philosophy, yet innovative in its presentation. It embraces its natural landscape, while providing modern convenience. Casa das Penhas Douradas is truly a place to escape everyday routine, in order to relax, enjoy, explore and appreciate the stillness, solitude and beauty of the top of the world.
————————————————–



————————————————–
Casa das Penhas Dourdas is located in the Penhas Douradas area of the Serra da Estrela mountain range at an altitude of 1500m. The original structure was a holiday home built in the early 20th century. It wasn't until the early 21st century that entrepreneurial couple Isabel Dias da Costa and João Tomás, transformed the property into a small resort featuring natural materials from the region.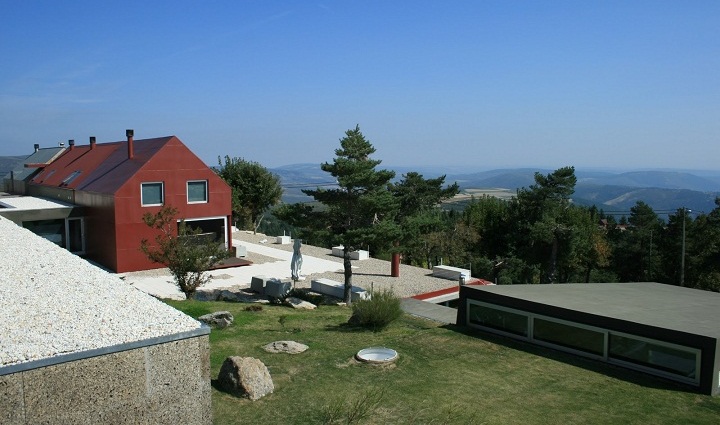 Mid-century modern design elements are reinterpreted and used throughout the hotel. Birch is the predominant material offering a natural feel while creating a bright shiny surface. Traditional Burel wool fabric, manufactured in a factory down the hill from the resort, creates softness and warmth. Unique design pieces from Wegner, Mogenson, Bruno Mathsson, Pedro Silva Dias, and Pedro Brígida, are spread around the common areas. And, each guest room is decorated with an individually-designed, colored-glass, retro-style lamp.
Rooms at Casa das Penhas Douradas are modern and minimal, yet cozy and comfortable. True to the design theme, birch is used throughout as wall treatments, cabinetry and furniture. The polished surfaces are warmed by use of wool in upholstery and blankets. Mansard rooms in the original main building more intimate with mountain views. Rooms in the ultra-modern "cork" building are larger with huge picture windows.
For a special treat, stay in the Suite. This spacious, loft-like room has immense windows with panoramic views. The open-plan room is ingeniously designed with specific spaces for sleeping area, library and reading area, work space, and a lounge.
Much of this resort experience is actually getting outside and savoring the natural landscape of the Serra da Estrela. The hotel has designed numerous treks/hikes at various distances and skill levels. The top of the mountain is a plateau, so it is actually quite manageable to get around and explore. Walk amongst the pines, take in awesome panoramic views, see 19th century mountain architecture, and get up close and personal with unique rock formations. Especially interesting is a "quartz eruption" not far from the hotel.
After you've filled your lungs with pure mountain air, it's time to show your body a little appreciation with a visit to the spa. The facility at Casa das Penhas Douradas has massage rooms, relaxation rooms, sauna, steam room and heated pool. Oils used in massage and facial treatments are fused with birch bark, rosemary, lavender, heather and juniper berries from the area. These plants are recognized as being circulatory stimulants, anti-septic, and calming. In addition to traditional, geothermal and Vichy shower massages, the specialty treatment at the spa uses wooden sticks. Birch sticks, applied with various levels of pressure, relieve muscle stress and invigorates skin.
Dining at Casa das Penhas Douradas is another facet in the jewel of this mountain experience. Gastronomy consultant and celebrity chef Luis Baena designs innovative dishes using products and flavors of the region. So, you'll be delighted to find touches of juniper, gorse, chestnuts and pumpkin in soups, salads or meat courses. Wild mushrooms you may have never heard of, such as boletus pinophillus and tricoloma portentosum, are picked right off the mountain and incorporated into the meal. A flute of champagne and a roaring fire adds warmth and romance to your high-altitude dining experience.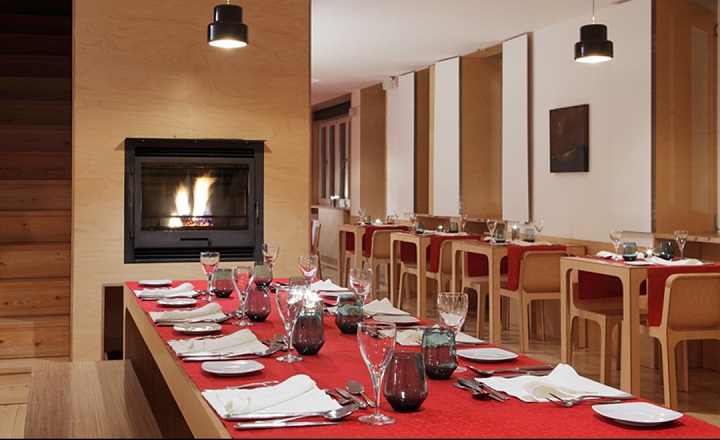 For more information and to make reservations, visit the Casa das Penhas Douradas website.
Casa das Pehnas Douradas
Penhas Douradas
Manteigas
Gaurada Region
Central Portugal
Phone: +351 275 981 045
Mobile: +351 963 384 026
Fax: +351 275 981 046
Email: mail@casadaspenhasdouradas.pt