Dress code: Pink! Carpet color: Pink! The attitude: SHOPPING! Castilho Pink Day returns for another nine full hours of shopping, entertainment, cocktails and fun! All of the stores, and many of the businesses and restaurants, in the Castilho shopping district will have special prices and unique packages designed to tickle you pink! Castilhoa Pink Fame Day is Wednesday, 27 March from 10:00 to 21:00.
--------------------------------------------------
--------------------------------------------------
True to the theme, Fame (from the movie about aspiring performing artists New York), students of the Jazzy Dance School will perform in the streets throughout the day.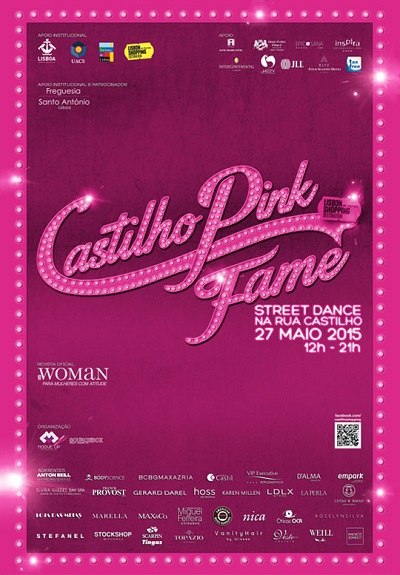 Participating businesses as of this date include:
Anton Beill Hairdressing ■ BCBG Maxazria ■ Body Science ■ Edificio Castil Centro Comercial ■ Vip Executive Diplomático ■ D'Alma Jewelry ■ Elvira Guedes Day Spa ■ Empark ■ Franck Provost ■ Gerard Darel ■ Hoss Intropia ■ Karen Millen ■ Ldlx ■ La Perla ■ Leitão&Irmão ■ Loja das Meias ■ Marella ■ Max&Co. ■ Miguel Ferreira Cabeleireiros ■ Music Burguer American Roadside ■ Nica ■ Óticas OCR ■ Roselyn Silva ■ Stefanel ■ Stivali Stockshop ■ Tingas Scarpin ■ Topázio ■ Vanity Hair by Ulisses ■ Veste Couture ■ Weill ■ Wicket Jones
Some highlights for the day include:
■ 13:00 to 15:00 and 17:00 to 21:00 – Through a partnership to provide Portuguese artists a wider audience, jewelry and silver store D'Alma and art company The Urban-Art present 25 artists.
■ 17:00 – Shark Tank winner and fashion designer Roselyn Silva celebrates the opening of her own shop in the Edifício Castil with a fashion show and cocktail party.
■ 19:00 – Silverware brand Topázio hosts a cocktail party for the opening of their new flagship store in the Altis Prime Hotel.
■ Music Burger American Roadside has created a Pink American Shake for the occasion with a very special price.
■ Vanity Hair Salon by Ulysses launch the new label Color A-Ox by L'Oréal Professional. Activities and goodies provided by Maybelline are part of the party.
For more information, visit the Castilho Shopping Facebook Page.
Castilho Pink Fame
Date: Wednesday, 27 May 2015
Time: 10:00 to 21:00