It's hidden underground. It's only open a few hours each day. Its guardian has years of specialist training. And, it holds vast treasures collected from around the world. This very special place…some might call it a secret place…is located below the grassy knolls on the cliffs above the sea in the western Algarve. It is the Cave de Vinhos at VILA VITA Parc.
--------------------------------------------------
--------------------------------------------------
The Cave de Vinhos (meaning, cave of wines or wine cellar) was built in 1998, to store the substantial wine collection of the luxury resort. 11,000 bottles representing 1,200 different labels are kept here in a constantly cool, slightly humid environment. Wines from global wine-producing regions are represented, including France, Italy, California, Australia and South Africa. Of course, Cave de Vinhos also maintains an incredible variety of Portuguese wines, including some spectacular Madeira wine and Ports, and indeed a large stock of award-winning wine from the resort-owned Herdade dos Grous.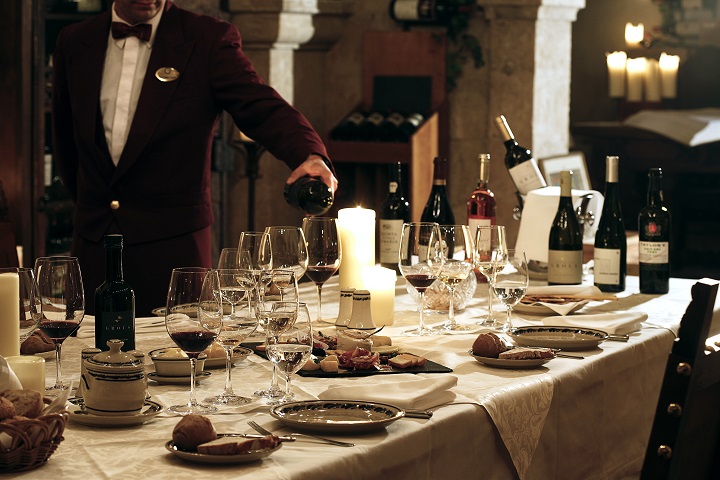 A non-descript door off the beaten path at VILA VITA Parc marks the entrance to the Cave de Vinhos. Stone steps lead visitors eight meters down to the cellar, designed in a Gothic style, complete with vaulted ceilings. An open room with a large banquet table at the center is the focus of this space. Wine bottles, of all ages, placed in antique cabinets, on top of wine casks and inside niches, decorate the room.
On either side of the room, storage aisles hold shelf-upon-shelf of various wine lots. The shelves are made of bricks and tiles, hundreds of years old, imported from Egypt, Greece and Austria. A small black chalk board rests at the front of each shelf and designates the label, vintage and region of each lot.
VILA VITA Parc guests may visit the cellar any day between 15:00 and 21:30 to select a bottle for their dinner at one of the resort restaurants.
Many celebrities, dignitaries, athletes and VIPs have visited Cave de Vinhos. Now, it's your turn.
For more information or to make wine tasting reservations, visit the Cave de Vinhos webpage.
Cave de Vinhos
VILA VITA Parc
Rua Anneliese Pohl
Alporchinhos
Porches
Portugal
Phone: + 351 282 310 100
Fax: +351 282 320 333
Email: reservas@vilavitaparc.com