Sintra, just 35 minutes northwest of Lisbon center, is a magical place. In fact, it was the summer holiday location for Portuguese royalty. The spectacular 19th century Pena Palace is there for those who love Portuguese heritage. The 10th century Moor's Castle represents Portugal in the middle ages. The Sintra Museum of Modern Art showcases contemporary culture. And now, recently renovated and re-opened on the ground of Pena Park is the Chalet Condessa d Edla.
--------------------------------------------------
--------------------------------------------------
The Chalet was originally built between 1864 and 1869 by King Ferdinand II for his second wife, Elise Hensler, Countess d'Edla. It is modeled on Alpine chalets popular at the time, and it sits in the large Pena Park facing the grand Pena Palace. It was intended as a private recreational house for the Countess.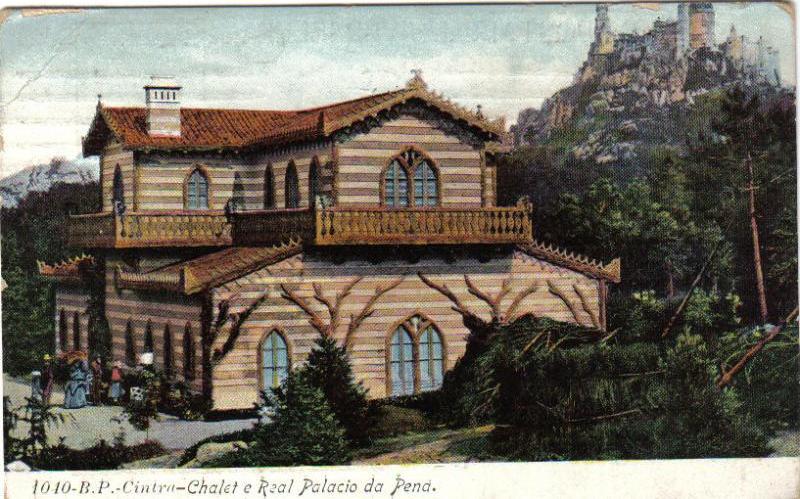 After the fall of the monarchy in 1910, the Palace, Park and Chalet came under control of the new government. The Chalet largely went unoccupied, while occasionally used as summer holiday home for President Manuel Teixeira Gomes and as a camp for students studying forestry. In 1999, a fire all but destroyed the chalet. But in 2007, the Parques de Sintra – Monte da Lua SA (PSML) was formed to manage the Palace, Park and Chalet, as this location had been named a World Heritage Site. Renovation on the Chalet began immediately.
Today, the Chalet is fully refurbished. Sitting in its picturesque park location, it is a monument to architecture of the Romantic Era. The exterior is made of painted stucco, imitating wood plank siding. Decorative accents utilize Portuguese cork.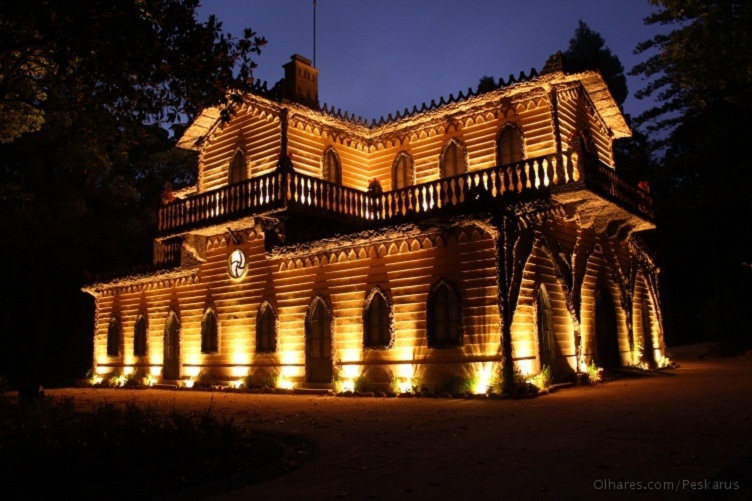 The foundation is basically rectangular, but the top of the structure forms the shape of a cross. Inside, the ground floor has a central staircase, main rooms facing the Palace and service compartments to the west. Upstairs, there's a large bedroom, also facing the Palace, and three support spaces.
Interior design follows popular decorative elements of the time. Special attention is given to the mural of the stairs, the noble hall, the decorative plaster ceiling in the master bedroom of the Countess, and the blue and white tile flooring in the kitchen. Particularly striking are the panels of inlaid wood and cork lining the walls and ceiling of the dining room and dressing room of the King.
Outside, the royal couple commissioned a formal garden to frame the Chalet. Today, the garden is landscaped with a collection of camellias, rhododendrons and azaleas.
For more information, visit the Chalet Condessa d'Edla website.
Chalet Condessa d'Edla
Sintra
(Click here for map)
Chalet Hours
High Season – 9:30 to 19:00 (last ticket at 18:00)
Low Season – 9:30 to 17:00 (last ticket at 16:30)
Entrance
Adult – €8 chalet/Gardens, €10 Chalet/Gardens & Pena Palace Exterior, €14 Chalet/Gardens & Pena Palace Interior
Children under 18 – €6 chalet/Gardens, €8 Chalet/Gardens & Pena Palace Exterior, €11 Chalet/Gardens & Pena Palace Interior
Senior – €6 chalet/Gardens, €8 Chalet/Gardens & Pena Palace Exterior, €11 Chalet/Gardens & Pena Palace Interior
Family – €21 chalet/Gardens, €26 Chalet/Gardens & Pena Palace Exterior, €37 Chalet/Gardens & Pena Palace Interior