Together with former-advertising-executive-turned-entrepreneur Margarida Duarte,  our friends at 100ml have launched another new delightful product.  Like Antiga Barbearia de Bairro grooming products for men, and Aldeia da Roupa Branca, scents for fabrics, this new product line captures the essence of a beloved characteristic of Portuguese heritage.  Embracing an iconic image of the Algarve, Chaminés da Vaidade candles will no doubt enlighten your home, your senses and your spirit.
————————————————–
[ad name="Google Adsense Image Banner for Posts "]
————————————————–
Chaminé da Vaidade is a product inspired by the chimneys of the Algarve.  These architectural elements atop villas are unique to this southern region of Portugal and can be traced back many centuries to the time of Arab occupation. Whether the home was palatial or simple, owners asked masons to craft ornate chimneys.  The decorative smokestacks soon became a status symbol across the area. The more intricate the design, the greater the sense of pride felt by the owner.  This is why today we refer to them today as Chaminés da Vaidade, or "Vanity Chimneys".
Chaminé da Vaidade candles take their inspiration from these chimneys, as well as the scents and the flavors of the Algarve region.  The glass decanter closely resembles the cylindrical chimneys.  The products come in two sizes 80gm and 200gm.  The larger size also has a glass lid. Candle colors and scents include:
■  Green (Verde) – Fig Leaf Scent
■  Orange (Laranja) – Orange & Spice Scent
■  Blue – (Azul) – Scent of the Algarve
Once the candle wax has burned completely, the decanter can be recycled and used as a decorative container for chocolates, candies, cotton balls, paper clips…or even a glass to drink Algarve gazpacho!
<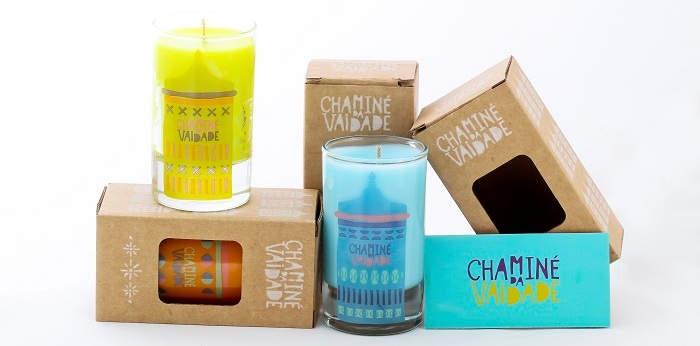 Complement these candles with Chaminé da Vaidade matches.  They come in decorative boxes with various color and image themes.
More Chaminé da Vaidade products are currently being planned.  In the future, expect to see more colors, scents and decanter materials.
Chaminé da Vaidade can be found in gift and decorative ships in the Algarve, Costa Vicentina, Lisbon, Braga, Nazaré, Óbidos and Cascais. For more information, visit the Chaminé da Vaidade Facebook page.  For orders, contact:
Margarida Duarte
100ml
Phone: +351 911 009 989
Email: chaminedavaidade@100ml.pt