Most people know a charcuteria as a shop or branch of cooking involving prepared meats. In the old, old, olden days…before air-conditioning and refrigeration…charcuterias were specialists in preserving meat products such as pork, bacon, ham, sausages, pates, terrines and galantines. In our contemporary times, a few charcutarias still exist. One very special and cool charcutaria can be found on Rua do Alecrim in Lisbon.  It is Charcutaria Lisboa.
--------------------------------------------------
--------------------------------------------------
Charcutaria Lisboa is a charcutaria for the 21st century. Founder Manuel Martins is keen to retain the traditional flavors and products from the Alentejo (where he studied at the University of Évora) while producing a modern cuisine for urban dwellers of Lisbon.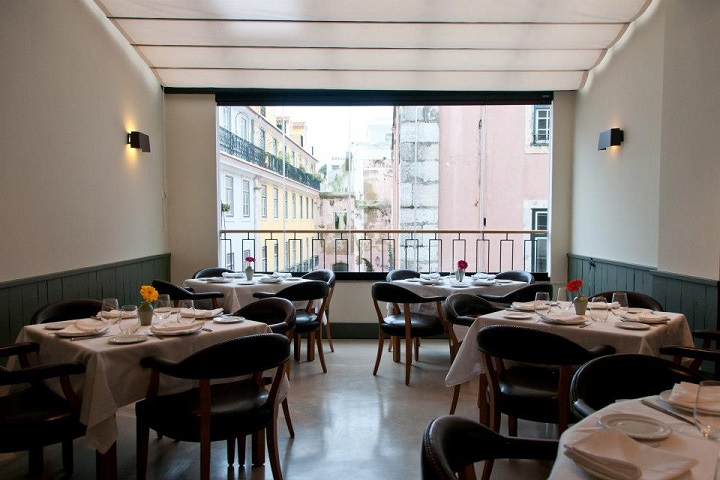 The ambiance at Charcutaria Lisboa is a comfortable blend of casualness and elegance. Traditional brick arch doorways and wooden furniture, blend perfectly with contemporary art and modern light fixtures. A large picture window along the front wall provides entertaining views to the busy street-life below.
Martins' culinary philosophy for the restaurant is simple: raw products of high quality, carefully prepared, replicating the essence of the Alentejo. Slow-cooked cod and chickpeas, succulent pigs feet and savory stewed partridge are all delicious comfort foods for your Portuguese soul. Chicken pies are guest favorites and considered the best in Lisbon.
Some stand-outs from the menu include:
Starters
■ Salted shrimps with garlic and olive oil "à la Guillo"
■ Foie-Gras with Porto Vintage reduction
■ Pear and Parmesan cheese
Main Dishes
■ Yellow cured cod fish boiled with vegetables
■ Grilled Octopus with jacked potatoes
■ Shrimp Crêpes with cockle rice
■ Grouper fillet with tomato rice
■ Partridge with Savoy cabbage
■ Pig's feet with coriander
■ Grilled Black pig "secretos" with potato and cabbage migas
■ Fried loin steak with garlic and bay leaf
■ "Alheira" game meat pudding with salted rapini
Most of the desserts are derived from traditional convent recipes. This means a selection of creations made primarily of egg and sugar. Of course, Charcutaria add their own special touch of passion mixed, with a blend of expertise.
Desserts
■ Fidalgo (sweet made from egg yolks and sugar)
■ Encharcada (scramble eggs in sugar syrup)
■ Trouxas de Ovos
■ Pão de Rala (convent recipe made mainly with eggs and almonds)
■ Queijinho do Céu (marzipan with eggs)
Soup salads and starters range from €4.00 to €22.00. Main courses are €13.50to €25.00. Desserts are priced at €3.50 to €6.50.
On the run, but still a little hungry? Stop by the bar at Charcutaria for some sliced ham, a bit of cheese and some fresh baked bread. Compliment it with a glass of nice Portuguese wine. You'll be revived and satisfied to complete your day.
For more information, visit the Charcutaria Lisboa website.
Restaurante Charcutaria
Rua do Alecrim nº47
Chiado
Lisbon
Phone: +351 213 460 672
Email: lisboa.alecrim@restaurantecharcutaria.com
Hours: Everyday – 12:00 to 01:00 (Closed for lunch on Saturday & Sunday)