Our friends at 100ml, the Portuguese fragrance and beauty products company, have done it again. Taking the heritage and romanticism of their popular men's grooming line, Antiga Barbearia de Bairro, they've devised new products based on one of Lisbon's chic-est neighborhoods, Chiado. The fresh range includes men's cologne, face soap, and beard oil and serum for keeping your beard healthy, clean and soft.
--------------------------------------------------
--------------------------------------------------
In centuries past, Chiado was the neighborhood where poets, writers and artists gathered to create, explore and debate, perhaps enjoying a cigar and a digestive at café tables on the decorated calçada walkways. Today, Chiado is known for its designer shops and trendy restaurants, frequented by a fashionable clientele. The blending of the traditional with the contemporary is the soul of the Chiado line.
The heart of Chiado can be found in the fragrance. The earthy aroma comprises notes of cedar, sandalwood, and tobacco, with the freshness of basil, jasmine, patchouli, white musk and galbanum (an essential oil from Iran).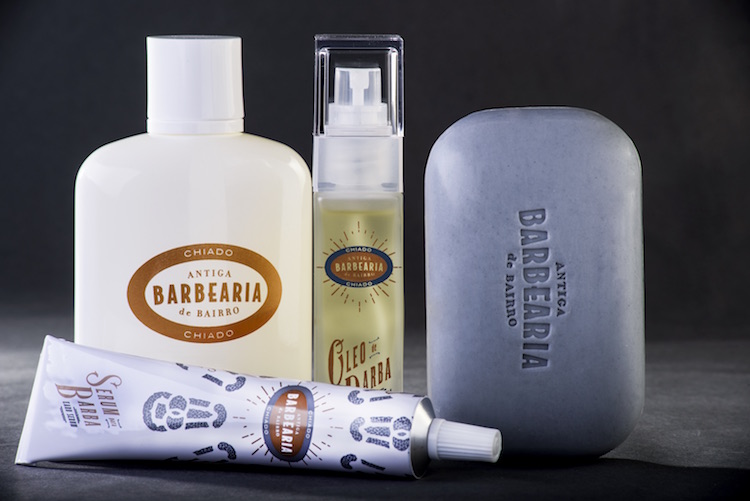 The perfumed grooming products include: a face soap to clean the beard; an oil delivering nutrition, while hydrating and softening the beard; and serum, ideal for short beards, moisturizing both the face and hair.
Eau de Parfum | €39.50
Perfumed Beard Oil | €19.60
Perfumed Beard Serum | €13.90
Face Soap | €8.90
Find Chiado and Antiga Barbearia de Bairro wherever fine Portuguese products are sold. For more information, visit the Antiga Barbearia de Bairro website.
Click on the image below to read about Antiga Barbearia de Bairro.