If it's Spring in the Algarve, then it must be ArtCatto exhibition time at Conrad Algarve. The Loulé-based fine art gallery has organized another fascinating show at the resort, sure to entice collectors and delight amateur enthusiasts. Beginning 20 April, the animal kingdom is on brilliant display through the alluring and mesmerizing sculptures of Jürgen Lingl-Rebetez, and the humorous and emotional paintings of Christian Palmer.
--------------------------------------------------
--------------------------------------------------
The public is invited to the Opening Reception of the
ArtCatto Spring Exhibition at Conrad Algarve 20 April from 19:30 to 21:00
Jürgen Lingl-Rebetez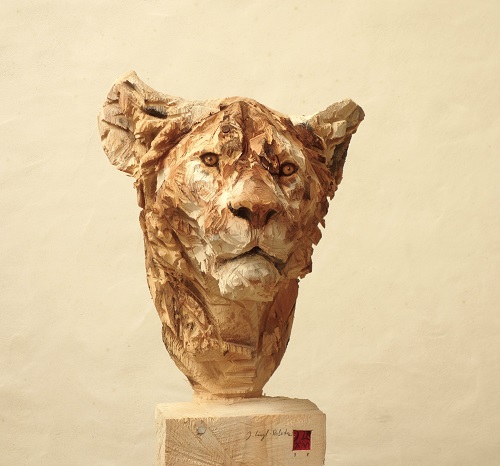 Born in Bad Tölz, Bavaria, Germany, in 1971, Jürgen Lingl-Rebetez took to art in early childhood, drawing and painting shapes and forms of all he set his eyes on, from animals and people, to buildings and landscapes.
At the tender age of 20, Lingl-Rebetez had his first exhibition at a gallery in Germany, featuring his studies of nudes using various techniques.
His love for sculpting began as an apprentice to Master Hans-Joachim Seitfudem. His submission for his graduation won him the first prize in Munich and second place nationwide. After his move to Switzerland in 1996, he began using a chainsaw for his sculptural works.
Lindl-Rebetez now lives and works in France.
Through his education and training, the artist enjoys a creative freedom allowing him to work on subjects as diverse as religious figures and monuments, to nudes and animals. His personal style and passion shines through is every piece of work. He "draws" his sculptures with the use of a chain saw, and colors the surface with paint and pencil to bring them to life.
Lingl-Rebetez's works are found both in private and in public collections across Europe, North America, Asia and Australia.
Christian Palmer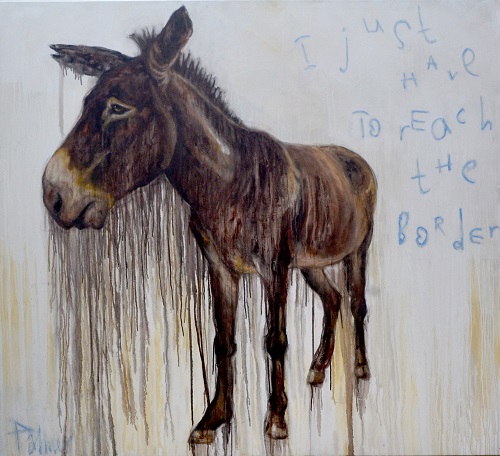 Born in London and later a nomad, Palmer settled in Byron Shire, Australia in 1999. As a magnet for creatives, Byron was the perfect location for Palmer to nurture his passion for painting.
"Most of my work involves a play on words and most of my subjects are usually animals," explains the artist. "I like to choose animals that have an edge about them, animals that are representative of an outsider. From this perspective, I make sense of my own internal dialogue and the irony of the human condition."
Given his fondness for animals and their welfare, Palmer has collaborated with Australia Zoo Wildlife Warriors as well as Let Elephants Be Elephants on fundraisers for conservation projects.
Palmer's works appear in solo and group shows from Sydney and Singapore, to Los Angeles and London.  In fact, film star Robert De Niro owns a Palmer.  Lee Steer of the Readsea Gallery in Brisbane describes Palmer's talent as a collision between the confines of an establishment fine art background and the pull of the urban contemporary street art movement with its unrestricted communication and interaction through public spaces.
A percentage of proceeds from the sale of Palmer's work with benefit the Canil São Francisco de Assis in Loulé.
The ArtCatto Spring Exhibition at Conrad Algarve runs through mid-July.
For more information on the artists, their works and the exhibition, please visit the ArtCatto gallery website, or contact:
ArtCatto
Avenida José da Costa Mealha Nr 43, R/c
Loulé
Central Algarve
Phone: +351 289 419 447
Email: info@artcatto.com
Conrad Algarve
Estrada da Quinta do Lago
8135-106 Almancil
Central Algarve