The cocktail culture is alive and well in the form of Cinco Lounge. This sleek and sophisticated nightspot is considered by many to be the best bar in Lisbon. Located in Príncipe Real, just a short walk from the Bairro Alto, Cinco Lounge is a cool hangout to unwind in an uptown atmosphere while sipping on a perfectly blended beverage.
--------------------------------------------------
--------------------------------------------------
You could say owner and bartender Dave Palethorpe has cocktails in his blood. He's served up mixed drinks in trendy bars in London, Sydney and New York for years before opening Cinco Lounge in 2004. Through his mixology consulting business, Basil & Black Pepper, he designs cocktatils for some of Portugals trendiest restaurants.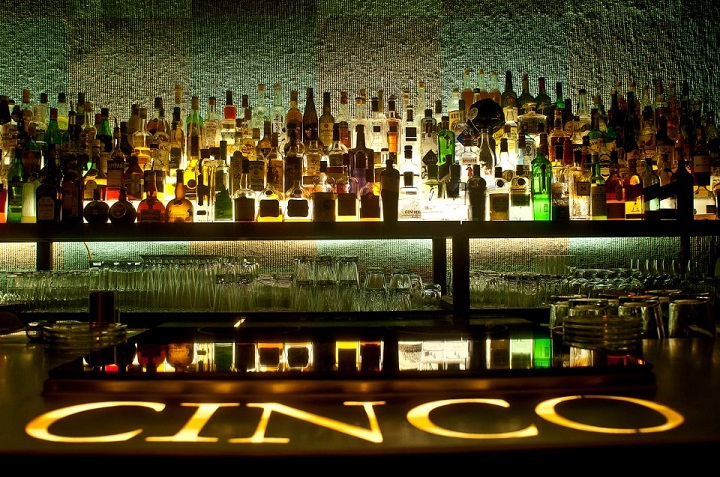 Cinco Lounge's menu of over 100 cocktails include classics from the 20th century as well as innovative new concoctions created for the new millennium. Some beverages that make our mouths water include:
■ Utterly Butterfly – Fresh nutmeg, butter, apple, cloves, lemon, all spice and Element 8 rum heated up with pressed apple juice
■ Hot Tub – Pampero rum, Grand Marnier, orange oil and a hint of cinnamon flamed in a brandy balloon
■ Melon Froth – Tanqueray gin shaken with melon, balanced with fresh lime, sugar, then charged with soda.
■ Black Pepper & Basil – Ripped basil leaves, freshly squeezed lemon juice and a touch of black pepper lengthened with Tanqueray gin, sugar syrup, and a splash of soda, sprayed with an orange zest.
■ Apple and Eve – Cinco Lounge  version of the Appletini, granny smiths muddled with Bison Grass vodka balanced with freshly squeezed lemon juice and apple infused sugar.
■ Madagascar Bourbon – Smirnoff vanilla vodka fresh pineapple wedges shaken with vanilla lemon and sugar, straight up in a large martini.
■ Pssst Pssst – Vanilla sugar, José Cuervo tequila and passion fruit juice shaken with freshly squeezed lemon.
■ Pink Mojito – A lengthy and flavorsome concoction of José Cuervo tequila, cranberry juice, mint, lime and brown sugar.
■ Sherlock Tones – J&B whisky, pressed apple and lemon juice, with coconut ice cream served over ice with a spoon.
Photos above (clockwise from top left): Emmantini Tiny Toes, Utterly Buttery, Pink Mojito and No 82.
Cinco Lounge offers cocktail classes too. Grab some of your friends or colleagues and arrange a private workshop. Just email Dave at the address below to find out details.
For more information, visit the Cinco Lounge website.
Cinco Lounge
Rua Ruben A. Leitão, 17-A
Principe Real
Lisbon
Phone: +351 213 424 033
Email: info@cincolounge.com
Hours: Tuesday through Saturday – 21:00 to 02:00
Cocktail photos: Humberto Mouco | INTER magazine