Cine'Eco, the International Environment Film Festival of Serra da Estrela is the only film festival in Portugal focusing on environmental issues. In the 2014 edition, the festival will unspool over 90 films and videos relating to human and ecological concerns. Cine'Eco 2014 is set for 11-18 October at the Municipal House of Culture in Seia, in central Portugal.
--------------------------------------------------
--------------------------------------------------
The documentary Love thy Nature from Sylvie Rokab of the USA opens the festival screenings. During the festival long and short forms films from Portuguese-speaking countries and international territories will compete in long- and short-form sections. Films shown in a special Panorama section include: Inside the Tempest, Steven Quale; The Most Wanted Man, Anton Corbijn; Grace of Monaco, Oliveier Dahan; Transformers: Age of Extinction; and Os Maias, JoãoBotlho. The closing ceremony is at 21:30 on the 18th, with presentation of awards and a special performance by JAFUMEGA.  Click here to read or download the full Cine'Eco 2014 program.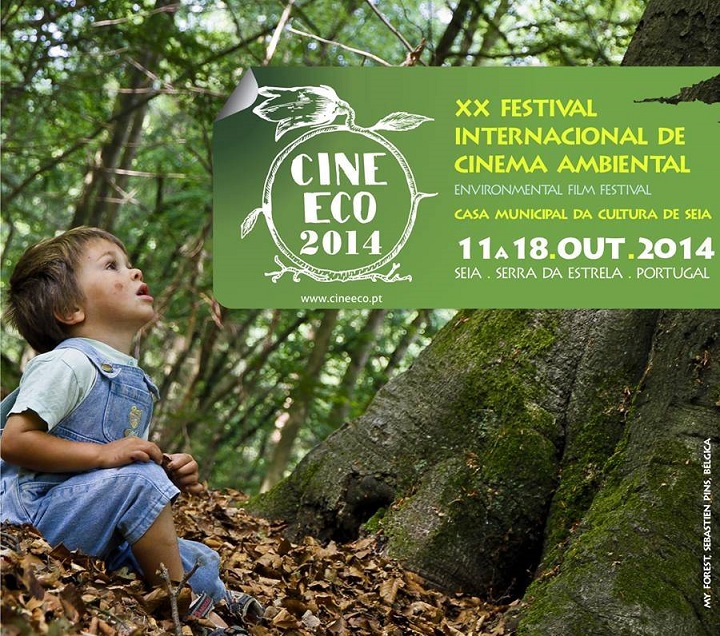 The long-form films in completion include:
INTERNATIONAL COMPETITION LONG
Love Thy Nature – Sylvie Rokab (USA, 2014)
Last Call – ­The Untold Reasons of the Global Crisis – Enrico Cerasuolo (Italy 2014)
Costa da Morte – Lois Patiño (Spain, 2013)
Refugiados en su Tierra – Fernando Molina / Nicolás Bietti (Argentina, 2013)
The Ghosts In Our Machine – Liz Marshall (Canadá, 2013)
The Land Between – David Fedele (Australia/Morocco, 2014)
The Lost Sea, Hung – Chun­Hsiu (Taiwan, 2013)
Mbeubeuss le Terreau de l'Espoir – Nicolas Sawalo Cisse (Senegal, 2014)
Planets-Four Variations of Detachment – Ohad Milstein (Israel, 2014)
Beyond Metabolism – Stefanie Gaus/Volker Sattel (Germany, 2014)
Footprints of War – Max M. Mönch (Germany, 2013)
Virunga – Orlando von Einsiedel (UK, 2014)
Unplugged – Mladen Kovacevic (Serbia/Finland, 2014)
The Carbon Crooks – Tom Heinemann (Denmark, 2013)
LUSOPHONE COMPETITION LONG
Serra Pelada, A Lenda da Montanha de Ouro – Victor Lopes (Brazil, 2013)
Revolução Industrial – Frederico Lobo & Tiago Hespanha (Portugal, 2014)
Broto de Chocolate – Valadier Marion (Brazil/France, 2014)
Cidade Invisível – Lisa França (Brazil, 2013)
Tuaregue, Retratos dos Homens Azuis – José Manuel de S. Lopes (Portugal, 2013)
O Cante da Terra – Daniel Pinheiro (Portugal, 2013)
Os Dias da Horta – Hellington Vieira (Portugal, 2013)
Água Para Tabato – Paulo Carneiro (Portugal/Guiné-Bissau, 2014)
Neram N'Dok – Luís Melo, Diogo Ferreira, Emanuel Ramos (Portugal/Guiné Bissau, 2013)
A Mãe e o Mar – Gonçalo Tocha (Portugal, 2013)
Um Fim do Mundo – Pedro Pinho (Portugal, 2013)
Naquela Época e Hoje – Luiz Adelmo (Brazil, 2014)
Parallel activities include a conference on art and environment, a photography exhibition of work by Pedro Ribeiro, and the exhibition Vision – Interior of the Human Eye.
For more information, visit the Cine'Eco website.
Casa Municipal da Cultura de Seia
Av. Luís Vaz de Camões
Seia
General Phone: +351 238 310 293 & +351 238 310 230
Tickets: +351 238 310 249
Mobile: +351 964 862 521
Email: casacultura@cm-seia.pt
CISE – Centro de Interpretação da Serra da Estrela
Rua Visconde de Molelos
Seia
Gneral Phone: +351 238 320 300
Email: cise@cise-seia.org.pt
Hours at Casa Municipal da Cultura de Seia
Until 11 October – Monday to Friday – 10:00 to 18:00
12-18 October – 10:00 to 23:00
Tickets:
Adult – €4.00
Adult with Seia Municipal Card – €2.00
Public sessions are free
Photo at top is from the film "Tuaregue, Retratos dos Homens Azuis" by José Manuel de S. Lopes