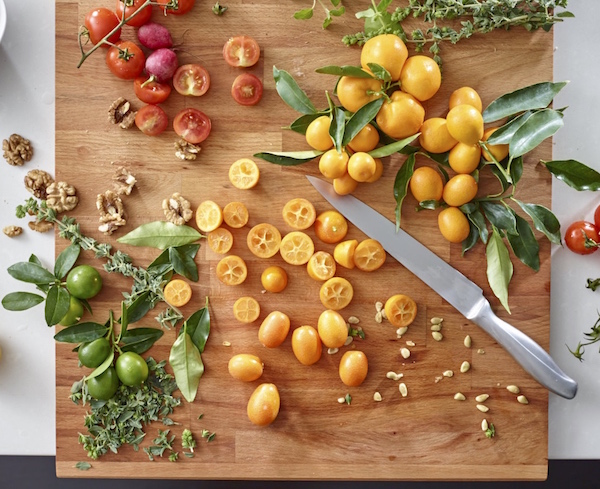 Finally! We have found a gift for everyone on our Christmas list. And, guess what? We want one too! It's Citrina, a miniature citrus plant that is both a decorative addition to your home as well as a tasty treat for your tummy. And get this! Citrinas are grown and packaged right here in Portugal, on a nursery outside of Messines in the Algarve. Citrinas are beautiful, sustainable, easy to care for, delicious…and cool!
The story of Citrina begins in 1970. Andrew and Lindsey Henley-Welch moved to Portugal to develop a citrus orchard and sell fruit. Over time, their business blossomed from selling produce to markets, to selling citrus trees to farmers and landscape plants to gardeners. The couple later pursued the consumer side of the venture, developing products for the ornamental plant market. Today, over 1.5 million Citrinas, with certified edible fruit, are sold across 32 European countries.
Citrina plants come in three pot sizes: 12cm, 14cm and 19cm diameter. The 12cm pot size can be purchased online for only €19.80, plus shipping costs. Just go to www.citrina-plants.com. Decide on the plant variety you like. Then, select the type and color of pot, from natural and smooth clay, to a white, yellow, orange or green fire-glazed finishes. Each Citrina comes in customized packaging to protect the plant in transit, along with an instruction pamphlet for watering, pruning and long-term care. 
And now, it's decision time! Choose from:
Lara | Limonella
In 1909, a Floridian, W.T. Swingle, developed the limonella, a cross between a key lime and a Marumi kumquat. The fruits are sweet with a bitter pulp, making for a delicious and attention-grabbing addition to dishes.
Oriana | Calamondin
Originally from the Philippines, the Calamondin is a hybrid between a mandarin orange and a kumquat. The fruit can be very sour. Yet, clever cooks can create preserves and coulis with extra zing!
Lyvia | Limequat Lakeland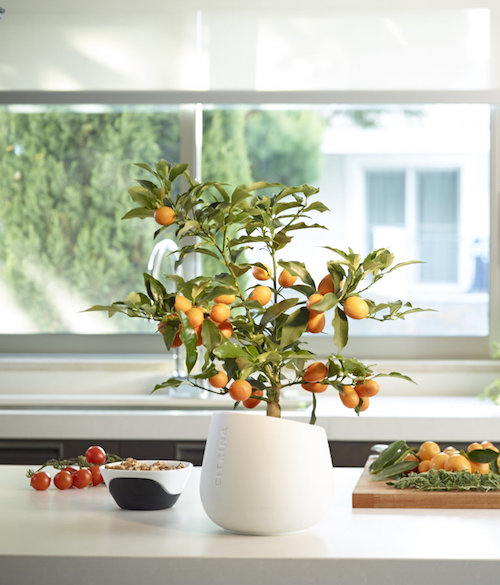 Do you like limes? Or do you prefer kumquats? Well, if you like both, you've found the right plant! Lyvia is a cross between a key lime and a round kumquat, preserving the best flavors of both into one delicious fruit.
Onika | Fortunella Polyandra
This kumquat plant, producing small orange fruit, comes with its own mythical powers. As its name suggests, the fortunella symbolizes "good fortune" in China. Not only does the plant bear a tasty treat, but it is also ideal for birthday and housewarming gifts.
Lamai | Hystrix
Found throughout tropical Asia, the fruit and leaves of the hystrix (also known as Thai lime, Makrut lime or Kaffir lime) has a strong and distinctive citrus fragrance. The oil, zest and juice from the hystrix is prominent in Lao, Cambodian, Vietnamese and Thai cuisine.
Ophelia | Nagami Kumquat
The Nagami is the more common and most popular variety of kumquat in the US and Europe. With a sweet skin and sour flesh, this fruit is eaten whole, creating a delightful, fresh citrus taste.
Lisa | Meyer Lemon
It is yellow like a lemon and round like an orange. That's because the Meyer lemon, collected by Frank Meyer on a trip to China in 1908, is a hybrid of a lemon and an orange. Meyer lemons are sweeter than common lemons, making it a favorite ingredient of modern chefs.

For more information and to order your Citrina, please visit www.citrina-plants.com. Or contact:
Phone: +351 966 983 779
Email:  shop@citrina-plants.com
Citrinas are also available at Ikea stores in Europe.