One of the coolest body products to hit Europe and North America in the last few years is produced in the oldest soap-making factory in Portugal!  Claus Porto, a company established in 1887 in Porto, produces soaps, body lotions, shave creams and candles found in exclusive boutiques in the U.S., Canada and U.K. Traditional hand-made Portuguese soaps are now extremely fashionable!
--------------------------------------------------
--------------------------------------------------
First a little history…near the end of the 19th century, two German immigrants, Ferdinand Claus and Georges Ph. Sweder, started making soaps and perfumes in a factory in Porto.  The products were of such good quality, the factory received a visit from King Dom Manuel II.  In 1919, the company is sold to the factory accountant Achilles de Brito.  The new owner changes the name to Claus Porto and adds this line to others he is producing under the new name ACH.Brito.
Because of the product's stellar reputation, in the 1950's, the company decides to add the special touch of hand-painted product labels.  It is not until the 1990's that family descendents shift strategy for the new millennium, and reach out to international markets.  Today, ACH.Brito is considered a brand of utmost quality and refinement throughout the world.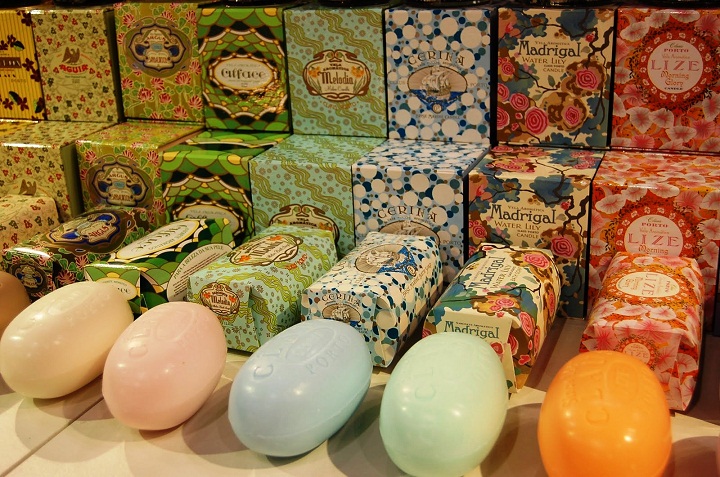 The Claus Porto product line encompasses an array of soap bars, body wash, liquid soaps, bath salts guest soaps and aromatic candles.  The soaps are creamy in texture and hand wrapped in traditional paper.  Several boxed collections are assembled for gift-giving in mind.  Choose from a beautiful bouquet of scents:
Honeysuckle ■ Mimosa ■ Almond Milk ■ Wild Pansy ■ Red Poppy ■ Lavender ■ Acacia Tuberose ■ Grapefruit Fig ■ Orange Amber ■ Pear Sandalwood ■ Lime Basil ■ Vanilla ■ Tobacco ■ Sea Mist ■ Marine ■ Melon ■ Paradise Rose ■ Water Lily ■ Iris Lavender ■ Morning Glory ■ Citron Verbena
In 1920, the Musgo Real line was created for the modern man who appreciates tradition and quality products.  These products are enriched with lanolin, glycerin, shea butter, karite and coconut oil, which make them especially creamy and smooth. They also stand out due to their unique aroma which combines the herbal essences of vetiver and eucalyptus with the vigorous accent of patchouli.
Find Claus Porto at their branded shops in Lisbon and Porto.
For more information, visit the Claus Porto website.
Claus Porto
Rua de Castelões Sul, 346
4485-103 Fajozes
Vila do Conde
Phone: +351 229 289 821
Email: info@clausporto.com