For that industrial, urban vibe set against a cosmopolitan, cool backdrop, step into Cobre. Cobre (in Portuguese, "copper") is a hip bar/lounge by the Independente Collective (the same team behind hot hangouts The Insólito and The Decandente). Featuring signature cocktails and non-traditional snacks, Cobre is excellent for after work chats or late night rendezvous. Cobre is at Rua do Alecrim, 24.
--------------------------------------------------
--------------------------------------------------
Cool, crisp copper and strong, sturdy concrete sets the mood inside. A red neon "Cobre" on the back wall provides a sultry ambiance to the space. Low-slung sofas and stools covered in brown and green velvet add comforts and elegance. Copper wraps around the bar and accents furniture and fixtures, contributing to the theme as well as creating an air of contemporary sophistication.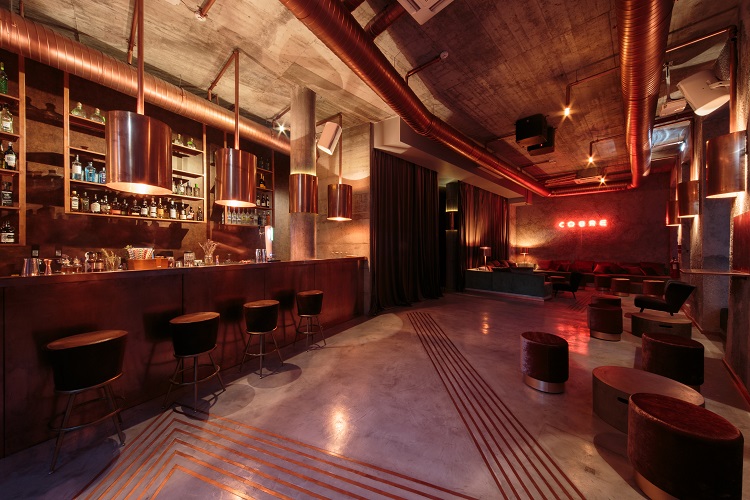 All of your favorite classic cocktails are on the menu. But really, you´ve come to Cobre to try one or more of the unique and tasty original concoctions, such as:
Smack My Peach
Bacardi Carta Blanca rum, Noilly Prat, homemade peach juice, lavender syrup, lemon and egg white
24 Rosemary
Oxley gin, white vermouth, St. Grmain, lime juice, ginger, melon and smoked ham dust
Copper Field
Nikka from the barrel whiskey, Sensha tea, apple juice, honey and lemon
Monchique Sour
Arbtus' Arguadente, lemon juice, and ginginha foam
When hunger sets it, Joana Moura from the Independente Collective has designed some multicultural snacks, including: Mediterranean almonds, Thai Mix (roasted peanuts with Kaffir lime, cornflakes and Thai green curry), Mediterranean skewers, toasted brioche with pea puree, or two color hummus.
For more information, visit the Cobre website.
Cobre
Rua do Alecrim, 24
Chiado
Lisbon
Phone: +351 211 303 992
Hours:
Wednesday, Thursday & Sunday – 17:00 to 02:00
Friday and Sturday – 17:00 to 03:00