In 2014, significant works from the Colecção António Cachola join the permanent exhibition of Museum of Contemporary Art in Elvas (Museu de Arte Contemporanea Elvas – MACE). Two of the most important works of Joana Vasconcelos appear in the exhibition, as well as works by renowned urban artist Vhils and noted installation artist Pedro Cabrita Reis. The exhibition opens 18 Januray and runs through 31 December.
--------------------------------------------------
--------------------------------------------------
The contemporary museum is installed in a historic 18th century building designed by architect José Francisco de Abreu and owned by the municipality of Elvas. The permanent exhibition is made of works from the António Cachola Collection. This collection is unique in that it consists solely of Portuguese artists. The exhibition is structured chronologically from the 1980's to present day, exploring all themes, forms and styles of contemporary artistic expression.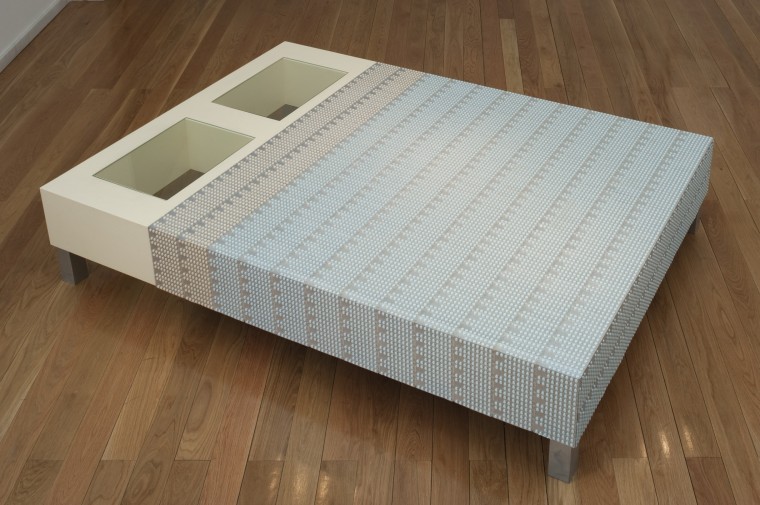 Two notable works in the collection are from Joana Vasconcelos. "Valium Bed" (1998), above and at top, is made of painted MDF and decorated with actual valium pills in secure blister packaging. "The Bride" (2001-2005), below, is a 600cm tall chandelier of stainless steel and tampons.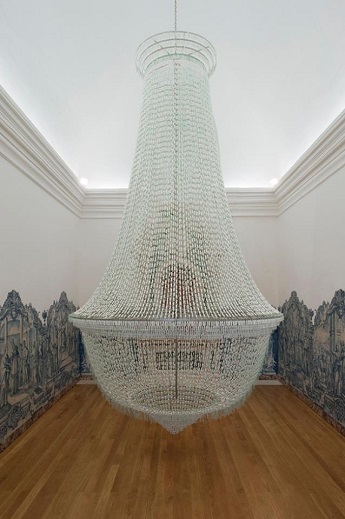 Additional works in the collection are comprised of such notable artists as:
Alexandre Farto (AKA Vhils)  ■  Augusto Alves da Silva  ■  Fernanda Fragateiro  ■  Joana Vasconcelos  ■  João Louro  ■  João Onofre ■ João Paulo Feliciano  ■  João Queiroz  ■  Jorge Molder  ■  José Loureiro  ■  José Pedro Croft  ■  Julião Sarmento  ■  Mauro Cerqueira  ■  Pedro Barateiro  ■  Pedro Cabrita Reis  ■  Pedro Calapez  ■  Rodrigo Oliveira  ■  Rui Chafes  ■  Rui Sanches  ■  Rui Valério  ■  Suzanne Themiltz
The Colecção António Cachola at the Museu de Arte Contemporanea Elvas runs through 31 December 2014.
For more information, visit the MACE webpage.
Museu de Arte Contemporanea
Rua da Cadeia
7350-146 Elvas
Alentejo
Click here to see Museu de Arte Contemporanea Elvas on Google Maps
Phone: +351 268637150
Email: museu.arte.contemporanea@cm-elvas.pt
Hours:
Tuesday – 15:00 to 18:30 (Summer) | 14:30 to 18:00 (Winter)
Wednesday to Sunday – 10:00 to 13:00, 15:00 to 18:30 (Summer) | 14:30 to 18:00 (Winter)
Closed Mondays, 1 January, Easter, 1 May, 25 December