A  popular actor on Portuguese TV since 1998, Diogo Morgado is now a bonafide international film and TV star, thanks in part to his role as "Jesus Christ" in the miniseries The Bible. With new film projects and an American TV series in the works, Morgado is on a rocket-powered career trajectory, and soon will be a household name from Lisbon and London, to Luanda and L.A.
--------------------------------------------------
--------------------------------------------------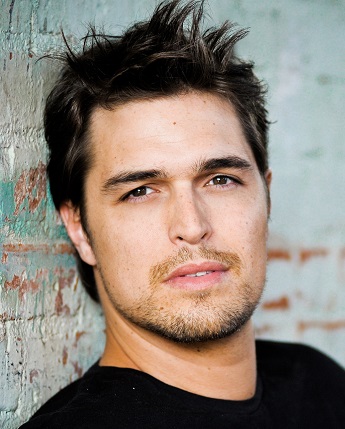 Born in the Campo Grande neighborhood of Lisbon in 1981, Morgado began modelling at the age of fourteen, and soon after, appeared in the Portuguese telenovelas Terra Mãe (1998), Diário de Maria (1998) and many others. It was his appearance as "Miguel" in the TV film Amo-te, Teresa (2000) that catapulted him to fame in Portugal.
In 2013, with a bit of divine luck, Morgado was cast as "Jesus Christ" in the miniseries The Bible. His striking good looks earned him the nickname "Hot Jesus," and his acute acting skills received worldwide critical acclaim. Morgado followed The Bible with the theatrical "sequel" Son of God. He is presently shooting a new American sci-fi series called The Messengers (scheduled for broadcast in 2015). And, back home in Portugal, Morgado recently completed work on the hit soap opera Sol de Inverno. His latest film Virados do Avesso, a comedy, is currently in theatrical and digital release.
Morgado is certainly one of Portugal's most famous entertainment exports. We wanted to get to know more about this rising star, and we were fortunate enough to catch a moment of his time between his busy shooting schedules…
*   *   *   *   *
Growing up in Lisbon, what was your relationship with TV and film? What were some of your favorite shows and movies at that time?
I grew up like most kids of my generation with moderate access to TV and film. Most of my childhood was spent playing with other kids in the streets. Those times playing outside in the streets were safer than it is today, so every time I didn't have school I could easily spend a whole day playing with other kids outside — playing soccer, hide and seek, and tons of other games.
That being said, my TV time was sacred, because it was rare, I would watch all of my favorite cartoons and series with a hawk's eye and full attention. I remember some of my favorite cartoons like Thundercats or Teenage Mutant Ninja Turtles, and all of Disney's movies, but Lion King is one of my absolute favorites movies of my childhood, just like Hook, with our much missed Robin Williams.
When/how did you know that you wanted to pursue acting?
I found out later on in the game. Let's say I was caught at the age of 15 and for a long period of time, I really wasn't sure if that's what I wanted to do for a living or with my life — OR if I was any good at it at all. I spent almost 6 years working as an actor without knowing if that's what I wanted to be. I tried all the different types and forms of acting, I did stage theater, I did TV and I did film. By the age of 21/22 I had experimented at a bit of everything and I finally made my decision. I tried to think of everything else besides acting that I would love to do, and everything I came up with was somehow connected to storytelling, and that was my "aha" moment. I was doing exactly what I was supposed to be doing. And I embraced the art with all of my passion.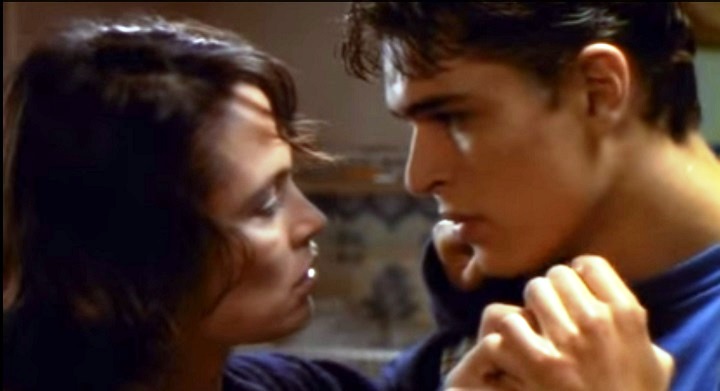 Morgado in the 2000 TV film Amo-Te, Teresa with Ana Padrão.
How did you make the jump to Hollywood?
I guess it was meant to be. I did a movie called Star Crossed, a modern adaptation of Shakespeare's Romeo and Juliet. The movie was bilingual and I had to speak Portuguese and English. After the movie came out, one of the producers brought the film to the States and an agent saw it and enjoyed my performance. So he reached out to me and we started working together. I landed a couple of independent movies and then The Bible and Son of God witch was a tremendous success all over the world, and the rest is history.
What were your thoughts when you first learned you would play the role of Jesus Christ?
I was beyond happy and then beyond concerned. My concern was obviously because of the difficulty that comes with taking on a mission like this one, to portray the most important figure of mankind. I knew not only the importance of Jesus but what it would mean, and I knew that I was about to do probably the biggest fingerprint of my presence on this planet. It had to be a legacy of love that's going to last long after I'm gone. It was one of the most important and powerful experiences of my life, and I feel incredibly humble to have been the one who got to do it.

Mary Magdalene (Amber Rose Revah) and Jesus (Morgado) (Photo courtesy of The History Channel)
When you were shooting The Bible, did you have any idea that the mini-series would be a global hit?
No, we had no idea, and actually I think that was crucial. We were not doing it for the fame or glory, we were doing it to show the Love and compassion of Jesus Christ in this world, and that was our mission.
In the last year, you've been GQ's Man of the Year, you've been interviewed by Oprah, and you've been identified in the Twitter-sphere with the hashtag #HotJesus. How has all of this attention changed your career?
Personally it changed absolutely nothing. Professionally, I got the attention of a new market that I didn't have before, but that's pretty much it. Obviously it was an extremely happy and fulfilling year, but I see it as a great adventure full of surprises that started a long time ago. When I was 15, I never dreamed that this could've ever happened, so I take it with the sense of grace and gratitude. This year I'm going to start out with a role that is the extreme opposite of what I've done in "Son Of God,' so I think more surprises may come.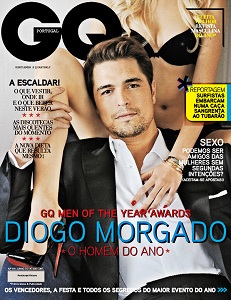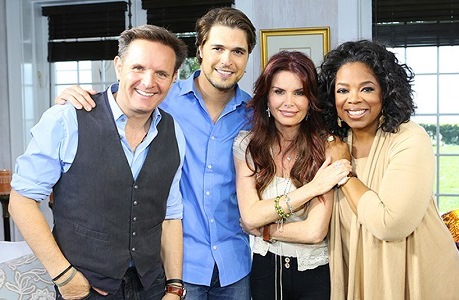 (left) Morgado is GQ Magazine's "Man of the Year 2013" (right) Mark Burnett (co-producer), Morgado and Roma Downey (co-producer) chat with Oprah on the set of "Oprah's Next Chapter"
Your next project is a science fiction TV series, The Messengers, for an American network. And, you are still involved with the Portuguese television and film production. How are you managing to schedule work on two continents?
Yes I still have a complete connection with Portuguese TV and film. I just did Virados do Avesso, a Portuguese film, and I have a long term relationship with the SIC network that has allowed me to grow as an actor with constant challenges for almost 10 years now. So yes, I'm planning on working for the audience that saw me growing and that I'm grateful for, the Portuguese audience.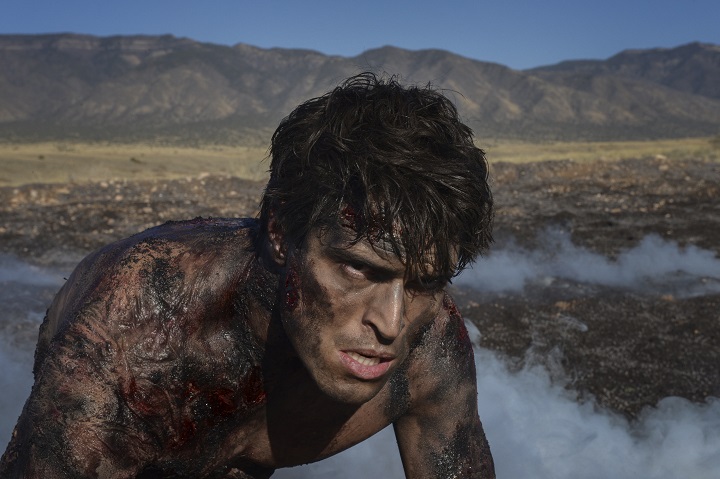 Morgado plays The Man in the upcoming American drama series "The Messengers." (Photo by Ursula Coyote © 2014 The CW Network)
Have you acclimated to the Hollywood lifestyle?
The truth is that I don't spend that much time in LA. Right now, I'm shooting in Albuquerque–even less so now. Obviously there are huge differences but I would say it's because of the Hollywood lifestyle, the differences have more to do with the Portuguese culture vs. the American Culture. And that's basically what happens all over the world with all the different countries.
What is it you miss most about Portugal when you are away?
I have to say the food, and the sound of my language. I find the Portuguese language an extremely musical language and I never thought I would miss that.
How do you describe Portugal to friends and colleagues in America?
I would say, as I always say, Portugal is a small country in size but huge in heart — we always have two open arms to receive everyone. The best food and wine in the world, full of gorgeous places that you'll find along the way with a uniqueness that will take you by surprise. We're humble, but not dumb, we're hard workers but we know how to enjoy life too. I really think the majority of the world doesn't know how beautiful and unique Portugal is.
Have you found a good pastel de nata in Los Angeles?
Yes I did. Actually, there's a place called Natas, a Portuguese restaurant that has pretty close to the original Portuguese food and pastry.
Hashtag #HotJesus was so 2014. What is your hashtag for 2015?
#ThePath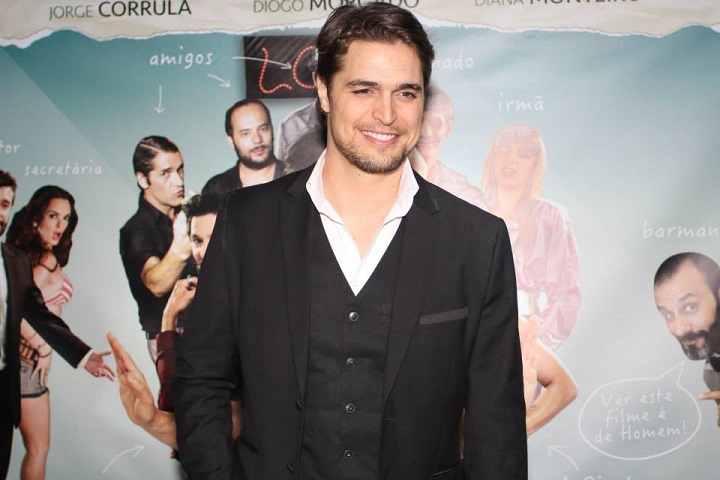 Morgado at the premier of Virados do Avesso.
Learn more about Diogo Morgado on his Facebook Page and IMDB.
See more popular faces of Portugal in our Confidentially Speaking series here….