What do you appreciate most about art?  Is it creativity? …innovation? …whimsy? …color? …the message it conveys?  Well, if you enjoy any of these factors, then, no doubt, you'll fall in love (just as we have) with the works of Portuguese artist Joana Vasconcelos.
Born in Paris, but raised in Lisbon, Joana has become one the most respected and sought-after artists of the 21st century.  Her forte is utilizing non-traditional materials to create monumental and expansive works that intrigue, inspire and entertain the viewer.
--------------------------------------------------
--------------------------------------------------
Joana first rose to acclaim when her 600x300cm (19×10 ft) chandelier decorated with tampons was exhibited at the Biennale in Venice in 2005.  She has since had a solo exhibition inside and throughout the Château de Versailles in France. She has been the recipient of a retrospective at the Berardo Collection Museum in Lisbon.  And in 2013, she returned to the Venice Biennale transforming a cacilheiro (Portuguese ferry boat) into a floating venue for the Portugal Pavillion.  In the same year, she was invited by the House of Dior to participate in the exhibition "Miss Dior," at the Grand Palais in the Champs Elysées in Paris.  For this, she created a massive piece of "jewelry" using J'Adore perfume bottles, polyester resin, fiberglass and LED lights.
(Left) J'Adore Miss Dior, 2013, Dior J'Adore perfume bottles, polyester resin, fibreglass, RGB LEDs, microcontroller, power supply unit, metal, 280 x 305 x 105 cm; (Right) Full Steam Ahead, 2014, Bosch steam irons, PLC gearmotor, microprocessor-based electronic control unit, low pressure hydraulic system, stainless steel, demineralized water, 155 x 170 cm.
Joana has had solo exhibitions or projects at every important art forum in cities across the globe, including Tel Aviv, Manchester, São Paulo and Barcelona.  We think she's a genius! We wanted to get to know more about this extraordinary artist, and try to get a peek into her creative process. So we asked her….
* * * * * * *
You have a different way of looking at objects than many. If someone stepped into your mind, what would they experience?
They would experience the same as they experience through the contact with my works.


What was your first unconventional art concept, and what age were you?
A piece that works both as a bra and an armor, protecting the breasts, shoulders and large part of the vertebral column. I completed this work when I was 25, when I was studying jewelry.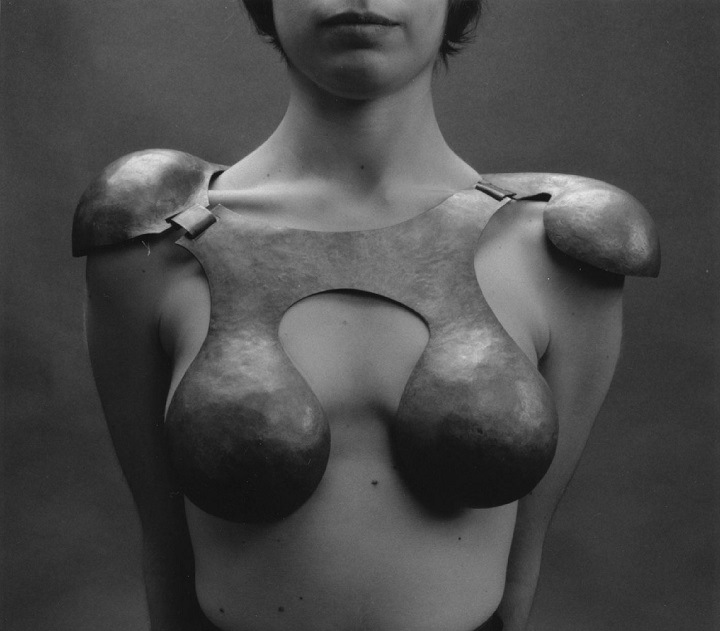 Overware, 1996, embossed copper, 30 x 45 x 15 cm


Who were your creative heroes when you were younger…and now?
I am more interested in the works than in the artists themselves.


How does your Portuguese heritage influence your work?
My work is inspired by daily life and, thus, as a Portuguese woman living in Portugal, I am naturally influenced by this condition. Portuguese symbols, materials and even techniques that are common to our culture are frequently starting points for my work, but often these are, in fact, quite international, such as crochet, filigree and faience, among others. It is this universal and global character that interests me, in order to connect with viewers all over the world. I am interested in the confrontation between traditions, in what we take and understand as Portuguese, and what is found in different points of the world; and in the possibility of expressing this through dialogue.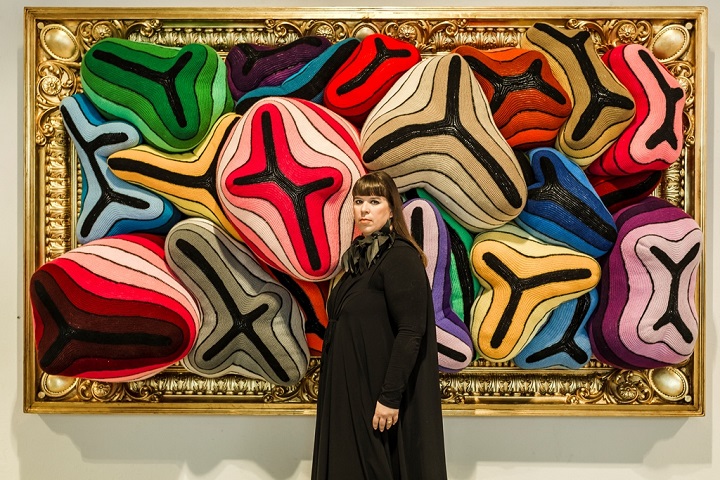 Joana Vasconcelos standing in front of True Faith, 2014, handmade woolen crochet, polyester, on canvas, stucco, gold leaf, MDF, iron, 186 x 311 x 67 cm


Which of your works, to date, is your favorite…
A Noiva (The Bride), 2001-2005, an enormous chandelier composed of almost 20,000 immaculate feminine tampons. This was the piece that brought international attention to my work, when it was featured in the exhibition Always a Little Further in 2005, curated by Rosa Martinez – my first experience participation in the Venice Biennale.
There's a very funny story behind this invitation. The work was in exhibition at the most popular club in Lisbon, Lux-Frágil, where I was head of security for a while. This curator was in Lisbon, and, by chance, visited the club. She loved the work so much and thought it was so pertinent for the exhibition she was putting together, that she invited me and the work to be in this exhibition.
Moreover, my fondness for this work is also tied to the fact that something always happens when it is planned to be shown or when it is exhibited. There is something about the work that still causes uneasiness and still causes controversy. If I hadn't realized it in the past, this is a work I could be doing today or in the future because the readings and discourses it generates are still quite relevant.
(Above) A Novia (The Bride), OB tampons, stainless steel, cotton thread, steel cables, 600 x3 00 cm. Photo: Luís Vasconcelos/Courtesy Unidade Infinita Projectos,Ajuda National Palace, Lisbon


….and which work is typically most popular with the crowd?
My Independent Hearts series, in gold red and black. These works are an appropriation of a "Heart of Viana", an iconic piece of Portuguese filigree, however, this Gulliver-sized heart, is a "filigree" entirely made of plastic cutlery, seems to amaze viewers all over. The work is suspended from an axis, making a circular rotation that is accompanied by the sound of three fados interpreted by Amália Rodrigues: Estranha Forma de Vida (Strange Way of Life); Gaivota (Seagull); and Maldição (Curse). This work is a great example of how my work can apply elements that are deeply rooted in the Portuguese culture and, yet, openly communicate with the world. A heart is a universal symbol, filigree is a technique that exists in many other cultures, plastic cutlery is found everywhere there are supermarkets, and the emotion that is conveyed by the instrumental and vocal expression of Fado needs no translation.
(Above) Independent Heart in Black (2006), Gold (2004), and Red (2005), translucent plastic cutlery, painted iron, metal chain, motor, sound installation, 385 x 225 x 50 cm.


Many of your works are intended to make statements. Some would approach this through shock or drama; you utilize humor or awe. What is your thought process for these works?
To begin, I don't want for my works to close themselves upon a certain discourse or interpretation. I mean for my works to be inquisitive and that the issues they arise may broaden people's perspectives and knowledge of the world. They are ambiguous and paradoxical, and it is this great variety of possible discussions and interpretations that makes them rich.
Humor comes naturally to me, and I am perfectly conscious of its seriousness and its power as a vehicle for communication. However, my great preoccupation is in communicating. I leave the "statements" for the public to sort out!


Have you ever started a project and thought, "Nawww, that's not going to work at all"?
Whenever I begin a project, it's to finish it as planned. There are no hesitations. I would never invest mine or other people's time and effort in something that wouldn't work. At our studio, we work on everything until it works as it should — that's our motto.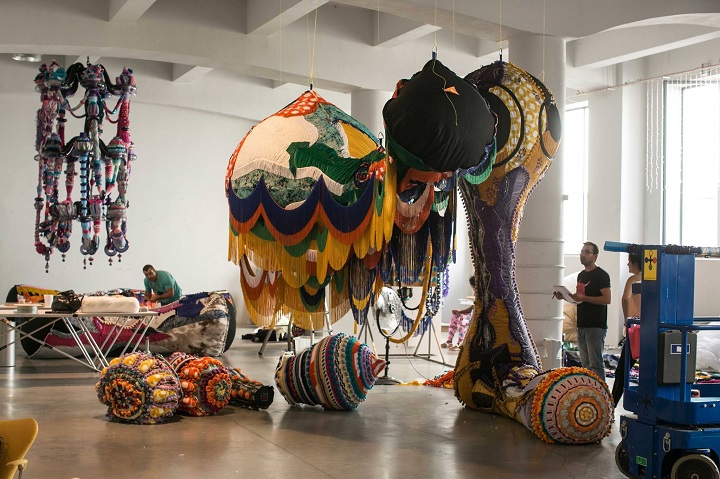 (Above) Inside the studio, preparing for Valkyrie Marina Rinaldi event at Milan Fashion Week, 2014


If you could collaborate on a project with anyone, whom would that be?
I'm not fond of collaborations, unless they are a meeting of people of different areas in which each one is responsible for his area of action.


What are your thoughts on the current state of art and design in Portugal?
The Portuguese art scene is quite frail because there are very few institutions, museums, and collectors, and there isn't a system of support for artists. Thus, a wider diversity– which is what one would hope for–becomes limited.


What is your quintessentially favorite thing to do in Portugal?
To live in Portugal.


What can we expect next from Joana Vasconcelos?
I have exhibitions planned for MGM Macau, for the Rothschild's Waddeson Manor and the Heydar Aliyev Center in Baku.


Do you have a Big Booby at home? If so, where does it hang?
I don't have one at home, but at the studio. It hangs behind my desk, in the 'gallery' area of my studio, the main entrance to our space. It works as a sort of welcoming figure!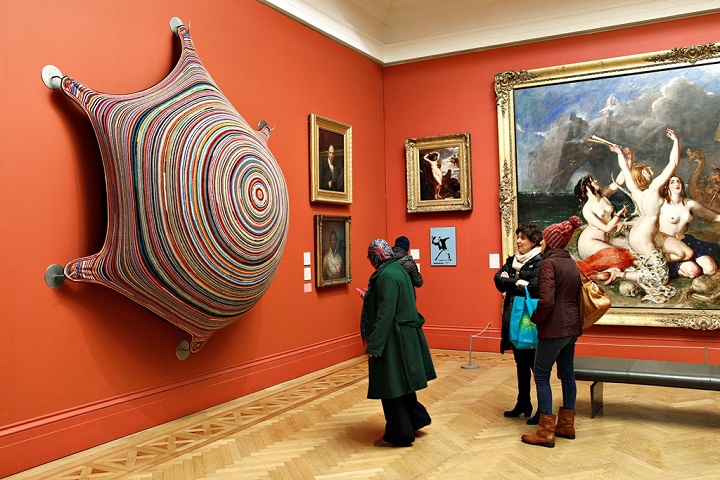 Big Booby, 2007, handmade woolen crochet, industrial knitted fabric, polyester, stainless steel, 270 x 75 cm
See more stories about Joana Vasconcelos on Portugal Confidential:
■ Joana Vasconcelos Time Machine at the Manchester Art Gallery
■ Limited Edition Joana Vasconcelos-deigned Green Boots
■ Joana Vasconcelos at the Ajuda Palace, Lisbon
■ Colecção António Cachola at Museum of Contemporary Art in Elvas, Alentejo
■ Café Lisboa by Jose Avvillez (featuring a wall sculpture by Joana Vasconcelos)