Whether you're a true foodie or a casual diner, we're sure you're familiar with José Avillez. Perhaps that's because his business acumen is as sharp as the knives in his six respected restaurants in Lisbon and Porto. Or, maybe you've bought one of his three cookbooks, or seen him on his two TV series. There's no denying his entrepreneurial spirit, his endearing personality or his gastronomic expertise. So, we decided to find out more about this popular and respected chef.
--------------------------------------------------
--------------------------------------------------
Avillez was a Business Communications major before switching to cooking in his final year at university. He learned his trade from the veritable "gods" of European cuisine. He trained with Maria de Lurdes Modesto (known as "The Diva of Portuguese Gastronomy") and Antoine Westerman at Fortaleza do Guincho (Cascais), before setting out to work with José Bento dos Santos at Quinta do Monte D'Oiro. Avillez also participated in traineeships of world-renowned chefs, Alain Ducasse (France), Eric Frechon (England) and Ferran Adria (Spain).
In only a brief seven years, he has accomplished more than what many chefs can dream of during their entire career.  He earned his first Michelin star while heading up the kitchen at Lisbon's oldest restaurant, Tavares.  After a year, Avillez struck out on his own and opened Cantinho do Avillez, an homage to home home cooking.  Next came the opening of fine dining Belcanto.  Within a year, Belcanto earned a Michelin star.  Next came Pizzaria Lisboa, dedicated to his childhood memory of his father's pizzeria.  Café Lisboa features traditional Portuguese dishes such as bacalhau a Brás and pastel de nata, but with Avillez's own twist.  Mini-Bar is a swanky gourmet bar adjacent to the Teatro São Luiz.  And recently, Avillez spread his gastro-magic north with the opening of Cantinho do Avillez Porto.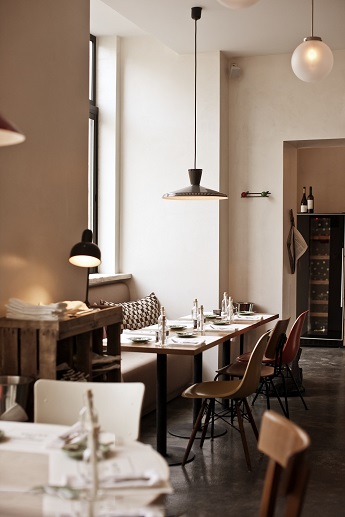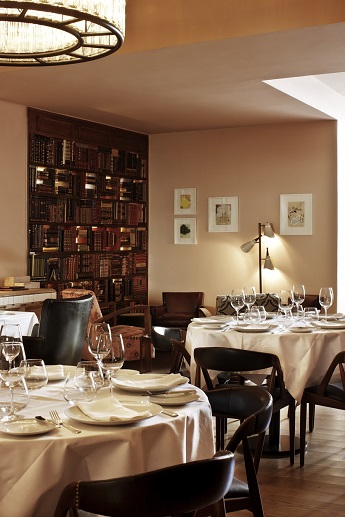 (left) Cantinho do Avillez Lisbon; (right) Belcanto (Photos: Nuno Correia)
In 2014, Avillez received a second Michelin star for Belcanto.  So, what drives and motivates this 35-year-old entrepreneur and creative artist in a chef's hat? Let's find out…
* * * * * * *
You went to university to study business communication, but in your last year, you changed course and pursued cooking. What was the catalyst that prompted you to pursue your passion?
My interest in cooking began to grow at the end of my studies. I had the opportunity to walk in to a professional kitchen and my heart began to race. In that moment I felt such emotions I realized I had found my path.
Your empire is unstoppable! Six restaurants, a catering company, books and a TV series. What's next?…a video game?…hotel?…theme park?
There is a thin line between my creative and entrepreneurial side. I'm always thinking about new projects. For me, new ideas generate energy and give me a strong willingness to go beyond the normal boundaries of possibility. But I know that creating anything in life requires time, so for now I'm still thinking about what's next. Let´s wait and see.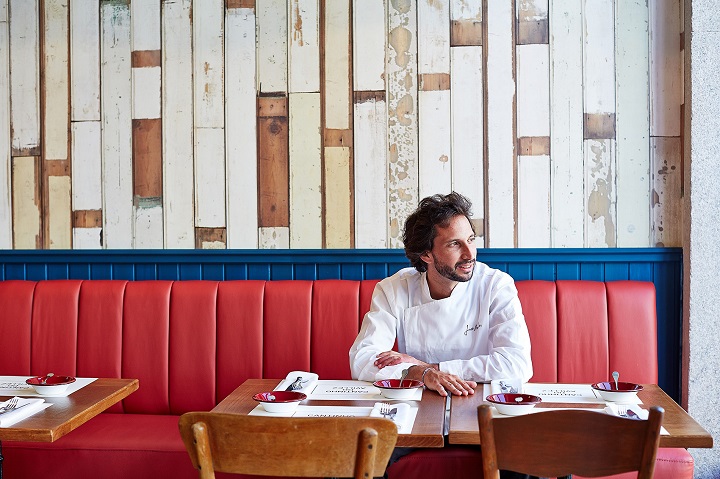 (above) Avillez at his Cantinho do Avilez restaurant in Porto. (Photo: Paulo Barata)
It seems that you are equal parts master chef, entrepreneur and public figure. What is the recipe for being a successful restaurateur?
I'm following my passion, and I believe when you are able to turn your passion into your life's work, you create a powerful source for driving yourself to success. I'm very fortunate to have an amazing team who believes in me and is always with me every step of the way. And we all work really hard.
Who was your first cooking hero/inspiration?
My first cooking hero was Laura, my parents' cook. She was a wonderful cook.
You've trained under some of the world's best chefs. Is there anyone else in the world of gastronomy (past or present) that you admire? Why?
There are so many, it's impossible to name one. I have great admiration for past chefs, for present chefs and for young chefs. Just as an example of a past chef, I can name Auguste Escoffier, who was a precursor of modern cuisine. He was not just a great chef but also a pioneer in cuisine management. I strongly believe in the importance of studying culinary history and knowing where we come from (the traditions).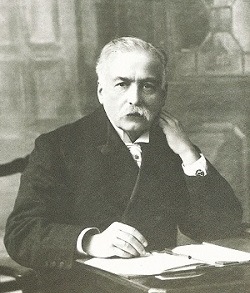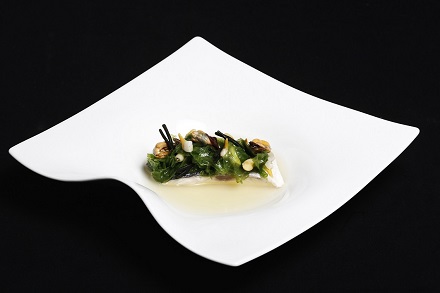 (left) Auguste Escoffier, considered one of the most important leaders in the development of modern French cuisine. (right) Avillez's A Horta da Galinha dos Ovos de Ouro, egg, crunchy bread and mushrooms (Photo: Paulo Barata)
What are some of your personal favorite flavors (savory or sweet)? Are these found in your menus?
My favorite flavors are savory, and my favorite savory flavor is sea flavor.
Is there an international cuisine or style of cooking that you would like to know better?
Yes, I would like know more about Asian cuisine, it's a very rich and interesting cuisine and there's so much to learn.
From café snacks to haute contemporary dishes, Portuguese cuisine is often at the core of the menus at your restaurants. What is the thought process when reinterpreting a traditional dish?
The process is to revisit the traditional recipes: we look at a traditional dish with a contemporary inspiration and an innovative spirit, betting on top quality ingredients and the accuracy of preparation. The flavors are the traditional ones but we use technique to serve the ingredients. My goal is never to transform the traditional cuisine, but to take it to a new level.
Can you suggest a five-course meal that you think best defines Portugal as a country?
That is not an easy question but will suggest some Belcanto's dishes: Wave Breaking (Bivalves, coastal prawn, "seawater" and seaweed "sand"), Dip in the Sea (Sea bass with seaweed and bivalves), Suckling Pig Revisited, Milk-Fed Lamb Twice Cooked with a Pea and "Farinheira" Stew, and for dessert, Citrus and "Egg Sweets".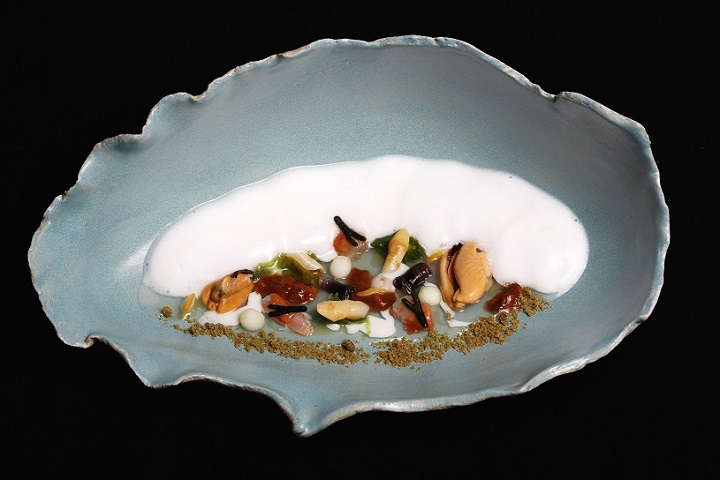 (above) Avillez's "Wave Breaking," bivalves, coastal prawn, "seawater" and seaweed "sand" from Belcanto. (Photo: Nuno Correia)
What do you like to do on your days off?…explore the city?….relax in the country?
I prefer to relax in the country because it does wonders for my state of mind. In the country I'm able to slow down the pace.
When friends visit from another country, what itinerary would you suggest providing them with the quintessential Portuguese experience?
I would suggest them to visit Douro region (one of the most beautiful regions in Portugal), then Oporto – I'm fascinated about Oporto (we recently opened a Cantinho do Avillez over there) – it's a charming city, then Lisbon (of course!), and finally Alentejo and the beautiful Algarve. If they had time I would also suggest the Islands. We have a small country but very diverse in term of landscapes, traditions, gastronomy, and wines. I believe Portugal is a real treasure.
What shameful, decadent food do you devour when no one is looking?
It's not decadent, but one of my favorite dishes is Bacalhau à Brás – the recipe we serve at Café Lisboa. I love it!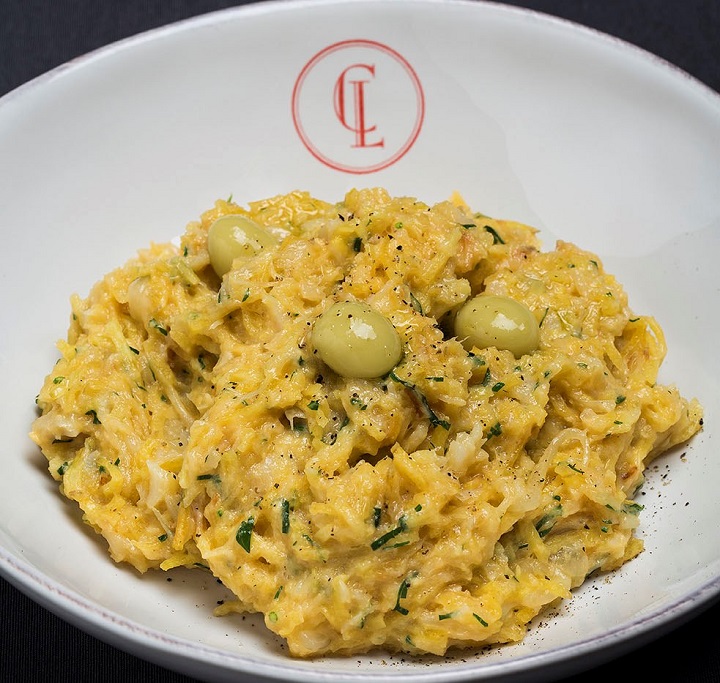 (above) Avillez's Bacalhau a Brás with Exploding Olives, from Cafe Lisboa. (Photo: Paulo Barata)
What are some of your personal Christmas traditions in the kitchen?
For me, a well prepared and presented Christmas table is one of the most beautiful things to see. But I love enjoying Christmas without being in the kitchen. I believe it's the only time of the year when I truly enjoy a banquet as a guest. I love all traditional Portuguese Christmas dishes: cod loin, stuffed turkey, rich desserts made with egg yolks, our version of French toast (called 'Rabanadas'),…and many others…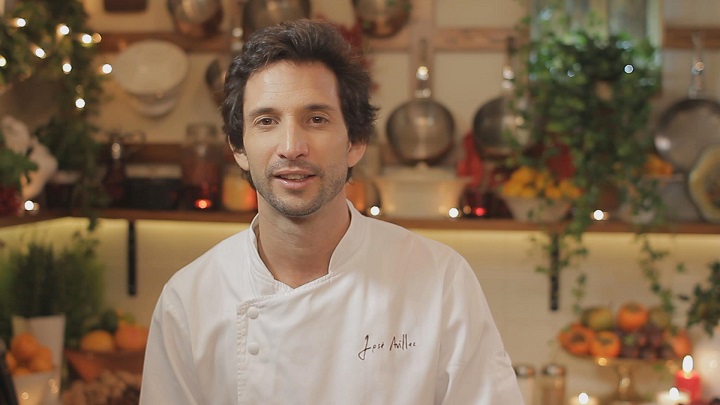 (above) Avillez on the set of his SIC Mulher television series "JA ao Lume"
Learn more about José Avillez's restaurants by visiting our pages:  Cantinho do Avillez Lisbon  |  Belcanto  |  Pizzaria Lisboa  |  Cafe Lisboa  |  Mini-Bar  |  Cantinho do Avillez Porto