Nuno Gama is one of Portugal's most dynamic fashion designers. His distinctive styles are embraced by celebrities, musicians and socialites. His fashion shows are crowd favorites, not only for the quality of design, but also for their surprises. His presence is regularly requested at important ceremonies and media events. If fact, in 1996, he was awarded a Golden Globe as "Personality of the Year." He is a champion of Portuguese heritage in all aspects of his work and one of Portugal's brightest stars today. This is why we wanted to know a little more about Nuno Gama.
Nuno was born and raised in Azeitão, in the Setubal municipality, just south of Lisbon. As a young adult, he moved to Porto to study design at CITEX, a specialist school for textile and clothing. Immediately upon graduation in 1991, he started his brand, Nuno Gama Textiles, Lda., and presented his first collection at the very first ModaLisboa fashion week. He began collaboration with textile companies in the north of Portugal, and in 1996 the first of nine Nuno Gama stores opened. His career skyrocketed with appearances at international fairs such as Nouvel Espace and Mode Gitanes in Paris, Hombres de Fraldas, in Madrid and the Gaudi in Barcelona.
In 1998, his rapid upward momentum came to a grinding halt. A fire ravaged his studio on Rua do Almada in Porto, incinerating eight years of work and prompting the closure of his shops. One stroke of luck saved the day, however. A recently-completed collection had been sent to the Mercado Ferreira Borges awaiting its debut at Portugal Fashion. It was a devastating blow to Nuno, but it was only a short-term obstacle which saw him rise once again to the top of Portugal's fashion elite.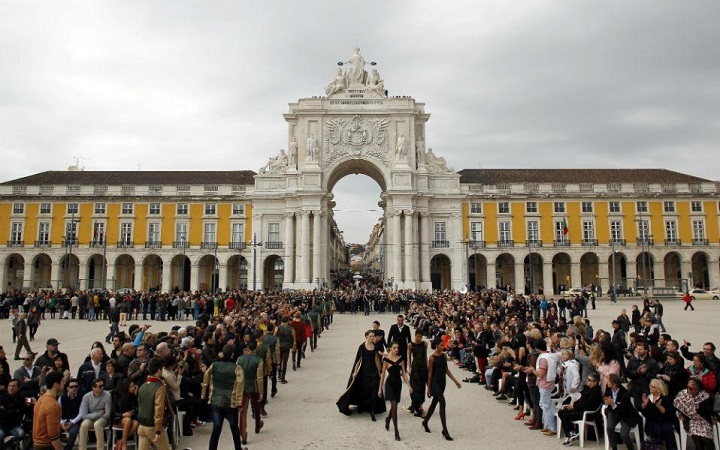 Aerial view of Nuno Gama's Winter 2015 runway show at ModaLisboa. Held in Praça do Comerico, the show was preceded with a parade by the National Guard Band on horseback.  See Nuno Gama's Winter 2015 Collection here.
Known primarily for menswear, Nuno's designs reflect his passion for Portuguese culture and tradition. In seasons past, it has been easy to spot influences of Luso masculinity such as military accoutrement, equestrian wear and heavily woven fishermen sweaters. His suits are exceptionally tailored, and upon close inspection, one will find the colors of the Portuguese flag sewn in stripes under the collar. His summer styles accentuate the male figure, with slim cuts and muscle-hugging stretch fabrics.
Never one to rest, Nuno is now designing sophisticated women's eveningwear. He has also launched lines of footwear, leather goods, travel items and jewelry. All can be found at Nuno Gama's flagship store, Maison Nuno Gama, in Lisbon.
* * * * * * *
You have created quite an impressive design career in Portugal. Why have you not run off to Paris or New York?
I've already tried it, a long time ago, but it was too expensive. I've had some mishaps along the way, and I have to survive. But, is still a dream.


Can you remember the first time in your youth that you realized you wanted to pursue design?
As I am quite tall for Portugal, I had to deal with my personal wardrobe very early. I can't remember what age, but I was very young when I began this.


Your business took off right after you graduated school. What were some of your very first products? What did your collection look like?
I began with hand-painted and embroidered products like t-shirt's, shirts and swimming suits. My first collection was presented at the very first Modalisboa. I still have the original "look book" from that collection.


In 1998, a fire struck your studio in Porto. What were your thoughts at the time?…and what motivated you to keep going?
I was completely lost. Nothing was making sense to me until Mr. Joaquim Cardoso from Maconde Confecções (textile factory at the time in Vila do Conde) invited me to work with him. He helped me get back on my feet with an intention to promote my label internationally.


How would you say your design style has evolved over your 20 year career?
Maybe the main fact is that I have evolved with my client's demands. I have learned to design products that fit their needs, while always keeping my international Portuguese way of speaking.


If your runway shows are any indication, each Nuno Gama garment should come with a gym membership. Who is the Nuno Gama client?
As for the muscular models, no one wants to see a show with ugly people. (Laughing.) The Nuno Gama client is an ageless man, living a healthy way of life. But, we produce everything by measure, using a surgical cut, to make you look fabulous even when you aren't at the gym. (He winks).


Who are some of your favorite style icons of today?
Sorry, but I don't have any. Sometimes I fall in love with something that touches me in a certain way, but I am always looking for the new way of feeling/seeing.


Whose career or image do you think could benefit from a Nuno Gama wardrobe makeover?
Cristiano Ronaldo because he could be my best Portuguese ambassador in the world, proving that Portugal still has a lot to reveal in our modern times.


What is your single favorite item in your wardrobe?
A chain with a pendent holding my mother's ashes.


You are quite passionate about Portuguese heritage. Why is this such an important theme in your work?
I'm Portuguese, so it's my obligation to "speak" my beautiful language to the world that is dying to meet us. (He smiles.) I try to express through my Portuguese references, that I 'm proud of my heritage and I reinterpret this authenticity to create something modern and international.


What is your favorite "getaway" in Portugal? Where do you go to relax, to be inspired?
Arrábida and Troia, always with friends…but don't tell to anyone.


What is one non-fashion item you would love to design and sell with the Nuno Gama logo?
A powerful car
**Editor's Note: Since this interview originally ran in 2014, Nuno has been asked by Mini Portugal to design and style interiors for two Mini models. The result: MINI Clubman Gentleman by Nuno Gama and MINI Clubman Sport.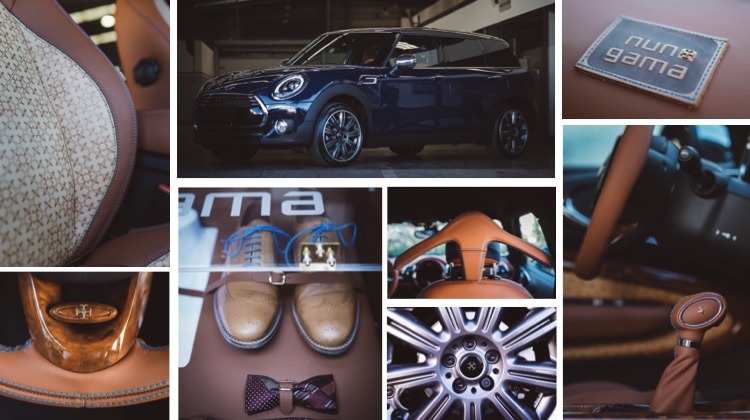 To see more of Nuno's distinctive styles, click below seasons for images of presentations at ModaLisboa:
Spring | Summer 2018  ■  Fall | Winter 2017  ■  Spring | Summer 2017  ■  Fall | Winter 2016  ■  Spring | Summer 2016  ■  Fall | Winter 2015