In the States and UK, mom's have been making cupcakes for their children since the 1950's, a practice that perhaps fell out of favor as mom's left the kitchen for the office in the 70's and 80's.   Yet, now, we have the girls from Sex and the City to thank for the resurgence in popularity of this diminutive sweet cake.  As most SATC fans know, the character's frequently stood in line at the now ridiculously busy Magnolia Bakery in New York  City just to buy this once old-fashioned, but now, very trendy treat.   And now, the cupcake trend has hit Lisbon…….

--------------------------------------------------
--------------------------------------------------
Merry Cupcakes
Earlier this year, Merry Cupcakes became the first cupcake shop to open its doors in Campo Pequeno Centro Comercial.  Three friends who have lived between London, New York and Lisbon started what they hope to be the first of many shops in the region.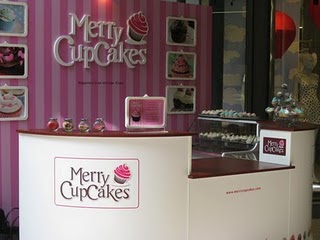 Depending on your diet restrictions you can go for a normal size cupcake with prices starting at €1.85 or a mini cupcake for just €1.40. You can find these little sweets in a variety of flavors ranging from vanilla and chocolate to lemon and cream cheese. Personalized cupcakes are also an option for gifts and special events.
Merry by Merry Cupcakes Bakery Ltd.
Campo Pequeno Centro Commercial
(inside the bull fight arena complex)
Avenida da Libertade
Phone:  +351 913 763 665
Email:  info@merrycupcakes.com
Open Every Day – 10:00 to 22:00
More Information at Merry Cupcakes Website
Tease Bakery
Conceived by architect Sonya C. Millard, Tease is a project 3 years in the making.  Tease pride themselves on creating cupcakes "made with the utmost care, using traditional recipes and ingredients of 1st quality, with no preservatives or preservatives. All products are replaced daily.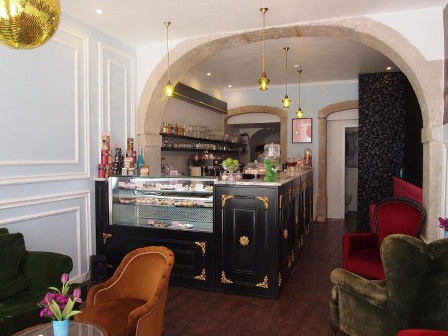 Tease likes to mix-and-match their cupcakes.  Choose from a cake base of vanilla, chocolate, red velvet, and lemon and poppy seed.  Select your icing top of vanilla, chocolate, cream cheese and cream with no sugar.  Prices range from €1.00 for mini cupcakes, to €2.40 for full size.
Tease!
Rua do Norte, 31-33
Chiado – Lisbon
(50 meters from Largo do Camões)
Phone: +351 969 105 525
Email: info@tease.pt
Open Monday to Saturday – 12:00to 23:00
Closed Sundays
More Information at Tease Website