Murder and mystery abound in Deadly Nightcap a British thriller stage play at the Lagoa Auditorium in the Algarve, 17-19 June. Written by the master of suspense, Francis Durbridge, known for the 1960's TV series The Scarf, the story about a greedy husband plotting to kill his wife, is full of blind alleys, twists and turns…and not to be missed.
--------------------------------------------------
--------------------------------------------------
Directing the production is David Butler-Cole. He has been rehearsing the 10-member cast for the last six weeks. "We have a good mix of experience and new talent in the cast and it has been great watching the show come to life," expresses the director.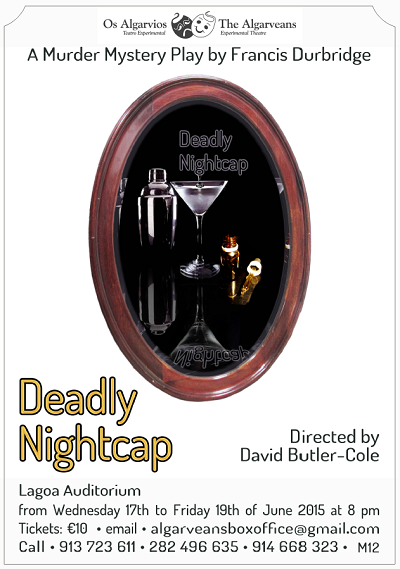 The play centers on Jack Radford, managing director of Donnington's estate agents, a family business inherited by his wife Sarah and her brother Edward. The business is flourishing but there are rumours of dubious dealings. When Edward returns unexpectedly from Spain, confronting his brother-in-law with the outcome of his investigations there, Jack has to act quickly to stop the truth from surfacing. In order to obtain total control over the Donnington's, he then drives his wife to the verge of a nervous breakdown, setting up the perfect scenario for her tragic "suicide". But!…things don't necessarily go as Jack has planned.
Learn more about the theatre group at the Algarveans website.
Lagoa Auditorium
Rua do Centro de Saúde
Urbanização Lagoa Sol
Lagoa
Western Algarve
Dates: Wednesday, June 17 to Friday, June 19
Showtime: 20:00
Tickets: €10.00
Email: algarveansboxoffice@gmail.com
Phone: +351 282 496
Mobile: +351 913 723 611