The same people behind innovative Portuguese furniture brand Boca do Lobo also want to illuminate your life.  They have spun off a company dedicated to the design of unique and delightful lighting fixtures.  In fact, delightful is an apt name to describe their product…because Delightfull is the name of this design endeavor.
Similar to the philosophy behind the Boca do Lobo furniture line, designers at Delightfull grab design elements from times past and fuse them with modern techniques and concepts.  The result is a product that is unique in form and practical in function.
————————————————–



————————————————–
The current line is inspired by some of the best design legacies of the mid 20th century, mixed with the raw joyous energy of the early jazz era.   It is easy then to understand why a curvaceous wall fixture is named Etta (James) or a light, elegant and balanced chandelier is called Ella (Fitzgerald).
(above left) Diana – Aluminum lacquer diffuser in white, black gold or red. Structure in nickel plating. (above right) Marcus – Charismatic table lamp. Structure is nickel plating and lacquer in black, white, gold or red.
(above left) Brubeck – Ode to art deco. Wall lamp composed of irregular size pipes in brass. Can be used vertically or horizontally. (above right) Etta – Jazzy wall piece composed of brass elements tied in the middle, emulating the shape of a woman's form.
Product range covers floor lamps and table lamps as well as hanging and wall fixtures.  The items are hand-made by artisans in Rio Tinto.  This process, says Delightfull, offers the opportunity to incorporate "soul and heritage" in every product they produce.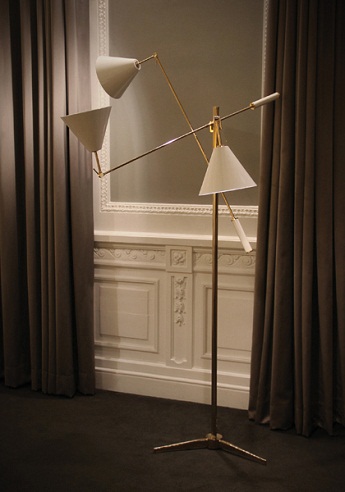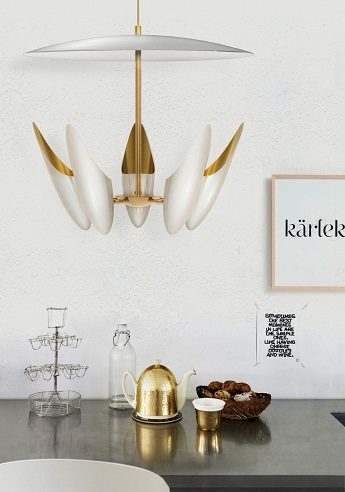 Delightfull product in use: (above left) Sinatra floor lamp: (above right) Emily suspension lamp.
Delightfull product can be found in select shops or through interior design specialists. To learn more about the company and how to order product, please visit the Delightfull website.
Delightfull
Trav. Marques de Sá, 68
4435-324 Rio Tinto
Phone:  +351 917 970 713
Email:  info@delightfull.eu
Also see our page for Delightfull's tribute to Amy Winehouse, the Amy!
Delightfull is a sister company of awesome furniture design company Boca do Lobo.