VILA VITA Parc Resort and Spa, in Porches, consistently strives to maintain a high level of service, accommodation and comfort. This is evident in the recent redesign of the luxury villas and the Oasis Parc suites.  The gourmet restaurant Ocean has been elevated from one Michelin star to two!  New products and services are always being added to the Vila Vital Spa and health club.  And for 2014, VILA VITA Parc has redesigned a signature element of their resort–the Deluxe Rooms in the Main Building.
--------------------------------------------------
--------------------------------------------------
The 61  popular Deluxe Rooms have always had an air of grand Algarvian tradition. The newly designed rooms maintain the esthetic of the coastal region, but incorporate a chic, contemporary style.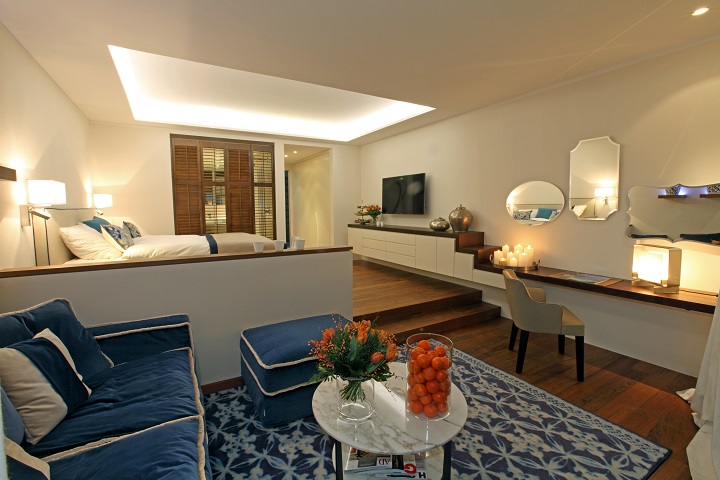 The 40sqm rooms are split level with separate living and sleeping spaces. The blue and white color palette is reminiscent of Portuguese azulejos tiles, but also mirror the radiant colors of the sea and sky just steps away. Hardwood flooring adds another degree of elegance and modernity to the room. The large overstuffed sofa is of Italian design.  Similar furnishings are utilized in VILA VITA Parc's luxury villas. The rooms are fitted with state-of-the-art technology for device-savvy guests.
Perhaps most important, a luxurious night of rest is virtually guaranteed with the new Palatial Crest Sealy beds.  This sleep system is the first to be engineered to combine cradling comfort and orthopedically correct support.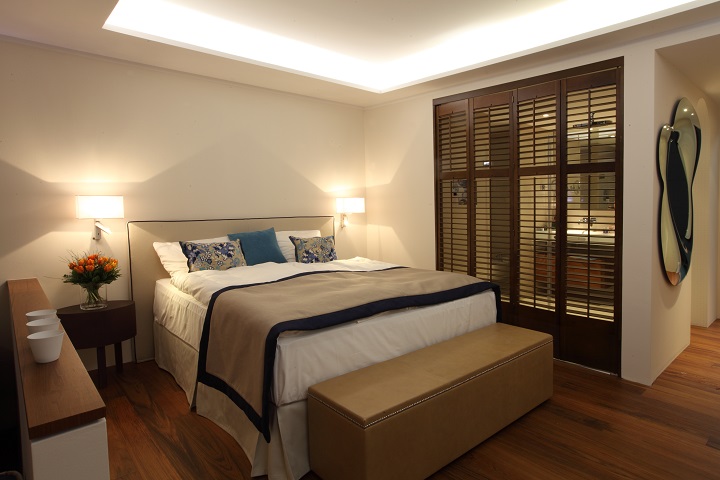 The contemporary bathrooms are rich and sophisticated. Perhaps the most prominent element is the ceramic wall featuring an enlarged perspective of a famous Portuguese porcelain pattern. Separating the bathroom from the living area is a large glass-enclosed bathtub or walk-in rain show room. (No worries, shutters may be closed on the glass wall for privacy.)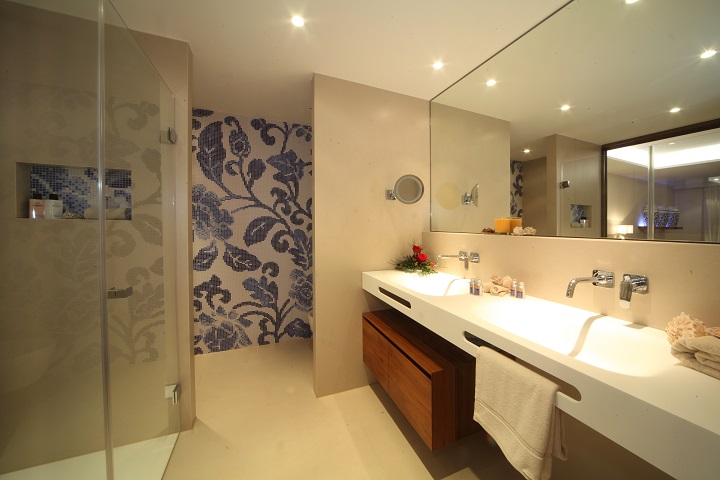 An added bonus, all Deluxe Rooms face the sea. Some have balconies, some have gardens, but all, look out over the landscaped gardens of the resort.
Rooms suited for guests with disabilities are also available, as are interconnecting rooms for families.
Love Deluxe, but still want something more? In addition to these 61 rooms, VILA VITA Parc are redesigning four Junior Suites, six Grand Suites and two Penthouse Suites in similar grand style!
The redesigned Deluxe Rooms and Suites are available from early June 2014. For more information and to book your stay, visit the VILA VITA Parc website.
VILA VITA Parc
Rua Anneliese Pohl
Alporchinhos
Porches
Portugal
See VILA VITA Parc on Google Maps
Phone: + 351 282 310 100
Fax: +351 282 320 333
Email:  reservas@vilavitaparc.com